Long Beach Leaders are Readers M. Lissette Flores, Past President and Board Member
Long Beach Leaders are Readers is our new series in which leaders in our community share recommended reads. In celebration of Latino Heritage Month, M. Lissette Flores has shared the following reading recommendation. Enjoy!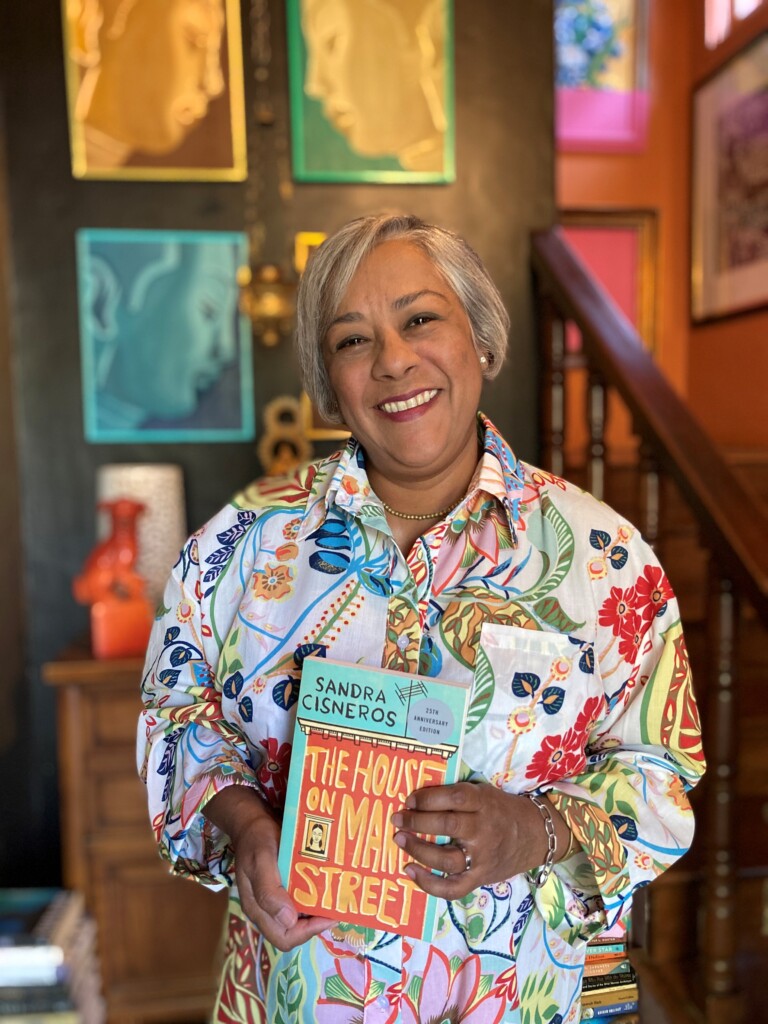 The House on Mango Street
The House on Mango Street by Sandra Cisneros, first published in 1984
It's a novel of short stories. The stories are both heart wrenching and warming all at once. They are about a young girl name Esperanza coming to terms with her culture, and finding, defining and inventing herself along the way.
I first read this book in college and remember for the first time that what I felt and saw around me was real and not a figment of my imagination – women being held back by inequality, how racism prevents certain communities from opportunities which often leads to poverty and violence, which are the tenets of social inequity. All these feelings I could never articulate I found present in The House on Mango Street.
My favorite story is titled Sally: "Sally, do you sometimes wish you didn't have to go home?… and maybe your feet would stop in front of a house, a nice one with flowers and big windows and steps for you to climb two by two upstairs to where a room is waiting for you. And if you opened the little window… all the sky would come in. There would be no nosy neighbors watching, no motorcycles and cars, no sheets and towels and laundry. Only trees and more trees and plenty of blue sky. And you could laugh, Sally. And you could go to sleep and wake up and never have to think who likes and doesn't like you. You could close your eyes and you wouldn't have to worry what people said because you never belonged here anyway and nobody could make you sad and nobody would think you're strange because you like to dream and dream… without someone thinking you are bad, without somebody saying it's wrong, without the whole world waiting for you to make a mistake when all you wanted, all you wanted, Sally, was to love and to love and to love and to love, and no one could call that crazy."
This book changed my life and allowed me to find my voice. I continue to find my voice on my equity, diversity, and inclusion journey. I love that this book is now introduced at the high school level. The young girl's voice, Esperanza, will always remain in my heart. There is hope.
Love & Happy Reading,
M. Lissette Flores
LB Public Library Foundation Board Member
"Ser Cultos Para Ser Libres."
Translated: "To be educated is the only way to be free."
A quote attributed to José Martí, a Cuban poet.
Long Beach Leaders are Readers — Mario Cordero, Port of Long Beach Executive Director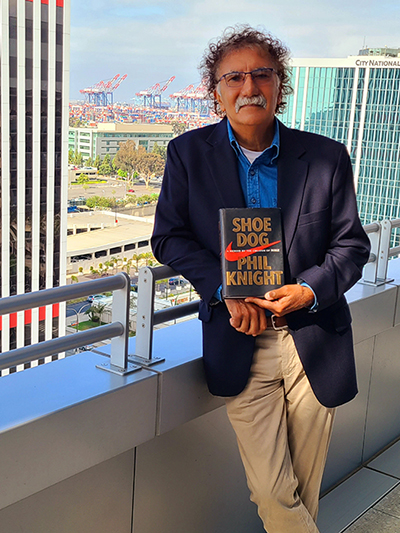 Long Beach Leaders are Readers is our new series in which leaders in our community share recommended reads. In celebration of the Library's Summer Reading program sponsored by the Port of Long Beach, Mario Cordero, Port Executive Director, has shared the following reading recommendation available in the Library's collection.
Shoe Dog, A Memoir by the Creator of NIKE by Phil Knight
Vision. Determination. Hard Work. Success.
These are the driving factors behind the true story of the creator of NIKE, Phil Knight. Shoe Dog is a great American success story driven by innovation and an unwavering commitment to make one's dream come true. Through hard work and determination to build something unique, this memoir serves to inspire all those with unconventional dreams. I highly recommend.
Long Beach Leaders are Readers — Mayor Robert Garcia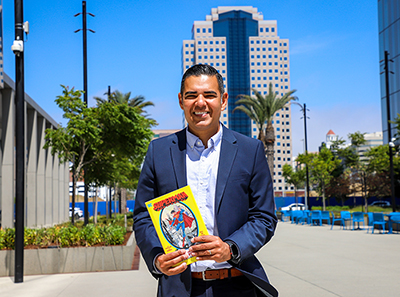 Long Beach Leaders are Readers is our new series in which leaders in our community share recommended reads. In celebration of LGBTQIA+ Pride Month, Long Beach Mayor Robert Garcia has shared the following reading recommendation.
Superman: Son of Kal–El (Volume 1) by Tom Taylor, art by John Timms
I've loved comic books ever since I was a kid and Superman has always been my favorite character. As an immigrant to this country, seeing the story of someone who was also born somewhere else — on another planet — grow up to protect people and make the world a better place was something that really spoke to me. In this new series, Superman's son takes up his father's mantle and I think really takes the story in an exciting, progressive direction. One of the main ways this happens is through Jon Kent coming to terms with his LGBTQ+ identity. Even as an adult now, it still feels really impactful to see this kind of representation — especially through a medium I grew up with. I am excited to recommend this comic as a part of the Leaders are Readers program, and I hope people enjoy this heroic journey and new direction for such a classic franchise.
Summer Reading Program Launches with Live Music Performances at all 12 Public Libraries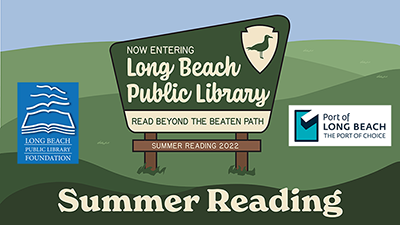 The Long Beach Public Library invites you to blaze a new trail this summer through the annual Summer Reading program! The Long Beach Public Library Foundation is proud to sponsor this year's program thanks to generous support from the Port of Long Beach.
From Saturday, June 18 to Saturday, August 13 readers of all ages can take part in the fun with prizes, programs, and special events designed to entertain and educate. To celebrate the launch of this year's program, all 12 public libraries will host a live music performance during the first week of the program (June 21-24), courtesy of the Music Center of Los Angeles' Art Grown program.
Additional support for the Summer Reading program was provided by the International Paper Foundation. Click the link below to learn more and register for this program.
Celebrating Dictionary Days with Farmers & Merchants Bank and Long Beach Students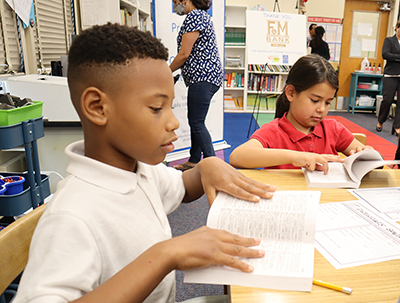 On June 1, 2022, we celebrated Dictionary Days with our friends from the Farmers & Merchants Bank Foundation at Lincoln Elementary School in Long Beach. Thanks to generous support from Farmers & Merchants Bank, the Long Beach Public Library Foundation purchased a new dictionary/thesaurus for every Long Beach Unified School District (LBUSD) third-grade student as part of our 19th annual Dictionary Days program. 5,000 dictionary/thesauruses were recently distributed to all LBUSD elementary schools which brings the total number of dictionaries distributed to Long Beach students through this program to more than 135,000 dictionaries.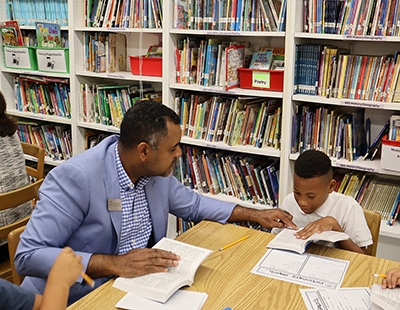 Library Foundation President, Ryan Ballard, and Christine Walker-Bowman, Co-chair of the Farmers & Merchants Bank Foundation, kicked things off in the school library with an introduction about why dictionary use is so important. A dictionary/thesaurus is a crucial resource for many students who are struggling to keep up following a long period of distance learning. According to a March 2022 LBUSD report, during this first in-person school year since the pandemic began, 61 percent of elementary and 66 percent of middle school students in Long Beach read below grade level. A dictionary/thesaurus will help students stay on track.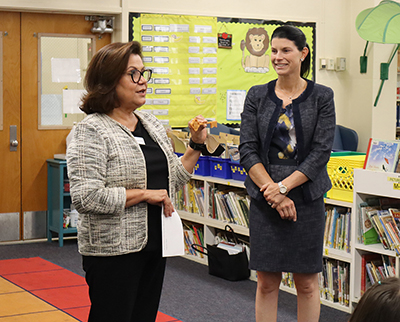 Teacher Librarian, Cynthia Melara, then led volunteers from the Library Foundation and Farmers and Merchants Bank Foundation in helping students through a dictionary scavenger hunt to identify the definition, pronunciation, part of speech, and usage label of different words. Library Foundation Executive Director/CEO, Veronica Garcia Dávalos, closed the festivities with a gift for Ms. Walker-Bowman: a "Key to Literacy" designed and 3D printed in the Billie Jean King Main Library makerspace Studio which is funded by the Library Foundation.
LBUSD has distributed all dictionary/thesauruses to this year's third-grade class. We look forward to more years of celebrating Dictionary Days and promoting literacy in Long Beach!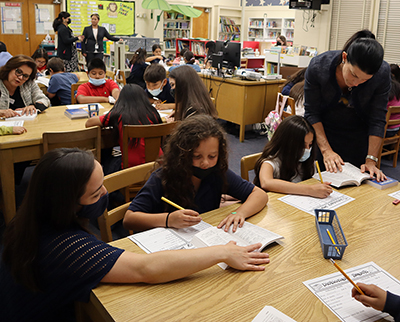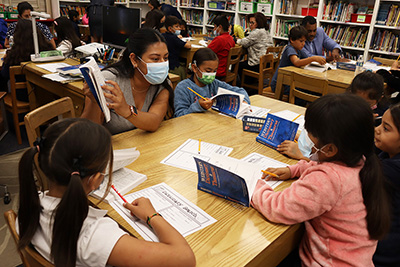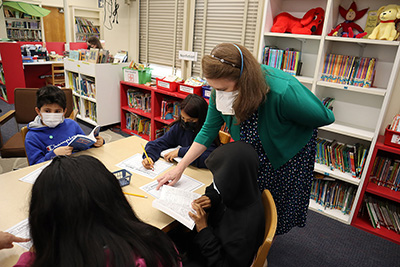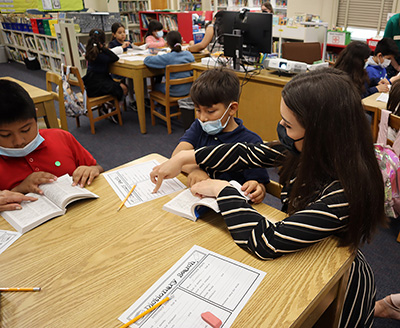 Long Beach Leaders are Readers — Anil Pandya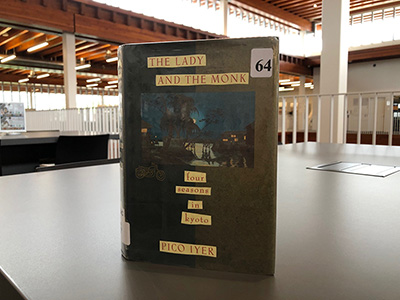 Long Beach Leaders are Readers is our new series in which leaders in our community share recommended reads available in the Long Beach Public Library's collection. In celebration of Asian American and Pacific Islander Heritage Month 2022, Library Foundation Board member, Anil Pandya, has shared the following reading recommendation.
As I am currently involved in a research project for a book I wish to write, my recent readings involve economics and politics, including some biographies of writers on these subjects, and have not read anything for pleasure. However, a few months ago at the urging of my wife, I read The Lady and the Monk by Pico Iyer.
To my surprise the book turned out to be highly pleasurable. It is a brilliant and moving biographical, personal, and cultural account of a highly accomplished and well-published itinerant travel writer, of Indian origin, who meets a remarkable Japanese woman in Kyoto Japan and marries her, while on an exploration of one of the world's most beautiful cities— Kyoto. This is a marvelous book; easy to read, beautifully written, and sensitive and nuanced. It is also funny and sad but also insightful. My reaction when I read the book, which still lingers with me is the intelligence of the writer who has been able to observe a culture so different from that of the West, and so understandable from my own Indian cultural background from an Asian perspective and yet very different! Although, published in the 1990s, it is a very contemporary work. The LA Times Book Review on the back cover reads "A beautifully written book about someone looking for ancient dreams in a strange modern place." And the blurb at the back states that it is "… a marvelously ironic yet heartfelt book that is at once a portrait of a cross-cultural infatuation- and misunderstanding—and a delightfully fresh way of seeing both the old Japan and the very new." True, but it is also much more than seeing Japan. I strongly recommend the book to the young, the old and also the cynical among us, that you will love the book.
A few biographical notes:
Pico Iyer lives in Japan and has a home in Santa Barbara. His mother Nandini Nanak Mehta, until recently, taught Religion at a local university; his father studied and taught Philosophy at Oxford. Pico's name is Siddharth Pico Raghavan Iyer. His parents grew up in India, then went to England and later moved to the US. His name is a combination of the Buddha's name, Siddharth, and the 15th century Italian philosopher Pico della Mirandola, the writer of The Oration on the Dignity of Man, which has been called the Renaissance Manifesto. European Renaissance eventually led to enlightenment in Europe as it emerged out of religious and political conflict and violent middle ages. Pico Iyer's other books include Video Night in Kathmandu, The Global Soul among several others, and his essays have been published in Time, Harper's BAZAAR, the New York Review of Books, and the New York Times.
Long Beach Leaders are Readers — Ryan Ballard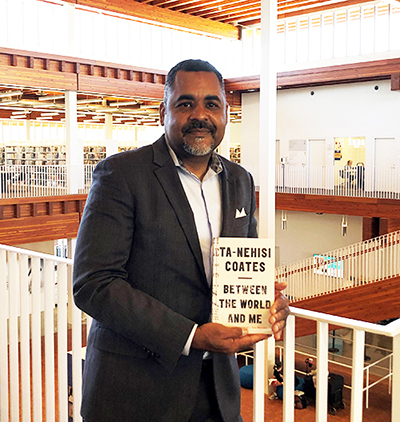 Long Beach Leaders are Readers is our new series in which leaders in our community share recommended reads available in the Long Beach Public Library's collection. In celebration of National Library Week 2022, Library Foundation Board President Ryan Ballard has shared the following reading recommendation.
My book recommendation is Between the World and Me by Ta Nehisi Coates. I consider him to be my contemporary and the book is, in fact, a letter written to his teenage son, a scenario to which I can completely relate. Not only do I have three sons of my own but at the time of its publishing, my oldest was nearly the same age as the author's son, for whom the book was written.
The book offers a window into the author's life experiences, the challenges he's faced that may mirror those of his son as he traverses through life as well as recommendations from a father to his son. What a tremendous legacy to leave your son that will have permanence and can be appreciated indefinitely. I can only hope to do the same for "my three sons."
Long Beach Leaders are Readers — Margaret Durnin
This is the first feature in our new series in which leaders in our community will share recommended reads available in the Long Beach Public Library's collection.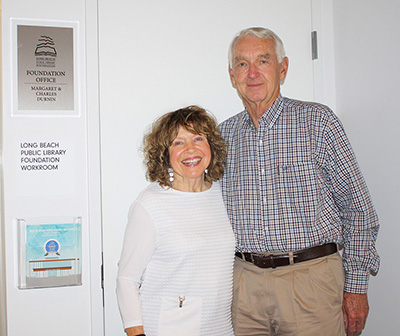 Margaret Durnin, Founder of the Long Beach Public Library Foundation
In honor of Women's History Month, Margaret has shared a couple of her current favorite books written by women.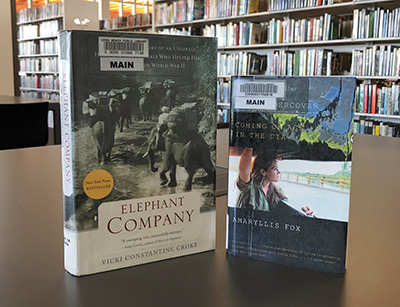 Life Under Cover: Coming of Age in the CIA by Amaryllis Fox
At twenty-one, Amaryllis Fox was recruited by the CIA as she exited her university studies. Her memoir reads like a suspenseful spy novel and the reader must continue to remind herself that this story is true.
Elephant Company by Vicki Constantine Croke 
Elephant Company is a wonderful tale of friendship, breathtaking bravery, and daring during WWII when Imperial Japanese forces invaded Burma in 1942. One particular tusker, Bandoola, attempts to lead his band of elephants and desperate refugees over an impossible mountainous trek to India.
Coretta Scott King Book Award Winners in the Long Beach Public Library's Collection
The Coretta Scott King Book Awards are given annually to outstanding African American authors and illustrators of books for children and young adults that demonstrate an appreciation for African American culture and universal human values. The award commemorates the life and work of Dr. Martin Luther King, Jr., and honors his wife, Mrs. Coretta Scott King, for her courage and determination to continue the work for peace and world brotherhood. Learn more and view the full list of award recipients since 1970 at www.ala.org/rt/emiert/cskbookawards/coretta-scott-king-book-awards-all-recipients-1970-present.
Below is a list of recently recognized Coretta Scott King Book Award works that can be found in the Long Beach Public Library's collection at encore.lbpl.org.
Make a donation of any size to help us purchase additional books that share the words, histories, and stories of African Americans, as well as educate the public on the origins of white privilege, white supremacy, mass incarceration, and other forms of institutional racism and human rights issues that plague our society.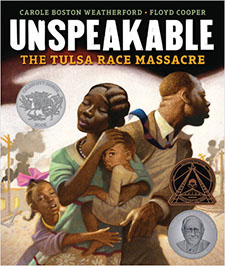 Unspeakable: The Tulsa Race Massacre by Carole Boston Weatherford and illustrated by Floyd Cooper
2022 Author and Illustrator Winner
From the publisher: The book traces the history of African Americans in Tulsa's Greenwood district and chronicles the devastation that occurred in 1921 when a white mob attacked the Black community. News of what happened was largely suppressed, and no official investigation occurred for seventy-five years. This picture book sensitively introduces young readers to this tragedy and concludes with a call for a better future.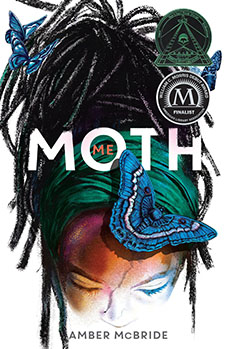 Me (Moth) by Amber McBride
2022 John Steptoe Award for New Talent (Author)
From the publisher: Moth has lost her family in an accident. Though she lives with her aunt, she feels alone and uprooted. Until she meets Sani, a boy who is also searching for his roots. If he knows more about where he comes from, maybe he'll be able to understand his ongoing depression. And if Moth can help him feel grounded, then perhaps she too will discover the history she carries in her bones.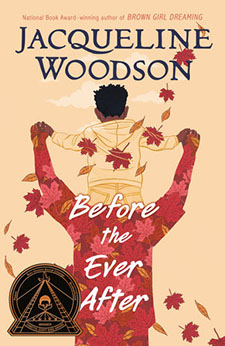 Before the Ever After by Jacqueline Woodson
2021 Author Winner
From the publisher: For as long as ZJ can remember, his dad has been everyone's hero. As a charming, talented pro football star, he's as beloved to the neighborhood kids he plays with as he is to his millions of adoring sports fans. But lately life at ZJ's house is anything but charming. His dad is having trouble remembering things and seems to be angry all the time. ZJ's mom explains it's because of all the head injuries his dad sustained during his career. ZJ can understand that–but it doesn't make the sting any less real when his own father forgets his name.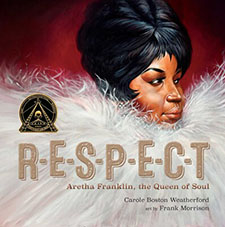 R-E-S-P-E-C-T: Aretha Franklin, The Queen of Soul by Carole Boston Weatherford and illustrated Frank Morrison
2021 Illustrator Winner
From the publisher: Aretha Franklin was born to sing. The daughter of a pastor and a gospel singer, her musical talent was clear from her earliest days in her father's Detroit church where her soaring voice spanned more than three octaves. Her string of hit songs earned her the title "the Queen of Soul," multiple Grammy Awards, and a place in the Rock & Roll Hall of Fame. But Aretha didn't just raise her voice in song, she also spoke out against injustice and fought for civil rights.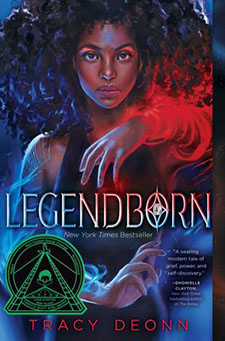 Legendborn by Tracy Deonn
2021 John Steptoe Award for New Talent (Author)
From the publisher: After her mother dies in an accident, sixteen-year-old Bree Matthews wants nothing to do with her family memories or childhood home. A residential program for bright high schoolers at UNC–Chapel Hill seems like the perfect escape—until Bree witnesses a magical attack her very first night on campus.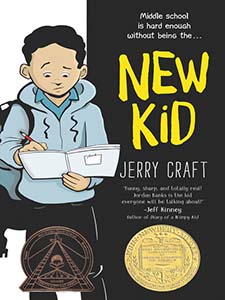 New Kid by Jerry Craft
2020 Author Winner
From the publisher: Seventh grader Jordan Banks loves nothing more than drawing cartoons about his life. But instead of sending him to the art school of his dreams, his parents enroll him in a prestigious private school known for its academics, where Jordan is one of the few kids of color in his entire grade. As he makes the daily trip from his Washington Heights apartment to the upscale Riverdale Academy Day School, Jordan soon finds himself torn between two worlds—and not really fitting into either one. Can Jordan learn to navigate his new school culture while keeping his neighborhood friends and staying true to himself?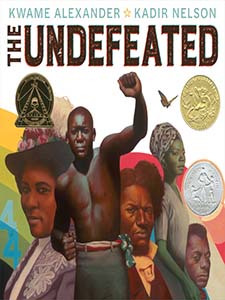 The Undefeated written by Kwame Alexander and illustrated by Kadir Nelson
2020 Illustrator Winner
From the publisher: Originally performed for ESPN's The Undefeated, this poem is a love letter to black life in the United States. It highlights the unspeakable trauma of slavery, the faith and fire of the civil rights movement, and the grit, passion, and perseverance of some of the world's greatest heroes. The text is also peppered with references to the words of Martin Luther King, Jr., Langston Hughes, Gwendolyn Brooks, and others, offering deeper insights into the accomplishments of the past, while bringing stark attention to the endurance and spirit of those surviving and thriving in the present.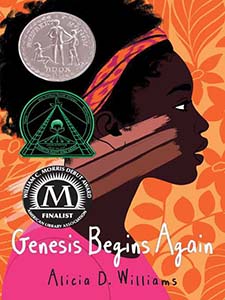 Genesis Begins Again by Alicia D. Williams
2020 John Steptoe Award for New Talent (Author)
From the publisher: There are 96 things that Genesis hates about herself, and her dark skin is at the top of the list. Genesis tries to hold her family together as she embarks on a journey of self-discovery. This deeply sensitive and powerful debut novel tells the story of a thirteen-year-old who must overcome internalized racism and a verbally abusive family to finally learn to love herself.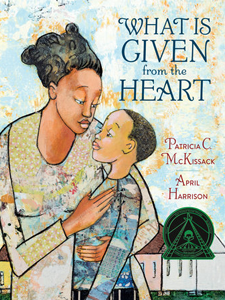 What is Given from the Heart by Patricia C. McKissack and illustrated by April Harrison
2020 John Steptoe Award for New Talent (Illustrator)
From the publisher: "Misery loves company," Mama says to James Otis. It's been a rough couple of months for them, but Mama says as long as they have their health and strength, they're blessed. One Sunday before Valentine's Day, Reverend Dennis makes an announcement during the service– the Temples have lost everything in a fire, and the church is collecting anything that might be useful to them. James thinks hard about what he can add to the Temple's "love box," but what does he have worth giving?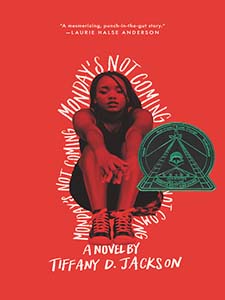 Monday's Not Coming by Tiffany D. Jackon
2019 John Steptoe Award for New Talent (Author)
From the publisher: Monday Charles is missing, and only Claudia seems to notice. Claudia and Monday have always been inseparable—more sisters than friends. So when Monday doesn't turn up for the first day of school, Claudia's worried. When she doesn't show for the second day, or second week, Claudia knows that something is wrong. Monday wouldn't just leave her to endure tests and bullies alone. Not after last year's rumors and not with her grades on the line. Now Claudia needs her best—and only—friend more than ever. But Monday's mother refuses to give Claudia a straight answer, and Monday's sister April is even less help. As Claudia digs deeper into her friend's disappearance, she discovers that no one seems to remember the last time they saw Monday. How can a teenage girl just vanish without anyone noticing that she's gone?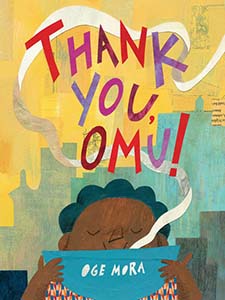 Thank You, Omu written and illustrated by Oge Mora
2019 John Steptoe Award for New Talent (Illustrator)
From the publisher: Everyone in the neighborhood dreams of a taste of Omu's delicious stew! One by one, they follow their noses toward the scrumptious scent. And one by one, Omu offers a portion of her meal. Soon the pot is empty. Has she been so generous that she has nothing left for herself?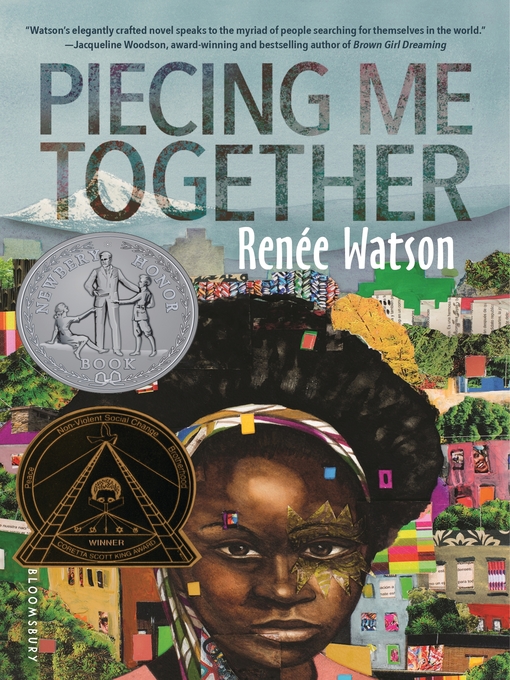 Piecing Me Together by Renée Watson
2018 Author Award Winner
From the publisher: Jade believes she must get out of her poor neighborhood if she's ever going to succeed. Her mother tells her to take advantage of every opportunity that comes her way. And Jade has: every day she rides the bus away from her friends and to the private school where she feels like an outsider, but where she has plenty of opportunities. But some opportunities she doesn't really welcome, like an invitation to join Women to Women, a mentorship program for "at-risk" girls. Just because her mentor is black and graduated from the same high school doesn't mean she understands where Jade is coming from. She's tired of being singled out as someone who needs help, someone people want to fix. Jade wants to speak, to create, to express her joys and sorrows, her pain and her hope. Maybe there are some things she could show other women about understanding the world and finding ways to be real, to make a difference.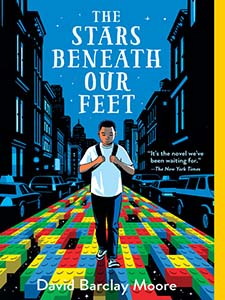 The Stars Beneath Our Feet by David Barclay Moore
2018 John Steptoe Award for New Talent (Author)
From the publisher: It's Christmas Eve in Harlem, but twelve-year-old Lolly Rachpaul and his mom aren't celebrating. They're still reeling from his older brother's death in a gang-related shooting just a few months earlier. Then Lolly's mother's girlfriend brings him a gift that will change everything: two enormous bags filled with Legos. Lolly's always loved Legos, and he prides himself on following the kit instructions exactly. Now, faced with a pile of building blocks and no instructions, Lolly must find his own way forward.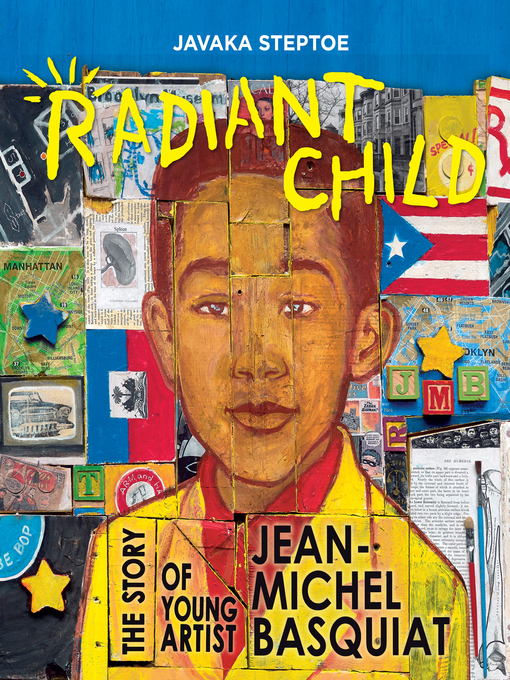 Radiant Child: The Story of Young Artist Jean-Michel Basquiat written and illustrated by Javaka Steptoe
2017 Illustrator Award Winner
From the publisher: Jean-Michel Basquiat and his unique, collage-style paintings rocketed to fame in the 1980s as a cultural phenomenon unlike anything the art world had ever seen. But before that, he was a little boy who saw art everywhere: in poetry books and museums, in games and in the words that we speak, and in the pulsing energy of New York City. Now, award-winning illustrator Javaka Steptoe's vivid text and bold artwork echoing Basquiat's own introduce young readers to the powerful message that art doesn't always have to be neat or clean—and definitely not inside the lines—to be beautiful.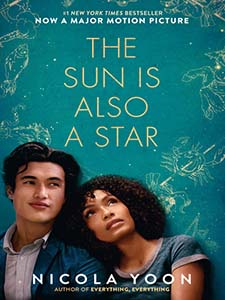 The Sun is Also a Star by Nicola Yoon
2017 John Steptoe Award for New Talent (Author)
From the publisher:
Natasha: I'm a girl who believes in science and facts. Not fate. Not destiny. Or dreams that will never come true. I'm definitely not the kind of girl who meets a cute boy on a crowded New York City street and falls in love with him. Not when my family is twelve hours away from being deported to Jamaica. Falling in love with him won't be my story.
Daniel: I've always been the good son, the good student, living up to my parents' high expectations. Never the poet. Or the dreamer. But when I see her, I forget about all that. Something about Natasha makes me think that fate has something much more extraordinary in store—for both of us.
The Universe: Every moment in our lives has brought us to this single moment. A million futures lie before us. Which one will come true?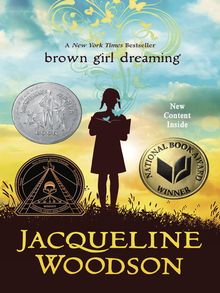 brown girl dreaming by Jacqueline Woodson
2015 Author Award Winner
From the publisher: Raised in South Carolina and New York, Woodson always felt halfway home in each place. In vivid poems, she shares what it was like to grow up as an African American in the 1960s and 1970s, living with the remnants of Jim Crow and her growing awareness of the Civil Rights movement. Touching and powerful, each poem is both accessible and emotionally charged, each line a glimpse into a child's soul as she searches for her place in the world.
When I Was the Greatest by Jason Reynolds
2015 John Steptoe Award for New Talent
From the publisher: Nah, not his thing. Ali's got enough going on, between school and boxing and helping out at home. His best friend Noodles, though. Now there's a dude looking for trouble—and, somehow, it's always Ali around to pick up the pieces. But, hey, a guy's gotta look out for his boys, right? Besides, it's all small potatoes; it's not like anyone's getting hurt.
Books that Have Won Awards from Librarians for Your Summer Reading List
Every year, the American Library Association invites committees of librarians, educators, writers, and booksellers to honor outstanding new books with a variety of literary awards. Almost all of these books are available in the Long Beach Public Library's collection at encore.lbpl.org. Check them out and enjoy a summer of reading.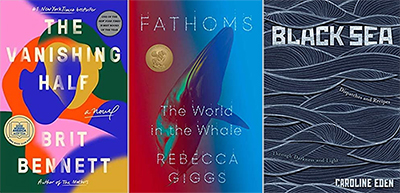 Award-winning Books for Adults
The Andrew Carnegie Medals for Excellence, the Notable Books List, the CODES List, and more book and media recognitions are given to the best in new titles for adults. Check out the latest recently honored books as well as award-winners from previous years at the link below.
Award-winning Books for Children and Teens
Each year, the American Library Association honors outstanding materials for children and teens. These honors include the prestigious Newbery, Caldecott, Printz, and Coretta Scott King Book Awards. Learn more about these awards and discover award-winning books from this year and previous years at the link below.