Books that Have Won Awards from Librarians for Your Summer Reading List
Every year, the American Library Association invites committees of librarians, educators, writers, and booksellers to honor outstanding new books with a variety of literary awards. Almost all of these books are available in the Long Beach Public Library's collection at encore.lbpl.org. Check them out and enjoy a summer of reading.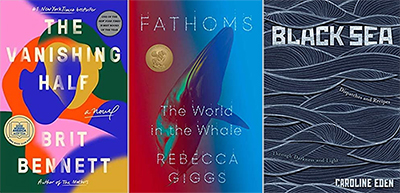 Award-winning Books for Adults
The Andrew Carnegie Medals for Excellence, the Notable Books List, the CODES List, and more book and media recognitions are given to the best in new titles for adults. Check out the latest recently honored books as well as award-winners from previous years at the link below.
Award-winning Books for Children and Teens
Each year, the American Library Association honors outstanding materials for children and teens. These honors include the prestigious Newbery, Caldecott, Printz, and Coretta Scott King Book Awards. Learn more about these awards and discover award-winning books from this year and previous years at the link below.
Long Beach Public Library Foundation and Long Beach Public Library Partner with Léeme un Libro to Provide Reading Programs to Migrant Children
The Long Beach Public Library Foundation and the Long Beach Public Library have partnered with Léeme un Libro (Read Me a Book), an online, volunteer-led, Spanish/English storybook read-along initiative aimed at overcoming language and literacy barriers that exist for the migrant children being sheltered at the Long Beach HHS (U.S. Department of Health and Human Services) site. As Léeme un Libro's fiscal sponsor, the Library Foundation has made it possible for over 700 new Spanish-language books and craft supplies to be delivered to Long Beach HHS site. The Library is creating weekly educational activities and volunteer students from LBUSD dual-immersion schools are recording storytimes in Spanish for the children. This is all possible thanks to a generous grant from the Long Beach Community Foundation's Migrant Children's Support Fund.
Check out a storytime below created for this project by Long Beach student and daughter of Library Foundation Board President M. Lissette Flores, Shanti Flores Marsocci.
Celebrated Books by Asian and Asian American Women
Discover works by Asian and Asian American women in celebration of Women's History Month. We have compiled a list of recently honored works available in the Long Beach Public Library's collection. Check out these books and more at the link below.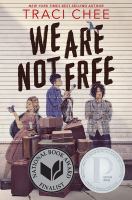 We are Not Free
By Traci Chee
2020 Printz Honor Book
2020 Walter Honor Book
2020 National Book Award Finalist
From the publisher: Fourteen teens who have grown up together in Japantown, San Francisco. Fourteen teens who form a community and a family, as interconnected as they are conflicted. Fourteen teens whose lives are turned upside down when over 100,000 people of Japanese ancestry are removed from their homes and forced into desolate incarceration camps. In a world that seems determined to hate them, these young Nisei must rally together as racism and injustice threaten to pull them apart.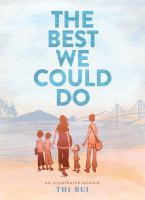 The Best We Could Do: An Illustrated Memoir
By Thi Bui
American Library Association 2018 Notable Books Selection
2017 National Book Critics Circle Finalist
From the publisher: This beautifully illustrated and emotional story is an evocative memoir about the search for a better future and a longing for the past. Exploring the anguish of immigration and the lasting effects that displacement has on a child and her family, Bui documents the story of her family's daring escape after the fall of South Vietnam in the 1970s, and the difficulties they faced building new lives for themselves.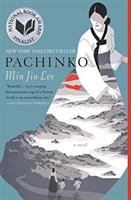 Pachinko
By Min Jin Lee
2018 Medici Book Club Prize
2017 National Book Award Finalist
2017 Dayton Literary Peace Prize Runner-up
From the publisher: Pachinko follows one Korean family through the generations, beginning in early 1900s Korea with Sunja, the prized daughter of a poor yet proud family, whose unplanned pregnancy threatens to shame them. Betrayed by her wealthy lover, Sunja finds unexpected salvation when a young tubercular minister offers to marry her and bring her to Japan to start a new life.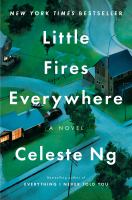 Little Fires Everywhere
By Celeste Ng
GoodReads Readers' Choice Award 2017, Fiction
2018 Ohioana Book Award for Fiction
From the publisher: Little Fires Everywhere explores the weight of secrets, the nature of art and identity, and the ferocious pull of motherhood—and the danger of believing that following the rules can avert disaster.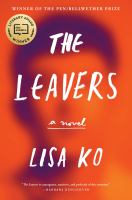 The Leavers: A Novel
By Lisa Ko
2016 PEN/Bellwether Award for Socially Engaged Fiction
2017-2018 Asian Pacific American Award for Literature
2017 National Book Award Finalist
From the publisher: When Deming Guo is young, his undocumented Chinese immigrant mother leaves for work and never returns. Deming is adopted by a white family and renamed Daniel, and grows up to be a troubled young man. As he tries to find his place in the world, we learn more about his personal journey and his mother's journey.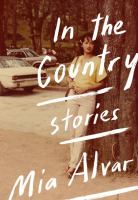 In the Country: Stories
By Mia Alvar
2015 PEN/Robert W. Bingham Prize for Debut Fiction
2015 Nautilus Book Award Winner
From the publisher: In these nine globe-trotting tales, Mia Alvar gives voice to the women and men of the Philippines and its diaspora. From teachers to housemaids, from mothers to sons, Alvar's stories explore the universal experiences of loss, displacement, and the longing to connect across borders both real and imagined.
Watch the Recording of Our Virtual Celebration with Elise Bryant and Senator Lena A. Gonzalez
All LBUSD 3rd Grade Students to Receive a New Dictionary/Thesaurus Thanks to Community Fundraising Campaign
"Thank you for continuing this program. I recently set up my son's distance learning desk in his room and found the dictionary he received in 3rd grade and I placed it on his desk, within easy reach."
– Comment left by a Dictionary Days program donor
Long Beach, CA (January 25, 2021) – Families facing the challenges of distance learning need free educational resources now more than ever. Thanks to the generosity of literacy supporters throughout Long Beach and a significant gift from the LGA Family Foundation and the Newell Family, the Long Beach Public Library Foundation funded the purchase of a new dictionary/thesaurus for every Long Beach Unified School District 3rd grade student as part of its annual Dictionary Days program.
In 2003, the Long Beach Public Library Foundation and the Earl B. and Loraine H. Miller Foundation joined forces to create the Dictionary Days program and promote literacy and a love of libraries for local students. Since the program's inception, over 120,000 new dictionary/thesauruses have been given to Long Beach 3rd grade students. In August 2020, the Library Foundation announced a fundraising campaign to support this year's 3rd grade class. More than 60 generous community members made gifts of $5 or more to ensure that every student would receive a dictionary/thesaurus. A significant gift from the LGA Family Foundation helped the campaign to raise the more than $16,000 needed to continue the program this school year.
"We believe that with no classes in session and students struggling with online learning this annual program to provide dictionaries to young students is more important than ever and we are pleased to support it," said Frank Newell.
According to the Campaign for Grade Level Reading, when children enter the 4th grade their lessons shift. Instead of learning to read, they read to learn. Students who do not read proficiently by 3rd grade are four times more likely to leave high school without a diploma than proficient readers. Record unemployment, the digital divide, and distance learning have made this school year especially difficult for local families. A dictionary/thesaurus in home libraries can help parents and guardians raise resourceful learners and active readers during this crucial time.
"As the Library Foundation celebrates its 25th year serving the Long Beach community, we are proud to continue the Dictionary Days program at a time when Long Beach families need it most," said Library Foundation Board President M. Lissette Flores. "This would not have been possible without the generosity of those who understand the importance of early literacy to the overall health of youth and the success of our community. Thank you to everyone who donated!"
The Long Beach Unified School District will distribute the dictionary/thesauruses to 3rd grade students during their regular materials distributions in the coming weeks.
Recently Honored Books by Native American Authors in the Long Beach Public Library's Collection
Celebrate National Native American Heritage Month with these recently honored books. Find these books and more by Native American writers in the Long Beach Public Library's collection.
Books for Children and Teens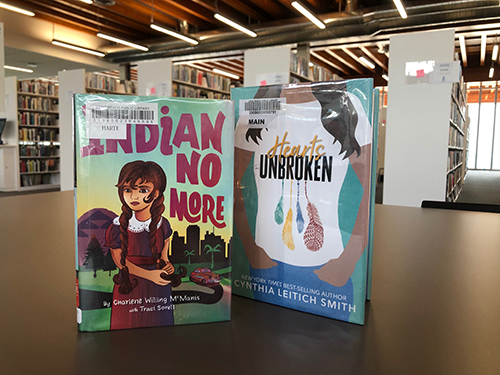 The following books have all been recognized by the American Indian Youth Literature Awards (AIYLA) which honors the very best writing and illustrations by Native Americans and Indigenous peoples of North America. Click Here to see the full list of AIYLA winners and honorees on the American Indian Library Association website.
Fry Bread: A Native American Family Story
Written by Kevin Noble Maillard; illustrated by Juana Martinez-Neal
2020 Robert F. Sibert Informational Book Medal
A 2020 American Indian Youth Literature Picture Book Honoree
From the publisher: Told in lively and powerful verse by debut author Kevin Noble Maillard, Fry Bread is an evocative depiction of a modern Native American family, vibrantly illustrated by Pura Belpre Award winner and Caldecott Honoree Juana Martinez-Neal.
Bowwow Powwow
Written by Brenda J. Child; illustrated by Jonathan Thunder; translated by Gordon Jourdain
2020 American Indian Youth Literature Award for Best Picture Book Winner
From the publisher: The best days of summer end at the powwow, but Windy Girl takes the revelry of the gathering one step farther, into a dreamworld where the dancers and singers are dogs.
Indian No More
By Charlene Willing McManis with Traci Sorell
2020 American Indian Youth Literature Award for Best Middle School Book Winner
From the publisher: Regina Petit's family has always been Umpqua, and living on the Grand Ronde Tribe's reservation is all ten-year-old Regina has ever known. Her biggest worry is that Sasquatch may actually exist out in the forest. But when the federal government enacts a law that says Regina's tribe no longer exists, Regina becomes "Indian no more" overnight–even though she lives with her tribe and practices tribal customs, and even though her ancestors were Indian for countless generations.
Hearts Unbroken
By Cynthia Leitich Smith
2020 American Indian Youth Literature Award for Best Young Adult Novel Winner
From the publisher: When Louise Wolfe's first real boyfriend mocks and disrespects Native people in front of her, she breaks things off and dumps him over e-mail. It's her senior year, anyway, and she'd rather spend her time with her family and friends and working on the school newspaper. The editors pair her up with Joey Kairouz, the ambitious new photojournalist, and in no time the paper's staff find themselves with a major story to cover: the school musical director's inclusive approach to casting The Wizard of Oz has been provoking backlash in their mostly white, middle-class Kansas town.
Poetry and Short Stories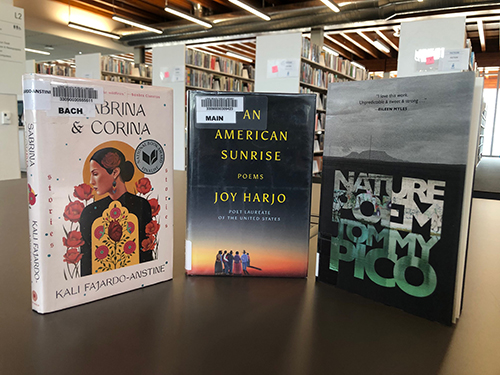 An American Sunrise
By Joy Harjo
In 2019, Joy Harjo became the first Native American United States Poet Laureate. Her works have won many awards and several of her books are available in the Library's collection including her 2019 volume, An American Sunrise.
From the publisher: In this stunning collection, Joy Harjo finds blessings in the abundance of her homeland and confronts the site where the Mvskoke people, including her own ancestors, were forcibly displaced. From her memory of her mother's death, to her beginnings in the Native rights movement, to the fresh road with her beloved, Harjo's personal life intertwines with tribal histories to create a space for renewed beginnings.
Nature Poem
By Tommy Pico
2018 American Book Award Winner
2018 Lambda Literary Award Finalist
From the publisher: A book-length poem about how an American Indian (or NDN) writer can't bring himself to write about nature, but is forced to reckon with colonial-white stereotypes, manifest destiny, and his own identity as an young, queer, urban-dwelling poet.
Sabrina & Corina
By Kali Fajardo-Anstine
2020 American Book Award Winner
2020 PEN/Robert W. Bingham Prize for Debut Short Story Collection Finalist
From the publisher: Kali Fajardo-Anstine's magnetic story collection breathes life into her Latina characters of indigenous ancestry and the land they inhabit in the American West. Against the remarkable backdrop of Denver, Colorado—a place that is as fierce as it is exquisite—these women navigate the land the way they navigate their lives: with caution, grace, and quiet force.
Novels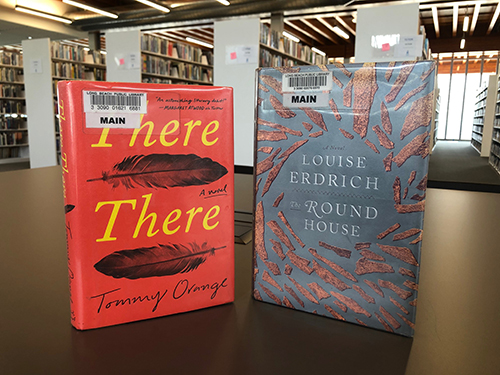 The Round House
By Louise Erdrich
2012 National Books Award for Fiction Winner
2013 Andrew Carnegie Medal for Excellence in Fiction Finalist
From the publisher: One of the most revered novelists of our time—a brilliant chronicler of Native-American life—Louise Erdrich returns to the territory of her bestselling, Pulitzer Prize finalist The Plague of Doves with The Round House, transporting readers to the Ojibwe reservation in North Dakota. It is an exquisitely told story of a boy on the cusp of manhood who seeks justice and understanding in the wake of a terrible crime that upends and forever transforms his family.
There There
By Tommy Orange
2019 California Book Award in First Fiction Gold Medal Winner
2019 PEN/Hemingway Award Winner
2018 National Book Critics Circle Awards "John Leonard Prize" Winner
From the publisher: One of The New York Times 10 Best Books of the Year, Tommy Orange's wondrous and shattering bestselling novel follows twelve characters from Native communities: all traveling to the Big Oakland Powwow, all connected to one another in ways they may not yet realize.
Hispanic Heritage Month: Re-inventing Ourselves in the Pandemic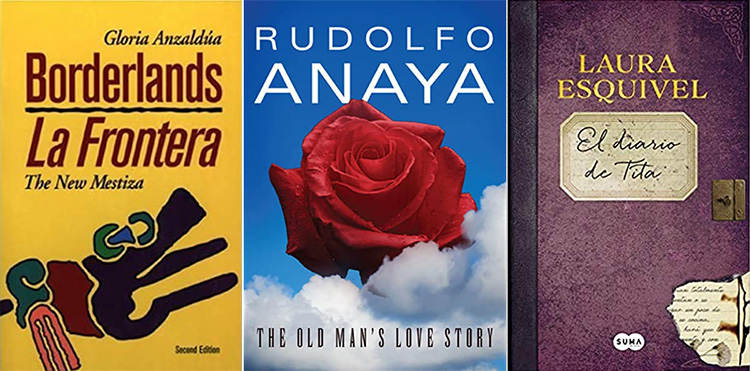 By Gregorio Luke
Gregorio Luke is an expert on Mexican and Latin American art and culture. He is the former Director of the Museum of Latin American Art, Consul of Cultural Affairs of Mexico in Los Angeles and the First Secretary of the embassy of Mexico in Washington D.C.
There is after all a silver lining in this pandemic: the possibility of reading and thinking. Our LONG BEACH PUBLIC LIBRARY offers us the best books at no cost. During Hispanic Heritage Month, enjoy their LATINX collection, that includes, only to mention a few: Isabel Allende and Julia Alvarez, their books make us experience a Coup in Latin America; Rudolfo Anaya shares his struggle against discrimination; Laura Esquivel remembers her childhood through cuisine; Gloria Anzaldúa gives poetic expression to our feelings; Sandra Cisneros and Oscar Hijuelos give us beautifully written books that cannot be put down. There is poetry, novel, autobiography a real treasure. Contrary to commercial marketing books that focus on the exterior: "get thin" or "get rich quick" schemes, these books provide us with real life experience by intelligent Latinx, who live in similar circumstances to our own. During this pandemic let's re-invent ourselves, books are the key.
CELEBRATE WITH BOOKS BY THE FOLLOWING AUTHORS AVAILABLE IN THE LONG BEACH PUBLIC LIBRARY'S COLLECTION
Check out their works and more at http://encore.lbpl.org.
Sandra Cisneros
Junot Diaz
Gary Soto
Sonia Sotomayor
Victor Villasenor
Isabel Allende
Alisa Valdes-Rodriguez
Richard Rodriguez
Esmeralda Santiago
Oscar Hijuelos
Ernesto Galarza
Rolando Hinojosa
Graciela Limon
Helena Maria Viramontes
Gloria Anzaldua
Carla Trujillo
Tomas Rivera
Cristina Garcia
Julia Alvarez
Rudolfo Anaya
Reyna Grande
Laura Esquivel
Francisco Jimenez
Piri Thomas
Dive into Reading Goes Virtual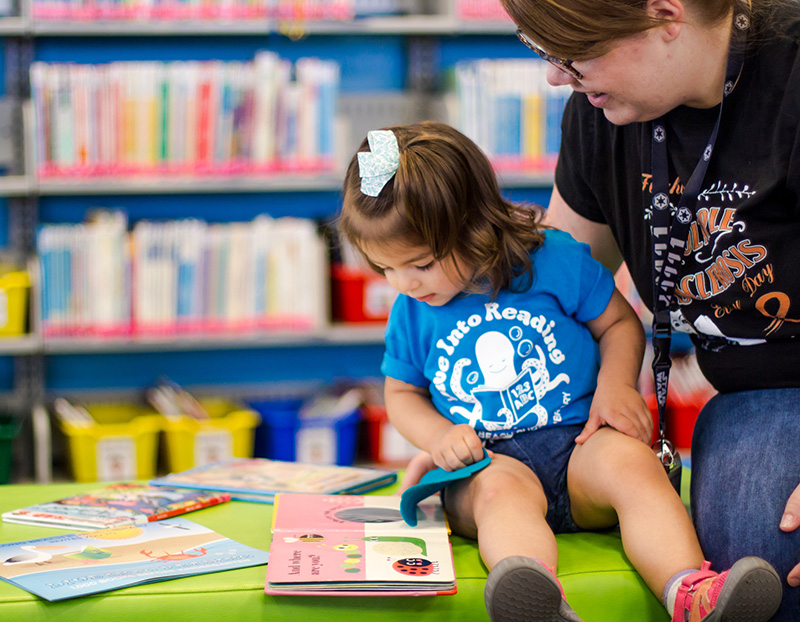 Thanks to donations to the Long Beach Public Library Foundation, the Dive into Reading early literacy program for families with children ages 0-5 is relaunching virtually. The live online launch event on August 29 at 10:30 a.m. on the Library's Facebook page will include a craft workshop for children to make their own musical instruments and a bilingual musical performance. Schedule a pick-up of your child's craft kit while supplies last by calling the Library at (562) 570-7500 from 10:00 a.m. – 5:00 p.m., Tuesday – Saturday.
Dive into Reading guides parents and guardians as they read 1,000 books to their children before kindergarten and raise life-long readers. The virtual version of the program includes online book trackers for parents and guardians and prizes for families that reach reading milestones.
Learn more on the Library's website at http://www.longbeach.gov/library/learn/dive-into-reading/.
Coretta Scott King Book Award EBooks in the Long Beach Public Library's Collection
The Coretta Scott King Book Awards are given annually to outstanding African American authors and illustrators of books for children and young adults that demonstrate an appreciation for African American culture and universal human values. The award commemorates the life and work of Dr. Martin Luther King, Jr., and honors his wife, Mrs. Coretta Scott King, for her courage and determination to continue the work for peace and world brotherhood. Learn more and view the full list of award recipients since 1970 at www.ala.org/rt/emiert/cskbookawards/coretta-scott-king-book-awards-all-recipients-1970-present.
Below is a list of recently recognized Coretta Scott King Book Award works that can be found in the Long Beach Public Library's eBook and audiobook collection at lbpl.overdrive.com.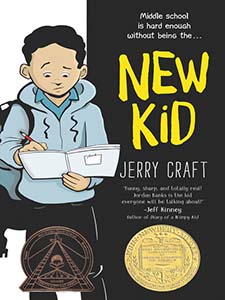 New Kid by Jerry Craft
2020 Author Winner
From the publisher: Seventh grader Jordan Banks loves nothing more than drawing cartoons about his life. But instead of sending him to the art school of his dreams, his parents enroll him in a prestigious private school known for its academics, where Jordan is one of the few kids of color in his entire grade. As he makes the daily trip from his Washington Heights apartment to the upscale Riverdale Academy Day School, Jordan soon finds himself torn between two worlds—and not really fitting into either one. Can Jordan learn to navigate his new school culture while keeping his neighborhood friends and staying true to himself?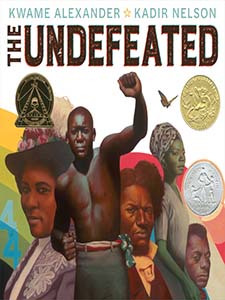 The Undefeated written by Kwame Alexander and illustrated by Kadir Nelson
2020 Illustrator Winner
From the publisher: Originally performed for ESPN's The Undefeated, this poem is a love letter to black life in the United States. It highlights the unspeakable trauma of slavery, the faith and fire of the civil rights movement, and the grit, passion, and perseverance of some of the world's greatest heroes. The text is also peppered with references to the words of Martin Luther King, Jr., Langston Hughes, Gwendolyn Brooks, and others, offering deeper insights into the accomplishments of the past, while bringing stark attention to the endurance and spirit of those surviving and thriving in the present.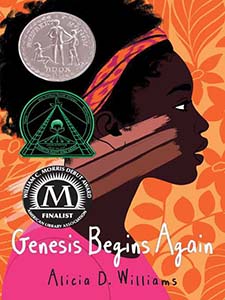 Genesis Begins Again by Alicia D. Williams
2020 John Steptoe Award for New Talent (Author)
From the publisher: There are 96 things that Genesis hates about herself, and her dark skin is at the top of the list. Genesis tries to hold her family together as she embarks on a journey of self-discovery. This deeply sensitive and powerful debut novel tells the story of a thirteen-year-old who must overcome internalized racism and a verbally abusive family to finally learn to love herself.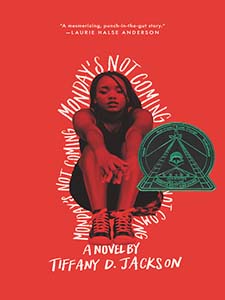 Monday's Not Coming by Tiffany D. Jackon
2019 John Steptoe Award for New Talent (Author)
From the publisher: Monday Charles is missing, and only Claudia seems to notice. Claudia and Monday have always been inseparable—more sisters than friends. So when Monday doesn't turn up for the first day of school, Claudia's worried. When she doesn't show for the second day, or second week, Claudia knows that something is wrong. Monday wouldn't just leave her to endure tests and bullies alone. Not after last year's rumors and not with her grades on the line. Now Claudia needs her best—and only—friend more than ever. But Monday's mother refuses to give Claudia a straight answer, and Monday's sister April is even less help. As Claudia digs deeper into her friend's disappearance, she discovers that no one seems to remember the last time they saw Monday. How can a teenage girl just vanish without anyone noticing that she's gone?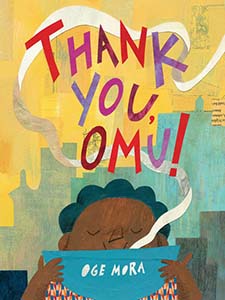 Thank You, Omu written and illustrated by Oge Mora
2019 John Steptoe Award for New Talent (Illustrator)
From the publisher: Everyone in the neighborhood dreams of a taste of Omu's delicious stew! One by one, they follow their noses toward the scrumptious scent. And one by one, Omu offers a portion of her meal. Soon the pot is empty. Has she been so generous that she has nothing left for herself?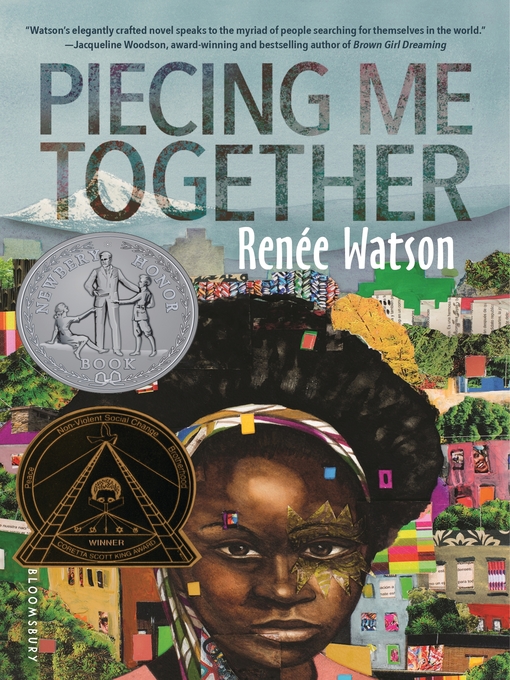 Piecing Me Together by Renée Watson
2018 Author Award Winner
From the publisher: Jade believes she must get out of her poor neighborhood if she's ever going to succeed. Her mother tells her to take advantage of every opportunity that comes her way. And Jade has: every day she rides the bus away from her friends and to the private school where she feels like an outsider, but where she has plenty of opportunities. But some opportunities she doesn't really welcome, like an invitation to join Women to Women, a mentorship program for "at-risk" girls. Just because her mentor is black and graduated from the same high school doesn't mean she understands where Jade is coming from. She's tired of being singled out as someone who needs help, someone people want to fix. Jade wants to speak, to create, to express her joys and sorrows, her pain and her hope. Maybe there are some things she could show other women about understanding the world and finding ways to be real, to make a difference.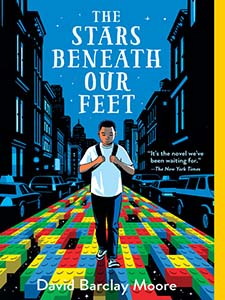 The Stars Beneath Our Feet by David Barclay Moore
2018 John Steptoe Award for New Talent (Author)
From the publisher: It's Christmas Eve in Harlem, but twelve-year-old Lolly Rachpaul and his mom aren't celebrating. They're still reeling from his older brother's death in a gang-related shooting just a few months earlier. Then Lolly's mother's girlfriend brings him a gift that will change everything: two enormous bags filled with Legos. Lolly's always loved Legos, and he prides himself on following the kit instructions exactly. Now, faced with a pile of building blocks and no instructions, Lolly must find his own way forward.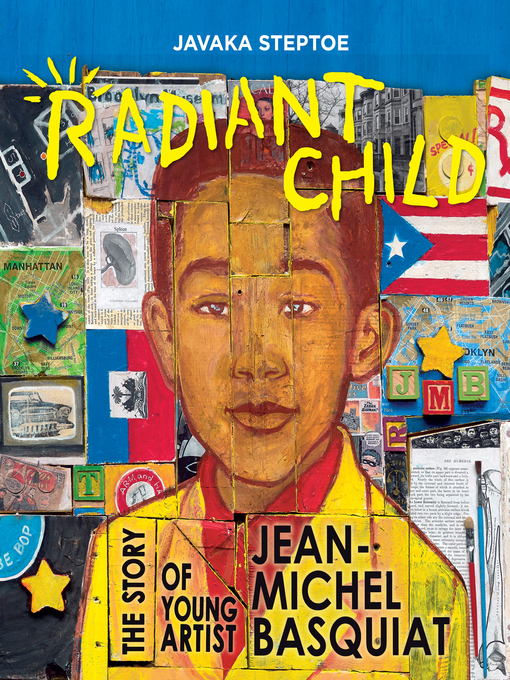 Radiant Child: The Story of Young Artist Jean-Michel Basquiat written and illustrated by Javaka Steptoe
2017 Illustrator Award Winner
From the publisher: Jean-Michel Basquiat and his unique, collage-style paintings rocketed to fame in the 1980s as a cultural phenomenon unlike anything the art world had ever seen. But before that, he was a little boy who saw art everywhere: in poetry books and museums, in games and in the words that we speak, and in the pulsing energy of New York City. Now, award-winning illustrator Javaka Steptoe's vivid text and bold artwork echoing Basquiat's own introduce young readers to the powerful message that art doesn't always have to be neat or clean—and definitely not inside the lines—to be beautiful.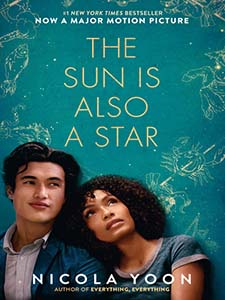 The Sun is Also a Star by Nicola Yoon
2017 John Steptoe Award for New Talent (Author)
From the publisher:
Natasha: I'm a girl who believes in science and facts. Not fate. Not destiny. Or dreams that will never come true. I'm definitely not the kind of girl who meets a cute boy on a crowded New York City street and falls in love with him. Not when my family is twelve hours away from being deported to Jamaica. Falling in love with him won't be my story.
Daniel: I've always been the good son, the good student, living up to my parents' high expectations. Never the poet. Or the dreamer. But when I see her, I forget about all that. Something about Natasha makes me think that fate has something much more extraordinary in store—for both of us.
The Universe: Every moment in our lives has brought us to this single moment. A million futures lie before us. Which one will come true?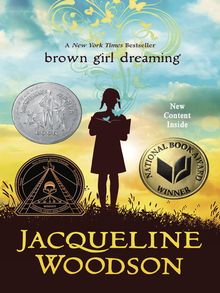 brown girl dreaming by Jacqueline Woodson
2015 Author Award Winner
From the publisher: Raised in South Carolina and New York, Woodson always felt halfway home in each place. In vivid poems, she shares what it was like to grow up as an African American in the 1960s and 1970s, living with the remnants of Jim Crow and her growing awareness of the Civil Rights movement. Touching and powerful, each poem is both accessible and emotionally charged, each line a glimpse into a child's soul as she searches for her place in the world.
When I Was the Greatest by Jason Reynolds
2015 John Steptoe Award for New Talent
From the publisher: Nah, not his thing. Ali's got enough going on, between school and boxing and helping out at home. His best friend Noodles, though. Now there's a dude looking for trouble—and, somehow, it's always Ali around to pick up the pieces. But, hey, a guy's gotta look out for his boys, right? Besides, it's all small potatoes; it's not like anyone's getting hurt.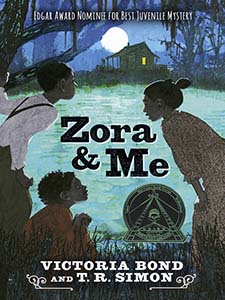 Zora and Me by Victoria Bond and T. R. Simon
2011 John Steptoe Award for New Talent
From the publisher: Whether she's telling the truth or stretching it, Zora Neale Hurston is a riveting storyteller. Her latest creation is a shape-shifting gator man who lurks in the marshes, waiting to steal human souls. But when boastful Sonny Wrapped loses a wrestling match with an elusive alligator named Ghost — and a man is found murdered by the railroad tracks soon after — young Zora's tales of a mythical evil creature take on an ominous and far more complicated complexion, jeopardizing the peace and security of an entire town and forcing three children to come to terms with the dual-edged power of pretending.
Learn more about the Library's many online resources and how to obtain a temporary library card if you need one at longbeach.gov/library/your-library-at-home.
Long Beach Public Library Launches Virtual Summer Reading Program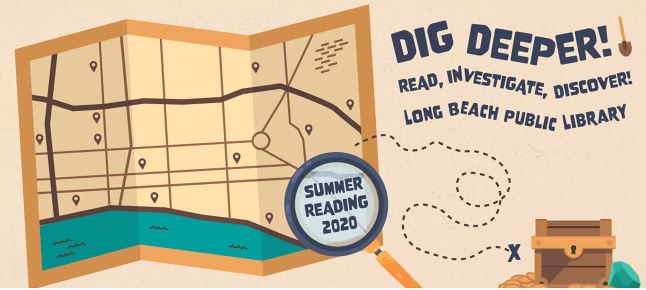 The Library Foundation is proud to support the Long Beach Public Library's first virtual Summer Reading Program. Thank you to our donors for helping to make this possible!
The Program's kick-off at noon on June 13 includes a live online event with performances by children's entertainers Buster Balloon and Marc Griffiths. Visit the Library's Facebook page at the kick-off time to join the fun! www.facebook.com/LongBeachPublicLibrary
Reading recommendations and activities are available for children, teens, and adults. Spanish language resources are available as well. Every week until July 25, the Library will host weekly online events to inspire readers including Craft Tuesdays, Storytime Fridays, and Science Saturdays. Learn more and register for your online reading tracker at www.longbeach.gov/library/learn/summer-reading-2020.
This new version of the Library's annual program to help children continue learning through the summer is one of the many educational and entertaining online resources available to library cardholders. The 12 Long Beach Public Libraries remain temporarily closed to reduce the community spread of COVID-19. Learn more about the Library's online resources and how to obtain a temporary library card if you need one at longbeach.gov/library/your-library-at-home.