Recently Honored Books by Native American Authors in the Long Beach Public Library's Collection
Celebrate National Native American Heritage Month with these recently honored books. Find these books and more by Native American writers in the Long Beach Public Library's collection.
Books for Children and Teens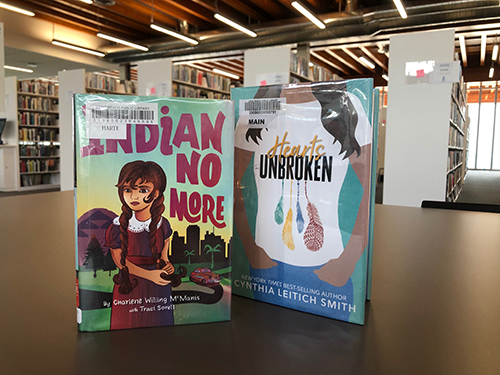 The following books have all been recognized by the American Indian Youth Literature Awards (AIYLA) which honors the very best writing and illustrations by Native Americans and Indigenous peoples of North America. Click Here to see the full list of AIYLA winners and honorees on the American Indian Library Association website.
Fry Bread: A Native American Family Story
Written by Kevin Noble Maillard; illustrated by Juana Martinez-Neal
2020 Robert F. Sibert Informational Book Medal
A 2020 American Indian Youth Literature Picture Book Honoree
From the publisher: Told in lively and powerful verse by debut author Kevin Noble Maillard, Fry Bread is an evocative depiction of a modern Native American family, vibrantly illustrated by Pura Belpre Award winner and Caldecott Honoree Juana Martinez-Neal.
Bowwow Powwow
Written by Brenda J. Child; illustrated by Jonathan Thunder; translated by Gordon Jourdain
2020 American Indian Youth Literature Award for Best Picture Book Winner
From the publisher: The best days of summer end at the powwow, but Windy Girl takes the revelry of the gathering one step farther, into a dreamworld where the dancers and singers are dogs.
Indian No More
By Charlene Willing McManis with Traci Sorell
2020 American Indian Youth Literature Award for Best Middle School Book Winner
From the publisher: Regina Petit's family has always been Umpqua, and living on the Grand Ronde Tribe's reservation is all ten-year-old Regina has ever known. Her biggest worry is that Sasquatch may actually exist out in the forest. But when the federal government enacts a law that says Regina's tribe no longer exists, Regina becomes "Indian no more" overnight–even though she lives with her tribe and practices tribal customs, and even though her ancestors were Indian for countless generations.
Hearts Unbroken
By Cynthia Leitich Smith
2020 American Indian Youth Literature Award for Best Young Adult Novel Winner
From the publisher: When Louise Wolfe's first real boyfriend mocks and disrespects Native people in front of her, she breaks things off and dumps him over e-mail. It's her senior year, anyway, and she'd rather spend her time with her family and friends and working on the school newspaper. The editors pair her up with Joey Kairouz, the ambitious new photojournalist, and in no time the paper's staff find themselves with a major story to cover: the school musical director's inclusive approach to casting The Wizard of Oz has been provoking backlash in their mostly white, middle-class Kansas town.
Poetry and Short Stories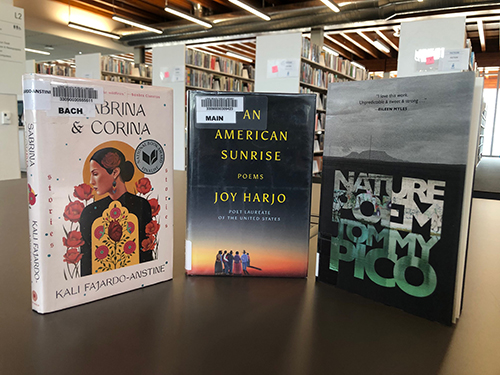 An American Sunrise
By Joy Harjo
In 2019, Joy Harjo became the first Native American United States Poet Laureate. Her works have won many awards and several of her books are available in the Library's collection including her 2019 volume, An American Sunrise.
From the publisher: In this stunning collection, Joy Harjo finds blessings in the abundance of her homeland and confronts the site where the Mvskoke people, including her own ancestors, were forcibly displaced. From her memory of her mother's death, to her beginnings in the Native rights movement, to the fresh road with her beloved, Harjo's personal life intertwines with tribal histories to create a space for renewed beginnings.
Nature Poem
By Tommy Pico
2018 American Book Award Winner
2018 Lambda Literary Award Finalist
From the publisher: A book-length poem about how an American Indian (or NDN) writer can't bring himself to write about nature, but is forced to reckon with colonial-white stereotypes, manifest destiny, and his own identity as an young, queer, urban-dwelling poet.
Sabrina & Corina
By Kali Fajardo-Anstine
2020 American Book Award Winner
2020 PEN/Robert W. Bingham Prize for Debut Short Story Collection Finalist
From the publisher: Kali Fajardo-Anstine's magnetic story collection breathes life into her Latina characters of indigenous ancestry and the land they inhabit in the American West. Against the remarkable backdrop of Denver, Colorado—a place that is as fierce as it is exquisite—these women navigate the land the way they navigate their lives: with caution, grace, and quiet force.
Novels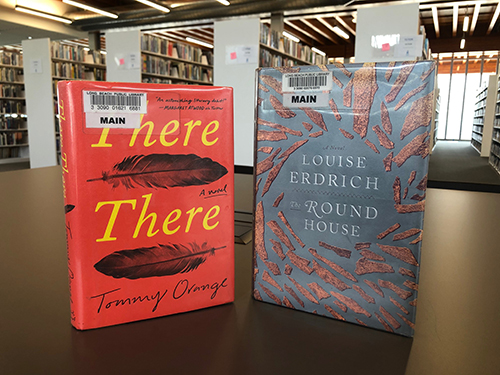 The Round House
By Louise Erdrich
2012 National Books Award for Fiction Winner
2013 Andrew Carnegie Medal for Excellence in Fiction Finalist
From the publisher: One of the most revered novelists of our time—a brilliant chronicler of Native-American life—Louise Erdrich returns to the territory of her bestselling, Pulitzer Prize finalist The Plague of Doves with The Round House, transporting readers to the Ojibwe reservation in North Dakota. It is an exquisitely told story of a boy on the cusp of manhood who seeks justice and understanding in the wake of a terrible crime that upends and forever transforms his family.
There There
By Tommy Orange
2019 California Book Award in First Fiction Gold Medal Winner
2019 PEN/Hemingway Award Winner
2018 National Book Critics Circle Awards "John Leonard Prize" Winner
From the publisher: One of The New York Times 10 Best Books of the Year, Tommy Orange's wondrous and shattering bestselling novel follows twelve characters from Native communities: all traveling to the Big Oakland Powwow, all connected to one another in ways they may not yet realize.