Coretta Scott King Book Award Winners in the Long Beach Public Library's Collection
The Coretta Scott King Book Awards are given annually to outstanding African American authors and illustrators of books for children and young adults that demonstrate an appreciation for African American culture and universal human values. The award commemorates the life and work of Dr. Martin Luther King, Jr., and honors his wife, Mrs. Coretta Scott King, for her courage and determination to continue the work for peace and world brotherhood. Learn more and view the full list of award recipients since 1970 at www.ala.org/rt/emiert/cskbookawards/coretta-scott-king-book-awards-all-recipients-1970-present.
Below is a list of recently recognized Coretta Scott King Book Award works that can be found in the Long Beach Public Library's collection at encore.lbpl.org.
Make a donation of any size to help us purchase additional books that share the words, histories, and stories of African Americans, as well as educate the public on the origins of white privilege, white supremacy, mass incarceration, and other forms of institutional racism and human rights issues that plague our society.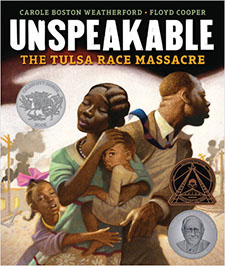 Unspeakable: The Tulsa Race Massacre by Carole Boston Weatherford and illustrated by Floyd Cooper
2022 Author and Illustrator Winner
From the publisher: The book traces the history of African Americans in Tulsa's Greenwood district and chronicles the devastation that occurred in 1921 when a white mob attacked the Black community. News of what happened was largely suppressed, and no official investigation occurred for seventy-five years. This picture book sensitively introduces young readers to this tragedy and concludes with a call for a better future.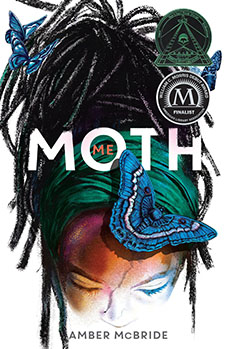 Me (Moth) by Amber McBride
2022 John Steptoe Award for New Talent (Author)
From the publisher: Moth has lost her family in an accident. Though she lives with her aunt, she feels alone and uprooted. Until she meets Sani, a boy who is also searching for his roots. If he knows more about where he comes from, maybe he'll be able to understand his ongoing depression. And if Moth can help him feel grounded, then perhaps she too will discover the history she carries in her bones.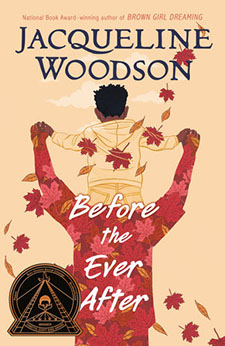 Before the Ever After by Jacqueline Woodson
2021 Author Winner
From the publisher: For as long as ZJ can remember, his dad has been everyone's hero. As a charming, talented pro football star, he's as beloved to the neighborhood kids he plays with as he is to his millions of adoring sports fans. But lately life at ZJ's house is anything but charming. His dad is having trouble remembering things and seems to be angry all the time. ZJ's mom explains it's because of all the head injuries his dad sustained during his career. ZJ can understand that–but it doesn't make the sting any less real when his own father forgets his name.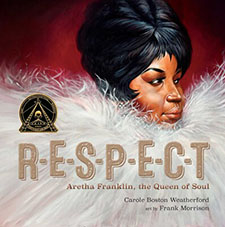 R-E-S-P-E-C-T: Aretha Franklin, The Queen of Soul by Carole Boston Weatherford and illustrated Frank Morrison
2021 Illustrator Winner
From the publisher: Aretha Franklin was born to sing. The daughter of a pastor and a gospel singer, her musical talent was clear from her earliest days in her father's Detroit church where her soaring voice spanned more than three octaves. Her string of hit songs earned her the title "the Queen of Soul," multiple Grammy Awards, and a place in the Rock & Roll Hall of Fame. But Aretha didn't just raise her voice in song, she also spoke out against injustice and fought for civil rights.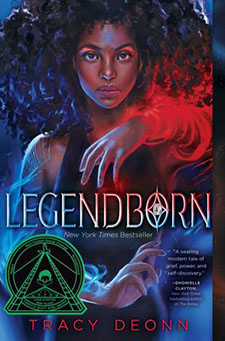 Legendborn by Tracy Deonn
2021 John Steptoe Award for New Talent (Author)
From the publisher: After her mother dies in an accident, sixteen-year-old Bree Matthews wants nothing to do with her family memories or childhood home. A residential program for bright high schoolers at UNC–Chapel Hill seems like the perfect escape—until Bree witnesses a magical attack her very first night on campus.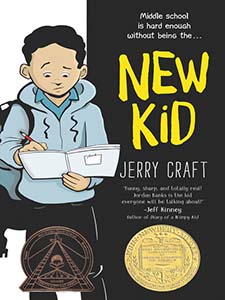 New Kid by Jerry Craft
2020 Author Winner
From the publisher: Seventh grader Jordan Banks loves nothing more than drawing cartoons about his life. But instead of sending him to the art school of his dreams, his parents enroll him in a prestigious private school known for its academics, where Jordan is one of the few kids of color in his entire grade. As he makes the daily trip from his Washington Heights apartment to the upscale Riverdale Academy Day School, Jordan soon finds himself torn between two worlds—and not really fitting into either one. Can Jordan learn to navigate his new school culture while keeping his neighborhood friends and staying true to himself?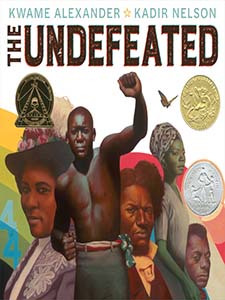 The Undefeated written by Kwame Alexander and illustrated by Kadir Nelson
2020 Illustrator Winner
From the publisher: Originally performed for ESPN's The Undefeated, this poem is a love letter to black life in the United States. It highlights the unspeakable trauma of slavery, the faith and fire of the civil rights movement, and the grit, passion, and perseverance of some of the world's greatest heroes. The text is also peppered with references to the words of Martin Luther King, Jr., Langston Hughes, Gwendolyn Brooks, and others, offering deeper insights into the accomplishments of the past, while bringing stark attention to the endurance and spirit of those surviving and thriving in the present.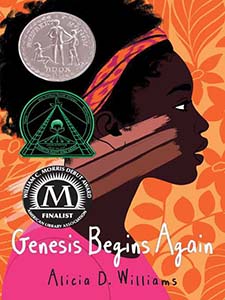 Genesis Begins Again by Alicia D. Williams
2020 John Steptoe Award for New Talent (Author)
From the publisher: There are 96 things that Genesis hates about herself, and her dark skin is at the top of the list. Genesis tries to hold her family together as she embarks on a journey of self-discovery. This deeply sensitive and powerful debut novel tells the story of a thirteen-year-old who must overcome internalized racism and a verbally abusive family to finally learn to love herself.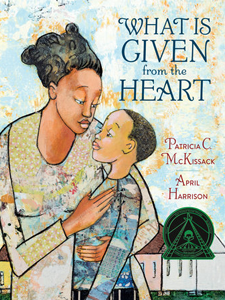 What is Given from the Heart by Patricia C. McKissack and illustrated by April Harrison
2020 John Steptoe Award for New Talent (Illustrator)
From the publisher: "Misery loves company," Mama says to James Otis. It's been a rough couple of months for them, but Mama says as long as they have their health and strength, they're blessed. One Sunday before Valentine's Day, Reverend Dennis makes an announcement during the service– the Temples have lost everything in a fire, and the church is collecting anything that might be useful to them. James thinks hard about what he can add to the Temple's "love box," but what does he have worth giving?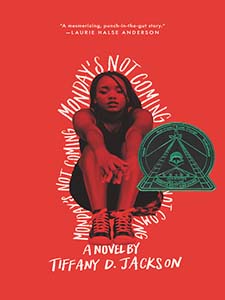 Monday's Not Coming by Tiffany D. Jackon
2019 John Steptoe Award for New Talent (Author)
From the publisher: Monday Charles is missing, and only Claudia seems to notice. Claudia and Monday have always been inseparable—more sisters than friends. So when Monday doesn't turn up for the first day of school, Claudia's worried. When she doesn't show for the second day, or second week, Claudia knows that something is wrong. Monday wouldn't just leave her to endure tests and bullies alone. Not after last year's rumors and not with her grades on the line. Now Claudia needs her best—and only—friend more than ever. But Monday's mother refuses to give Claudia a straight answer, and Monday's sister April is even less help. As Claudia digs deeper into her friend's disappearance, she discovers that no one seems to remember the last time they saw Monday. How can a teenage girl just vanish without anyone noticing that she's gone?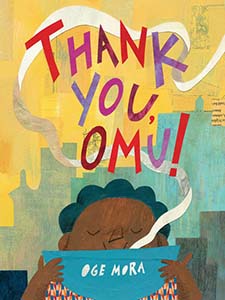 Thank You, Omu written and illustrated by Oge Mora
2019 John Steptoe Award for New Talent (Illustrator)
From the publisher: Everyone in the neighborhood dreams of a taste of Omu's delicious stew! One by one, they follow their noses toward the scrumptious scent. And one by one, Omu offers a portion of her meal. Soon the pot is empty. Has she been so generous that she has nothing left for herself?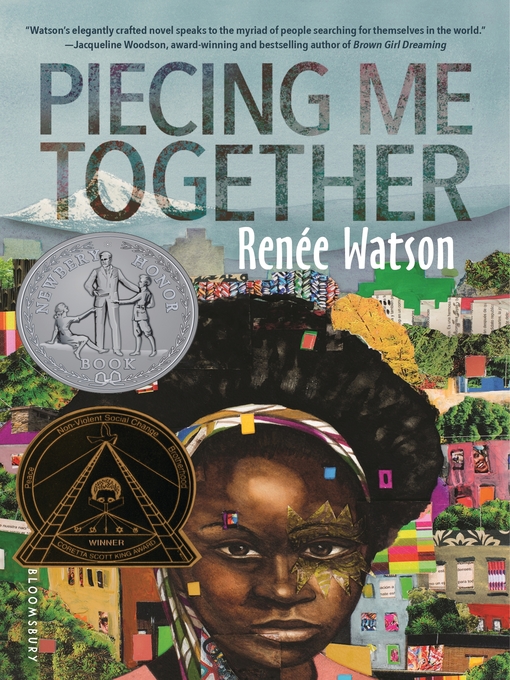 Piecing Me Together by Renée Watson
2018 Author Award Winner
From the publisher: Jade believes she must get out of her poor neighborhood if she's ever going to succeed. Her mother tells her to take advantage of every opportunity that comes her way. And Jade has: every day she rides the bus away from her friends and to the private school where she feels like an outsider, but where she has plenty of opportunities. But some opportunities she doesn't really welcome, like an invitation to join Women to Women, a mentorship program for "at-risk" girls. Just because her mentor is black and graduated from the same high school doesn't mean she understands where Jade is coming from. She's tired of being singled out as someone who needs help, someone people want to fix. Jade wants to speak, to create, to express her joys and sorrows, her pain and her hope. Maybe there are some things she could show other women about understanding the world and finding ways to be real, to make a difference.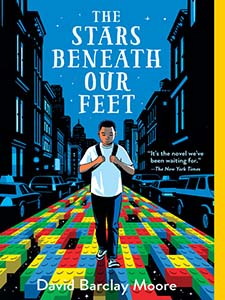 The Stars Beneath Our Feet by David Barclay Moore
2018 John Steptoe Award for New Talent (Author)
From the publisher: It's Christmas Eve in Harlem, but twelve-year-old Lolly Rachpaul and his mom aren't celebrating. They're still reeling from his older brother's death in a gang-related shooting just a few months earlier. Then Lolly's mother's girlfriend brings him a gift that will change everything: two enormous bags filled with Legos. Lolly's always loved Legos, and he prides himself on following the kit instructions exactly. Now, faced with a pile of building blocks and no instructions, Lolly must find his own way forward.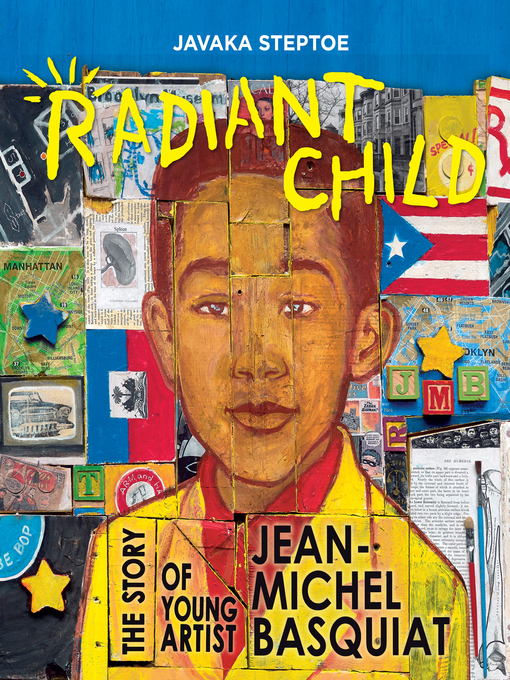 Radiant Child: The Story of Young Artist Jean-Michel Basquiat written and illustrated by Javaka Steptoe
2017 Illustrator Award Winner
From the publisher: Jean-Michel Basquiat and his unique, collage-style paintings rocketed to fame in the 1980s as a cultural phenomenon unlike anything the art world had ever seen. But before that, he was a little boy who saw art everywhere: in poetry books and museums, in games and in the words that we speak, and in the pulsing energy of New York City. Now, award-winning illustrator Javaka Steptoe's vivid text and bold artwork echoing Basquiat's own introduce young readers to the powerful message that art doesn't always have to be neat or clean—and definitely not inside the lines—to be beautiful.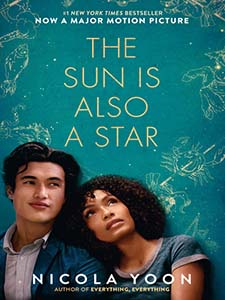 The Sun is Also a Star by Nicola Yoon
2017 John Steptoe Award for New Talent (Author)
From the publisher:
Natasha: I'm a girl who believes in science and facts. Not fate. Not destiny. Or dreams that will never come true. I'm definitely not the kind of girl who meets a cute boy on a crowded New York City street and falls in love with him. Not when my family is twelve hours away from being deported to Jamaica. Falling in love with him won't be my story.
Daniel: I've always been the good son, the good student, living up to my parents' high expectations. Never the poet. Or the dreamer. But when I see her, I forget about all that. Something about Natasha makes me think that fate has something much more extraordinary in store—for both of us.
The Universe: Every moment in our lives has brought us to this single moment. A million futures lie before us. Which one will come true?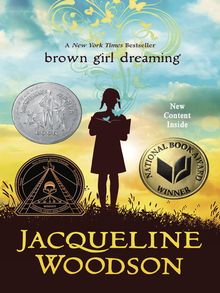 brown girl dreaming by Jacqueline Woodson
2015 Author Award Winner
From the publisher: Raised in South Carolina and New York, Woodson always felt halfway home in each place. In vivid poems, she shares what it was like to grow up as an African American in the 1960s and 1970s, living with the remnants of Jim Crow and her growing awareness of the Civil Rights movement. Touching and powerful, each poem is both accessible and emotionally charged, each line a glimpse into a child's soul as she searches for her place in the world.
When I Was the Greatest by Jason Reynolds
2015 John Steptoe Award for New Talent
From the publisher: Nah, not his thing. Ali's got enough going on, between school and boxing and helping out at home. His best friend Noodles, though. Now there's a dude looking for trouble—and, somehow, it's always Ali around to pick up the pieces. But, hey, a guy's gotta look out for his boys, right? Besides, it's all small potatoes; it's not like anyone's getting hurt.