Reading Recommendations from Long Beach Librarians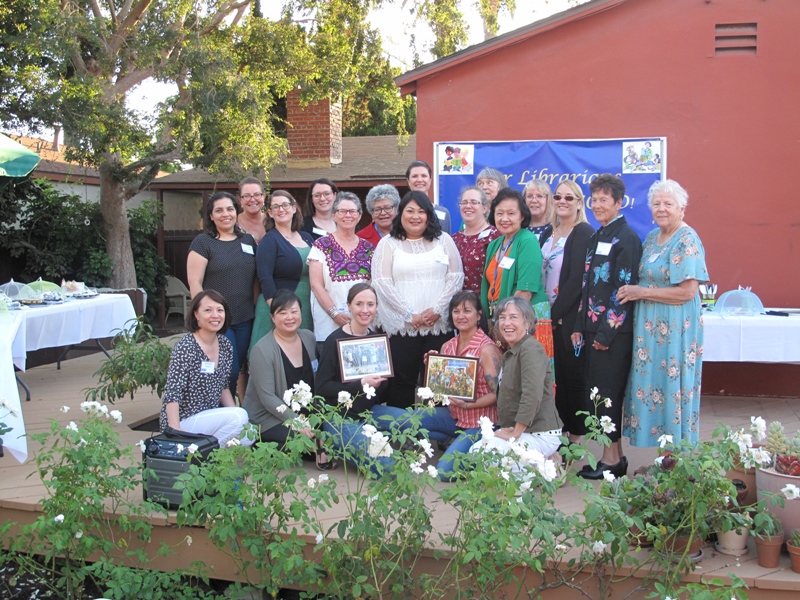 Share in the joy of reading with recommendations from Long Beach Public Library librarians. The books listed below for children, teens, and adults are part of the Library's eBook collection on Overdrive. Sign in with your library card barcode and pin to check out these books and more. If you would like to apply for a temporary library card to access this resource, click here.
Picture Books
Dino-Basketball (Dino Series) by Lisa Wheeler
Dream Animals: a Bedtime Journey by Emily Winfield Martin
Give Me Back My Bones by Kim Norman
It's a Tiger! by David LaRochelle
My Papi Has a Motorcycle by Isabel Quintero
The Night Is Yours by Abdul-Razak Zachariah
Planet Kindergarten (Series) by Sue Ganz-Schmitt
Steam Train, Dream Train by Sherri Duskey Rinker
Super Red Riding Hood by Claudia Davila
Tina Cocolina: Queen of the Cupcakesby Pablo Cartaya
The Wizard, the Fairy, and the Magic Chicken by Helen Lester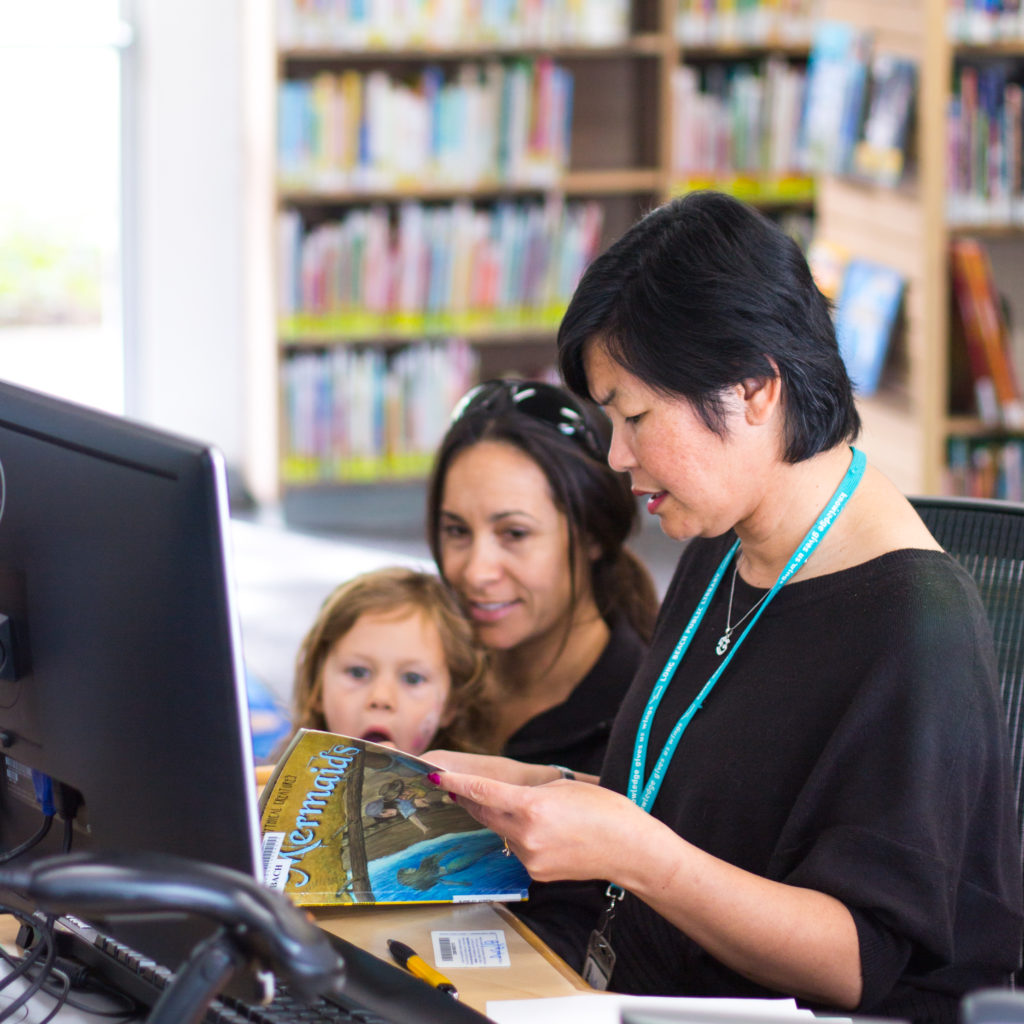 Early Chapter Books
Three Tales of My Father's Dragon by Ruth Stiles Gannett
In a Blink (Never Girls) by Kiki Thorpe
Harriet the Invincible (Hamster Princess) by Ursula Vernon
Billions of Bats (Buzz Beaker Brainstorm) by Scott Nickel
Children's Fiction
The City of Ember (Ember Series) by Jeanne DuPrau
Door in the Alley (The Explorers) by Adrienne Kress
Gregor the Overlander (The Underland Chronicles) by Suzanne Collins
National Espionage, Rescue, and Defense Society (NERDS) by Michael Buckley
Peter and the Starcatchers (series) by Dave Barry and Ridley Pearson
Sweep: the Story of a Girl and her Monster by Jonathan Auxier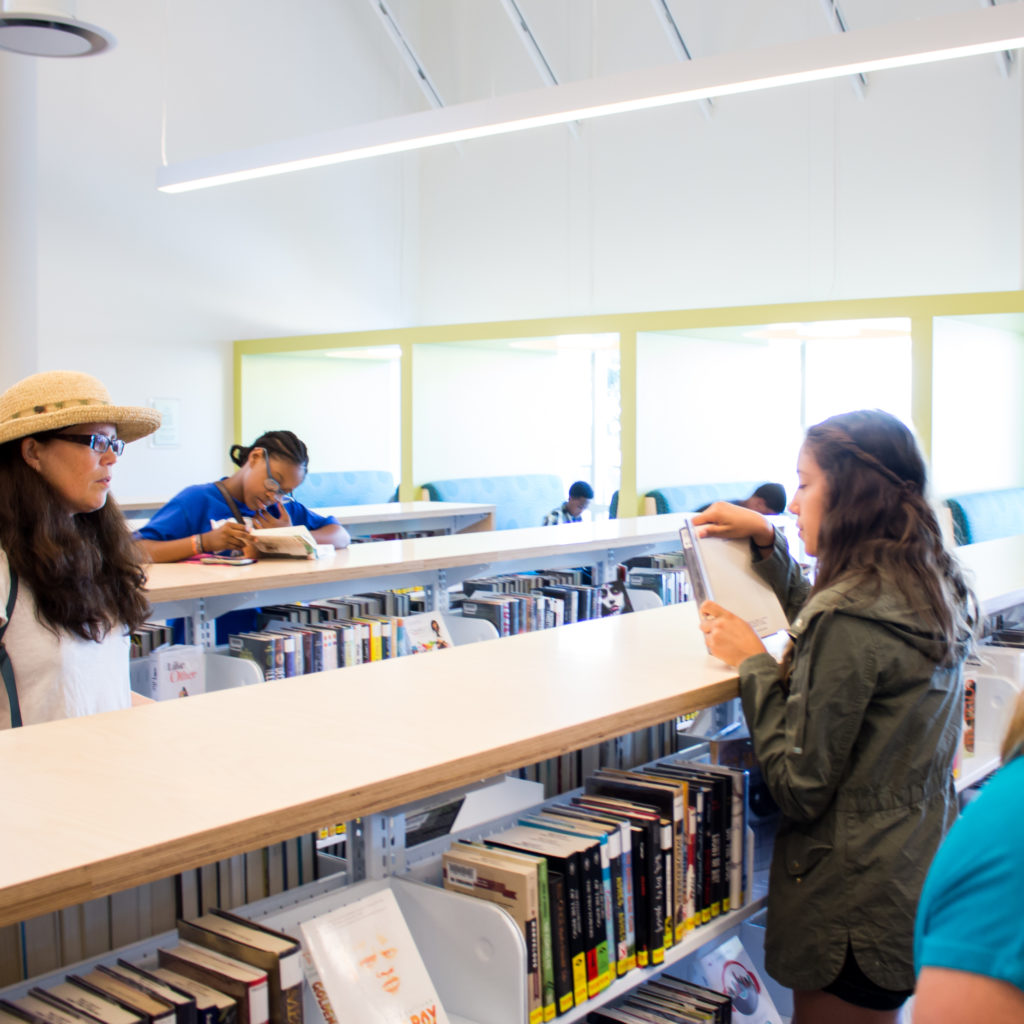 Middle School
The Alchemyst (The Secrets of the Immortal Nicholas Flamel) by Michael Scott
Cross My Heart and Hope to Spy (Gallagher Girls) by Ally Carter
Real Mermaids Don't Wear Toe Rings (Real Mermaids) by Helene Boudreau
Tristan Strong Punches a Hole in the Sky by Kwame Mbalia
Wildwood (Wildwood Chronicles) by Colin Meloy
Teens
Bloody Jack (Series) by L. A. Meyer
Dead is the New Black (Dead Is Series) by Marlene Perez
Intertwined (Series) by Gena Showalter
The Knife of Never Letting Go (Chaos Walking) by Patrick Ness
The Looking Glass Wars (Series) by Frank Beddor
The Monstrumologist (Series) by Rick Yancey
Mortal Engines (Predator Cities) by Philip Reeves
Three Dark Crowns (Series) by Kendare Blake
Vampire Academy (Series) by Richelle Mead
Adults
People of the Book by Geraldine Brooks
Library Book by Susan Orlean
Well Read Black Girl by Glory Edim
The Name of the Rose by Umberto Eco
The Strange Library by Haruki Murakami
Bibliotech: Why Libraries Matter More Than Ever in the Age of Google by John Palfrey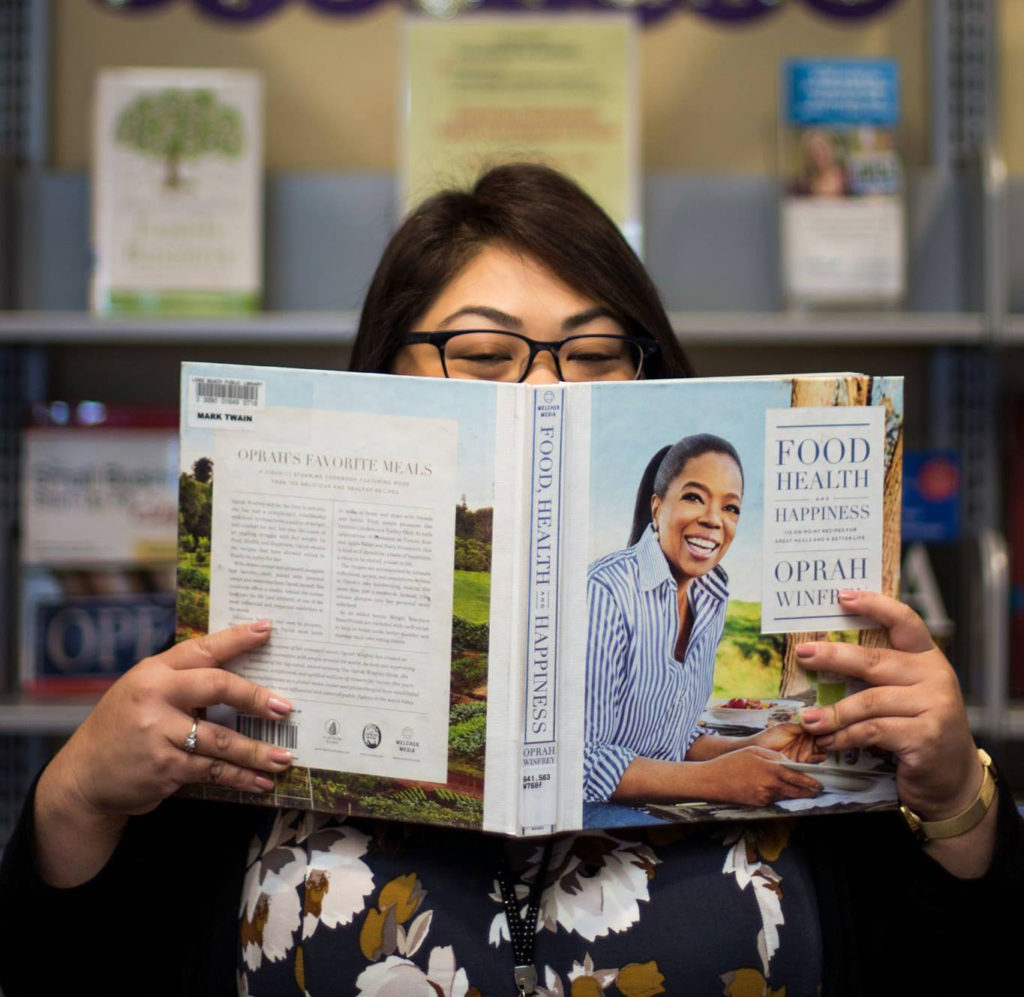 A Message from California State Librarian Greg Lucas – Grape Expectations: Stay Home & Read Edition
A Message from Director of Library Services Glenda Williams – Grape Expectations: Stay Home & Read Edition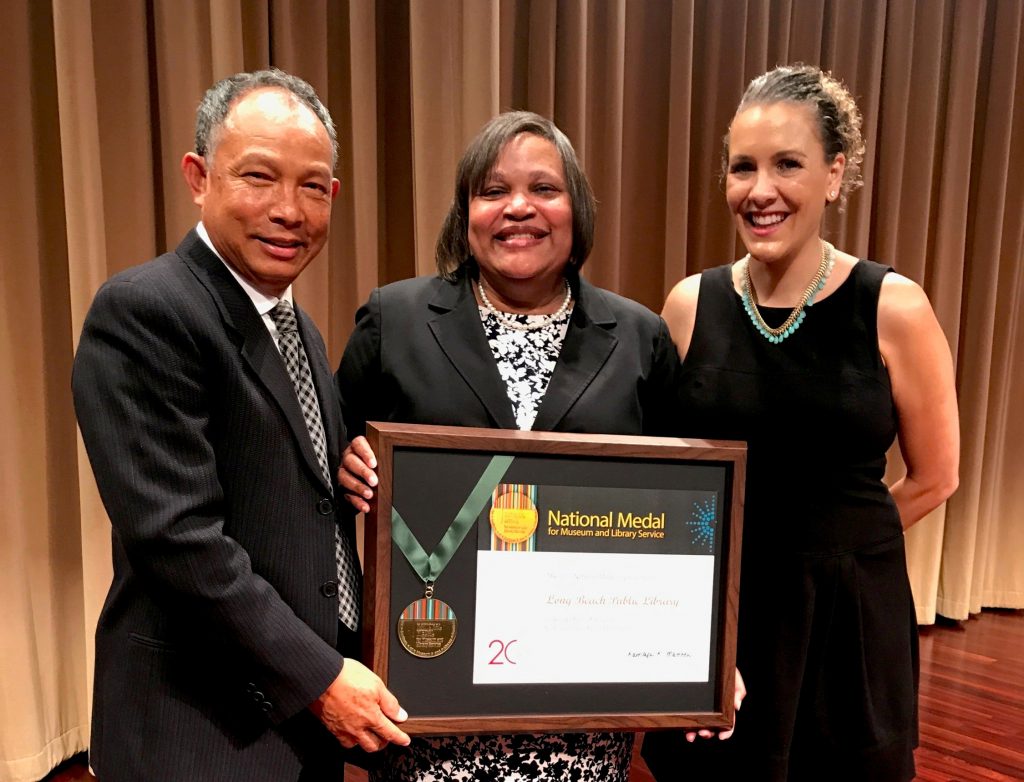 Hello Library Supporters!
I hope you all are doing well during this extraordinary time of COVID-19. Thank you for joining the Long Beach Public Library Foundation's Stay Home & Read Edition of Grape Expectations. While I'm disappointed that we won't be able to enjoy the gala in-person, we are grateful to see the outpouring of library support during this challenging time. Your donation of any size allows the Library Foundation to continue its important work of fund programs and resources at the 12 public libraries. While the libraries are temporarily closed, many digital resources are available. And we know that all our resources will be needed more than ever when the Library is allowed to safely reopen.   
As we all continue to abide by the City of Long Beach "Safer at Home" ordinance, it can be challenging to find high quality sources for online learning and enrichment, or to improve job skills during this uncertain economy. I want you to know that your Long Beach Public Library is here for you!
Long Beach residents can access free online support at the Long Beach Public Library's new Your Library at Home webpage, your "one-stop shop" of online resources for families during this Safer at Home period.
Discover Gale Courses to enhance or learn new job skills or brush up your resume with Brainfuse JobNow. Do you need to practice for the SAT, ACT, AP (Advanced Placement) or U.S. Citizenship tests? Check out our Testing and Education Reference Center for free simulated practice tests and more! There are more than 50 languages spoken in our city. Why not learn a new language with Mango Languages? You can also check out an e-book or listen to an audiobook through Overdrive and the Cloud Library, stream a movie through Kanopy or listen to music with Freegal.
I'm also excited to announce that we just launched Udemy, an online learning platform that offers thousands of on-demand, video-led courses on a variety of topics ranging from business, to information technology, and even personal development.  Check out more information here: http://www.longbeach.gov/library/news/udemy/.
Our youth can connect with a live tutor with Brainfuse HelpNow, a resource supported by the Library Foundation, for homework assistance and our little ones can enjoy animated, read aloud books with Tumblebook Junior.  Virtual story times are now available on the Library's Facebook page and Youtube channel.  Please visit www.longbeach.gov/library and enjoy "Your Library at Home."
What if you don't have a Long Beach Public Library card? No problem! It is even easier than ever to get one. You can sign up online and then call 562.570.7500 to activate your library card. Library staff are standing by Tuesday – Saturday, 10 am – 5 pm to assist.
While some Long Beach Public Library staff are busy preparing and curating online content and answering your library questions, other Library staff have been redeployed to assist during this novel coronavirus pandemic. All City of Long Beach employees are registered disaster workers, and this includes the staff at Long Beach Public Library. Library staff have been working at shelters and sewing facial coverings, while others are answering phone calls at the City's Joint Information Center (JIC) or taking calls from seniors in collaboration with our City's Department of Health and Human Services.
We can't wait to welcome our Long Beach community back into our facilities once we are able, and we are in the process of planning library services for that time while abiding by any restrictions that are in place. We know that people will need help with searching for jobs, connecting to social services and accessing resources to meet their personal and educational goals. Every dollar that you donate will help our Long Beach residents with this effort. Until we can see you again, please enjoy "Your Library at Home" while you Stay Safer at Home.
Stay safe, take care, and thank you!
Glenda Williams
Director of Library Services
Long Beach Public Library
16th Annual Grape Expectations
On June 9, 2019 we celebrated the 16th annual Grape Expectations gala in support of the Long Beach Public Library Foundation. Over 300 guests enjoyed premier silent and live auctions featuring fine wines and exciting experiences, dined on gourmet foods with expertly chosen wine pairings by Randy Kemner of The Wine County, and raised more than $180,000 to help us support the Long Beach Public Library in transforming lives.
This year, we were proud to honor Marathon Petroleum Corporation with the 2019 Library Leadership Award and Victor and Patricia McCarty with the 2019 Durnin Family Award.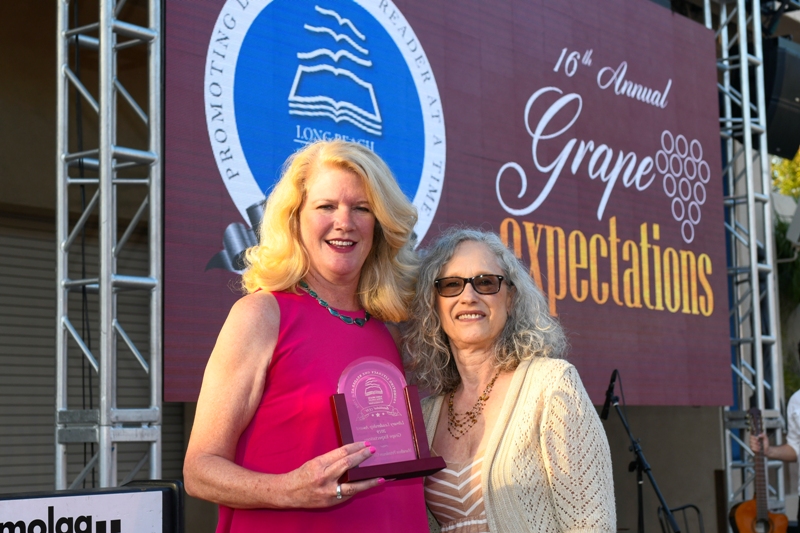 Marathon Petroleum Corporation, formerly Andeavor and Tesoro, generously supports the Library's Mobile Studio, allowing it to travel to libraries, parks, schools, and community events throughout the city and host workshops to teach robotics, 3D printing, graphic design, coding, and more. Learn more about how Marathon Petroleum supports innovative programs at the Library. Click HERE.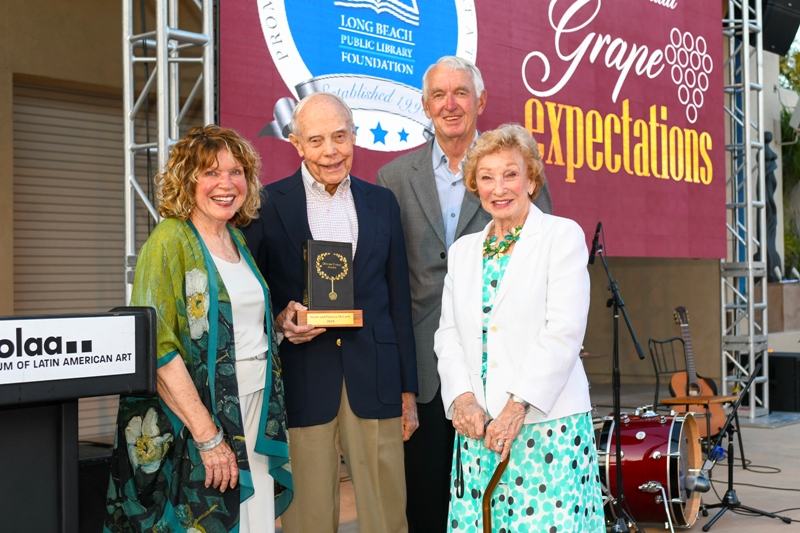 Vic and Patty McCarty have supported library programs in Long Beach since 1999. Vic was one the Library Foundation's earliest Board members and continues to provide guidance as a member of the Foundation's Finance Committee. Vic and Patty have generously donated to support programs and technology at the Mark Twain Library, the Michelle Obama Library, and the new Main Library opening later this summer. Learn more about Vic and Patty's dedication to literacy and education. Click HERE.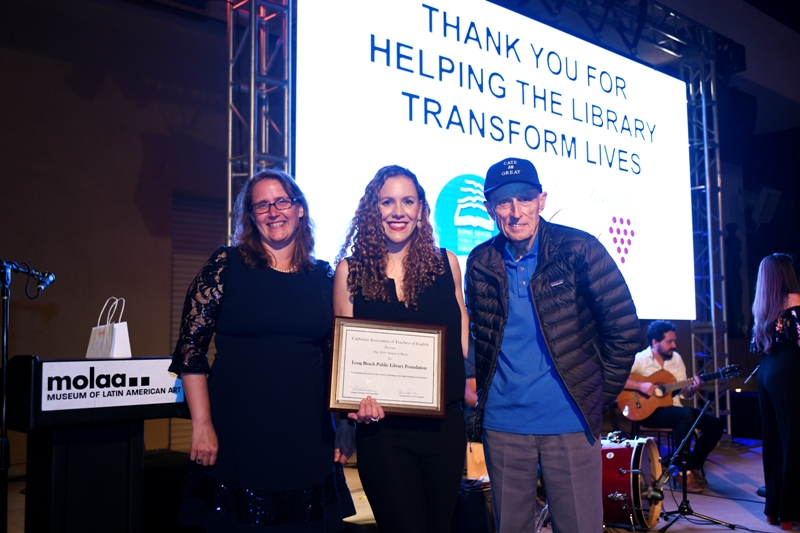 We were thrilled to welcome Jennifer Silver, President of the Southland Council of Teachers of English and Dr. Bill Younglove of the California Association of Teachers of English Board of Directors who attended our gala to recognize the Dictionary Days program with the California Association of Teachers of English 2019 Award of Merit. In accepting the award, Kate Azar, Library Foundation Executive Director, announced that the Library Foundation shares this honor with the Earl B. and Loraine H. Miller Foundation for making this program possible. Learn more about this statewide honor for Dictionary Days. Click HERE.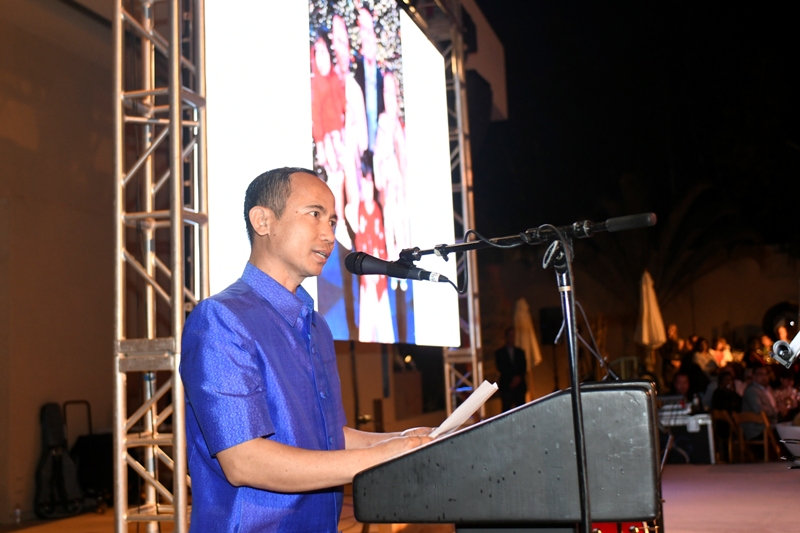 One of our favorite moments of the night reminded us how one person's support for the Library can make a difference for so many. Sanghak Kan, a dedicated Library volunteer, shared his story with our attendees. After immigrating to the United States from Cambodia with his family, Sanghak discovered the Mark Twain Library where he connected with others in his community and his family benefited from the Library Foundation funded Family Learning Center and Summer Reading programs. Sanghak and his family now volunteer their time at the Library every weekend to support the Khmer language programs. Read Sanghak's story. Click HERE.
After Sanghak shared his story, 70 attendees raised their bid paddles during our Live Ask to donate to the Library Foundation.
Thank you to everyone who donated, attended, volunteered, bid, and celebrated library programs with us. We hope to see you at the next Grape Expectations!
Click for Grape Expectations Photos
THANK YOU TO OUR 2019 GRAPE EXPECTATIONS COMMITTEE VOLUNTEERS
Sean Reilly, Chair
Mary Hancock Hinds
Mary Lamo-Putnam
Russ Parsons
Barbara Schwerin
Jeffrey Toelsin
Sharon Weissman

THANK YOU TO OUR 2019 GRAPE EXPECTATIONS SPONSORS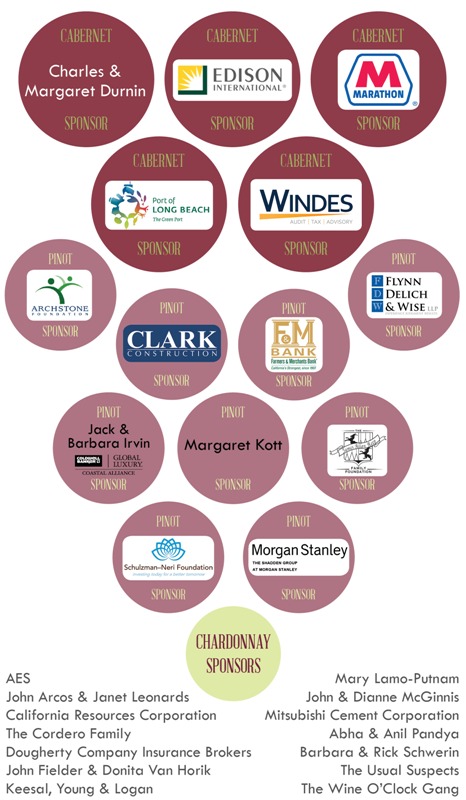 THANK YOU TO OUR APPETIZER SPONSORS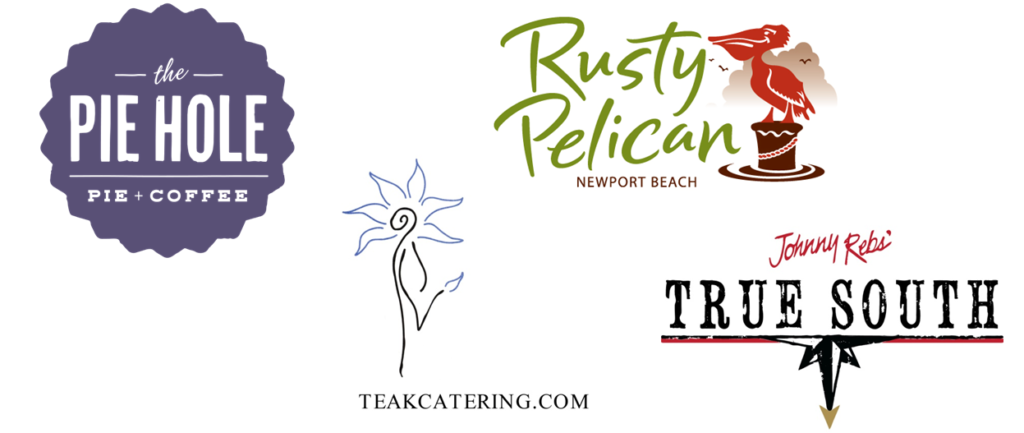 Learning and Teaching at the Library – Sanghak Kan's Story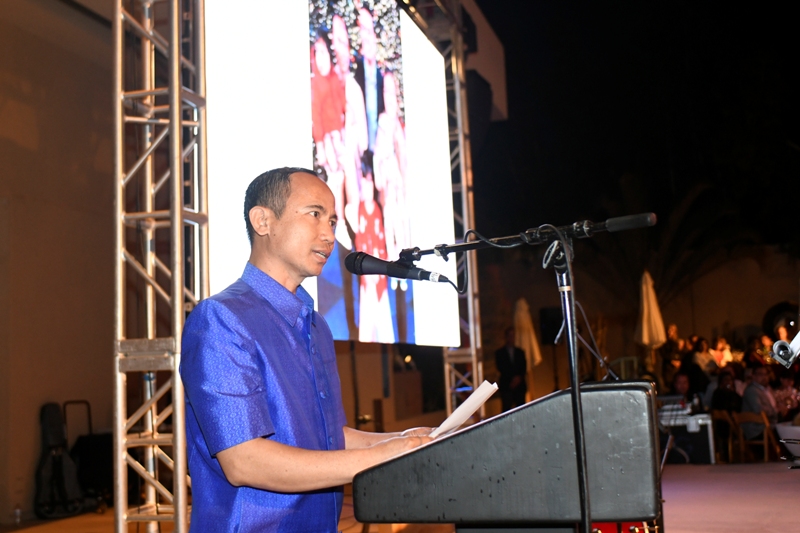 Many of our Library Foundation donors and the Library's volunteers provide support because a public library made a difference in their lives and they want to help others who depend on library programs. Sanghak Kan and his family are prime examples of those who have had their lives transformed by the Library and then support the Library in making a difference in the lives of others.
Sanghak Kan and his wife, Sophea Chim, immigrated to the United States in 2017 with their children after 12 years of applications. They quickly settled in Long Beach's Cambodia Town and it wasn't long before they visited the Mark Twain Library. Senior Librarian Jennifer Songster introduced them to resources to connect with their new community and services for their children. Their eldest daughter received homework help from the Family Learning Center and developed her reading skills through the Summer Reading program. Both of these programs are supported by the Library Foundation.
Sanghak wrote a letter of thanks to Mark Twain Library staff last year:
Congratulations to my beloved daughter who is a first-grader in the Long Beach Unified School District. She received the Character Award, "I will always be a scholar," last month!
As a parent I am so excited about her first ever achievement in first grade. I recognize that this good result came from many factors, and one among those is the Summer Reading Program. Heartfelt thanks to the City of Long Beach and especially the Mark Twain Library for making the Summer Reading Program happen smoothly and fruitfully. This program builds a habit and love of reading for children and gets them involved with creative, innovative and joyous activities.
Hand in hand – families, schools, and libraries – we can shape our young generations for a bright and prosperous future.
Sanghak and Sophea have set out to support the Library in doing just that.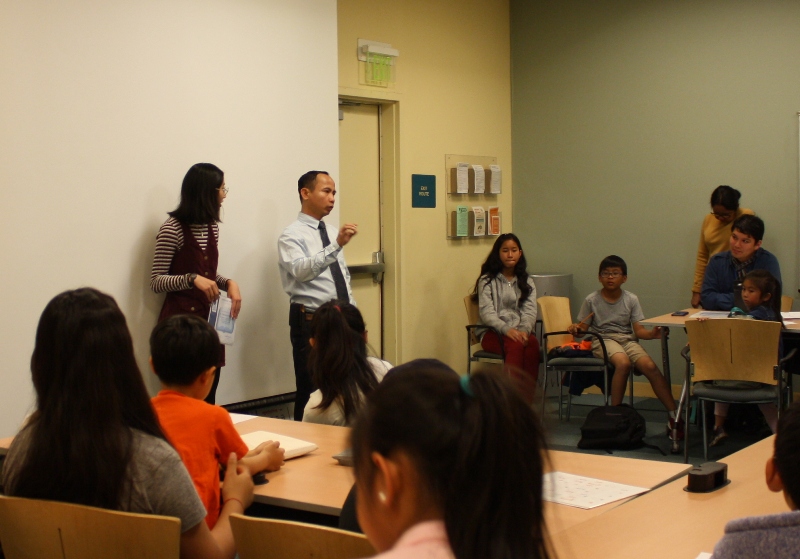 In less than two years they have become two of the Library's most dedicated volunteers. Sanghak volunteers every weekend to teach beginning Khmer language classes at the Mark Twain Library. Last month, he started an English language class for Khmer speakers.
Sophea assists with the classes and she and Sanghak also lead the Library's new Khmer-English Storytime every Saturday. Their daughter has followed her parent's example and volunteers as a guest reader at the storytime events.
In addition to his volunteer work, Sanghak began working as a contractor for the Library earlier this year to complete the Khmer Cataloging Project which will make books in the collection searchable in Khmer script in the Library's online catalog. The Long Beach Public Library has the largest collection of Khmer materials of any public library in the country. The collection has recently expanded thanks to a book buying trip to Cambodia that the Library Foundation helped fund in December 2018.
Sanghak is truly making an impact in our Long Beach community and we hope others follow in his example to help the Library transform even more lives.
Dictionary Days Receives Statewide Recognition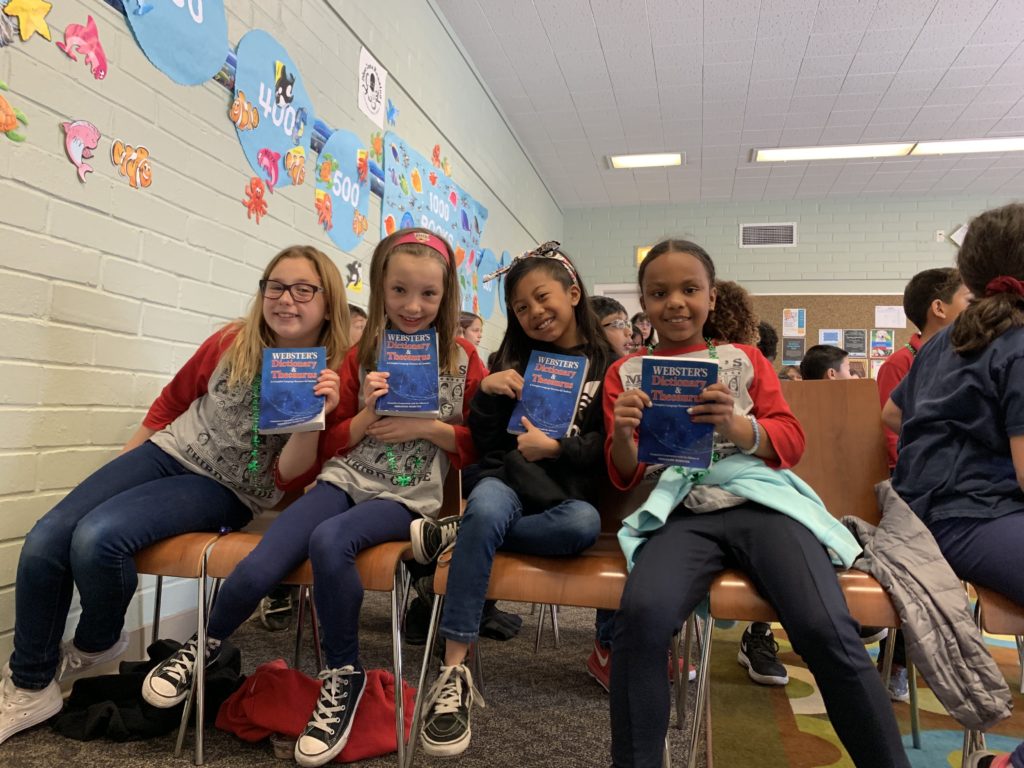 On June 9, at the 2019 Grape Expectations gala, the Long Beach Public Library Foundation was awarded the California Association of Teachers of English 2019 Award of Merit for the annual Dictionary Days program. In accepting the award, Kate Azar, Library Foundation Executive Director, announced that the Library Foundation shares this honor with the Earl B. and Loraine H. Miller Foundation for making this program possible.
Every year since 2003, the Library Foundation and the Miller Foundation join forces to promote literacy for local students. Over 120,000 dictionary/thesauruses have been given to Long Beach third grade students since the program's inception thanks to the generosity of the Miller Foundation. Dictionary Day events every Spring help students navigate their lessons by teaching dictionary use through fun and creative activities designed to help improve reading comprehension.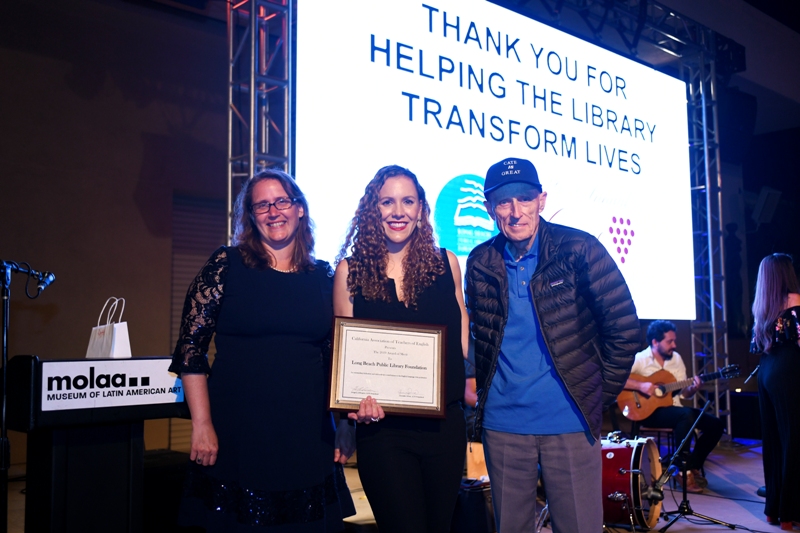 Honoring Marathon Petroleum Corporation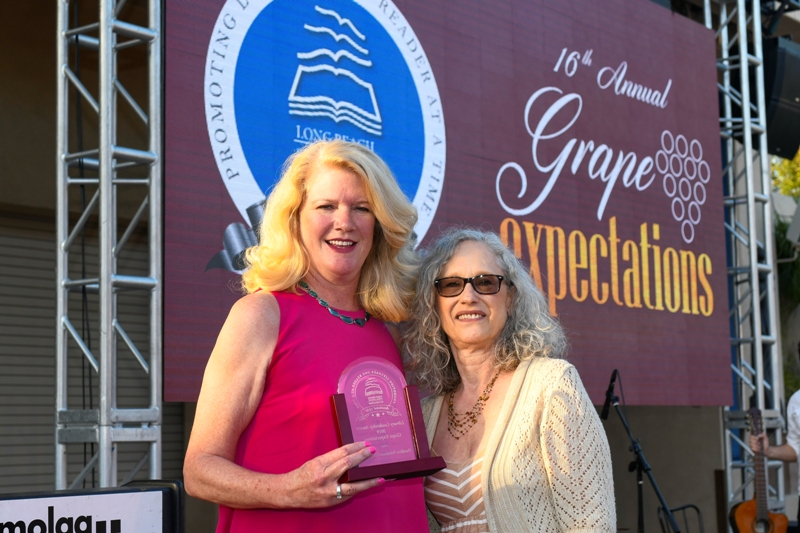 On June 9, at the 16th annual Grape Expectations gala, we were proud to honor Marathon Petroleum Corporation with the 2019 Library Leadership Award for their support of innovative library programs.
Every week, the Long Beach Public Library's Mobile Studio hosts workshops at locations throughout the city, including branch libraries, parks, schools, and community events. This makerspace on wheels is stocked with technology and supplies for instruction in 3D printing, robotics, coding, graphic design, and other science, engineering and arts projects. The workshops invite children, teens, and adults to develop 21st century marketable skills.
This is possible thanks to generous support from Marathon Petroleum Corporation, formerly Andeavor and Tesoro. The Mobile Studio officially launched in 2017 with their support, along with that of the California Resources Corporation and the LGA Family Foundation. At last year's Grape Expectations gala, Marathon Petroleum donated $150,000 to support a new Mobile Studio Coordinator position. This position ensures that the Mobile Studio is utilized to its full potential and expands the program's reach.
Learn about upcoming Mobile Studio workshops. Click HERE.
About Marathon Petroleum Corporation:
Marathon Petroleum Corporation is a leading, integrated, downstream energy company headquartered in Findlay, Ohio. The company operates the nation's largest refining system with more than 3 million barrels per day of crude oil capacity across 16 refineries. MPC's marketing system includes branded locations across the United States, including Marathon brand retail outlets. Speedway LLC, an MPC subsidiary, owns and operates retail convenience stores across the United States. MPC also owns the general partner and majority limited partner interests in two midstream companies, MPLX LP and Andeavor Logistics LP, which own and operate gathering, processing, and fractionation assets, as well as crude oil and light product transportation and logistics infrastructure.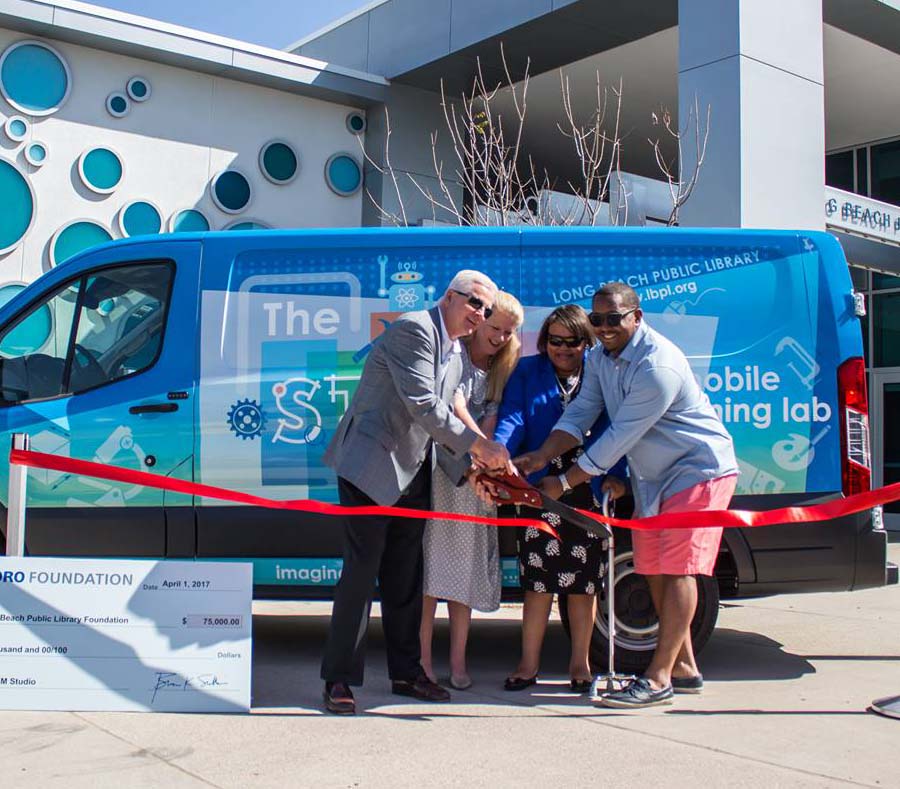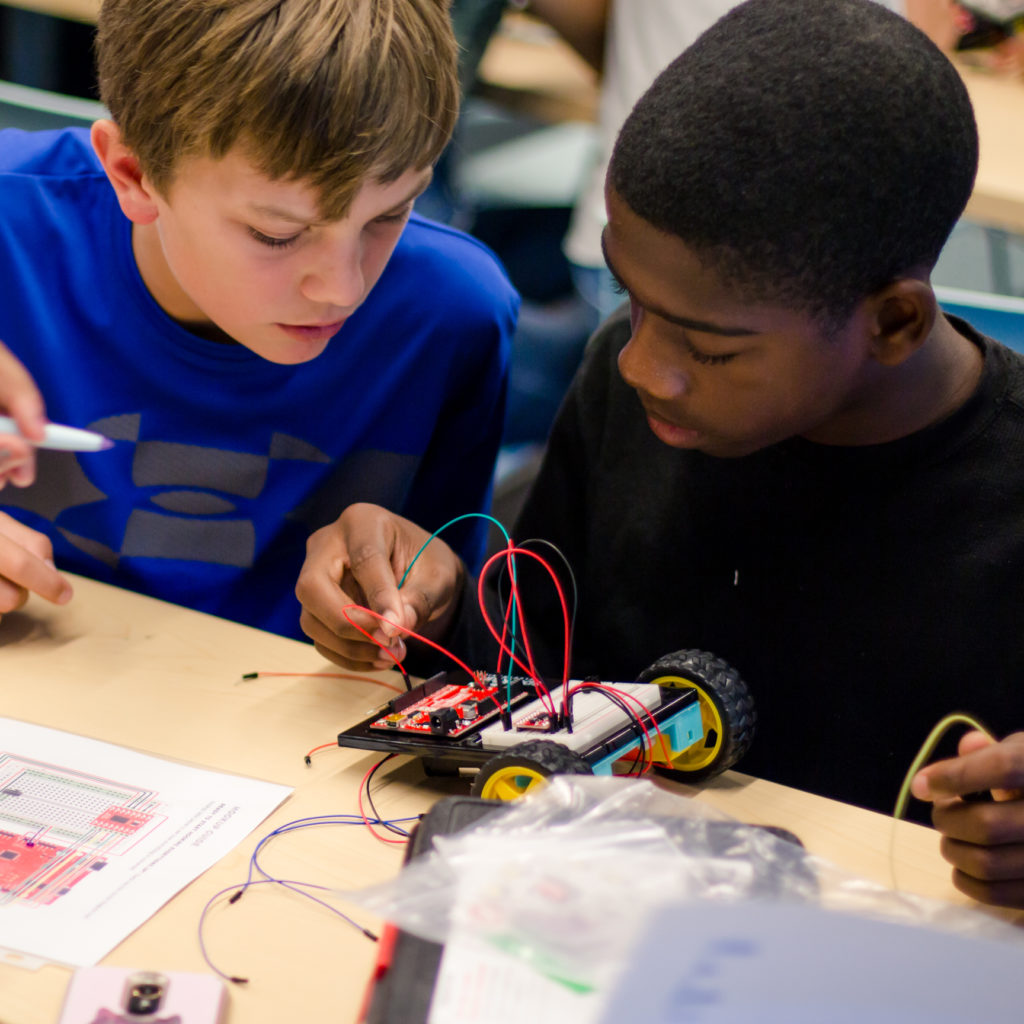 Honoring Victor and Patricia McCarty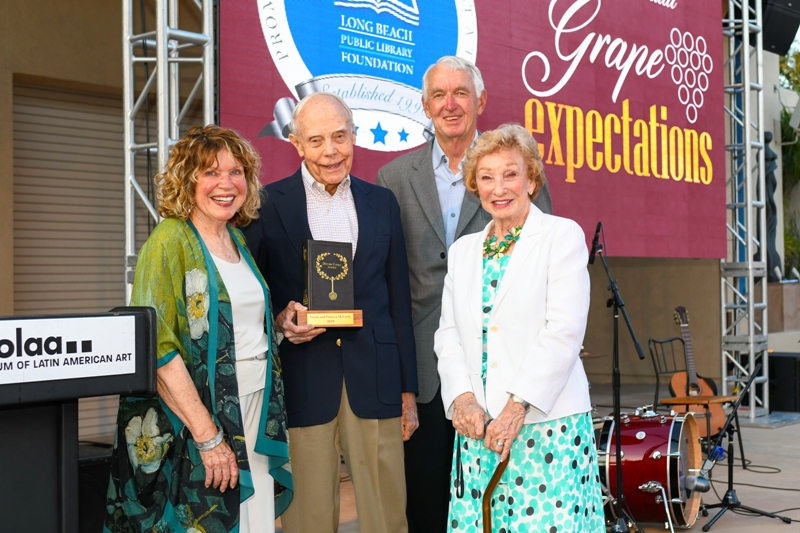 On June 9, at the 16th annual Grape Expectations gala, we were proud to honor Victor and Patricia McCarty with the 2019 Durnin Family Award for their dedication to libraries and literacy.
Vic is one of the earliest members of the Library Foundation Board of Directors, joining in 1999 and serving in several positions where he was instrumental in many Foundation projects, most importantly the Family Learning Center program. After retiring from the Board he has continued as an active member of the Finance Committee since its founding in 2005. As a retired CPA, Vic brings decades of expertise in accountancy to advising the Foundation.
Vic and Patty share a long history in Long Beach. Vic was born at the former Seaside Hospital and Patty moved to Long Beach from Minneapolis with her family when she was in the eighth grade. Both frequently visited the Long Beach Public Library growing up and recall a small former branch on Roswell Avenue across from 4th Street. They married in 1956 and their children, Lindsay, Kelley, and Victor III, frequented the Los Altos Library in their youth. Everyone in their family graduated from Wilson High School.
Vic and Patty's dedication to education in Long Beach has taken them into local classrooms as volunteers. As a member of Assistance League of Long Beach, Patty would bring the group's educational puppet program to elementary schools to teach sign language and deaf awareness to children. As a Long Beach Rotarian, Vic helped organize a program known as Adopt-A-School to support reading instruction. Vic and Patty volunteered for several years reading with students at Franklin Middle School.
Vic and Patty have generously supported the Library Foundation's many projects throughout the years and have given generously to campaigns for new libraries, including Mark Twain Library, Michelle Obama Library and the new Main Library opening this summer.
For Vic and Patty, community building and early literacy are two of the most important functions of our libraries. They are amazed at how the Library has evolved through the years and made a difference for so many families and children in Long Beach.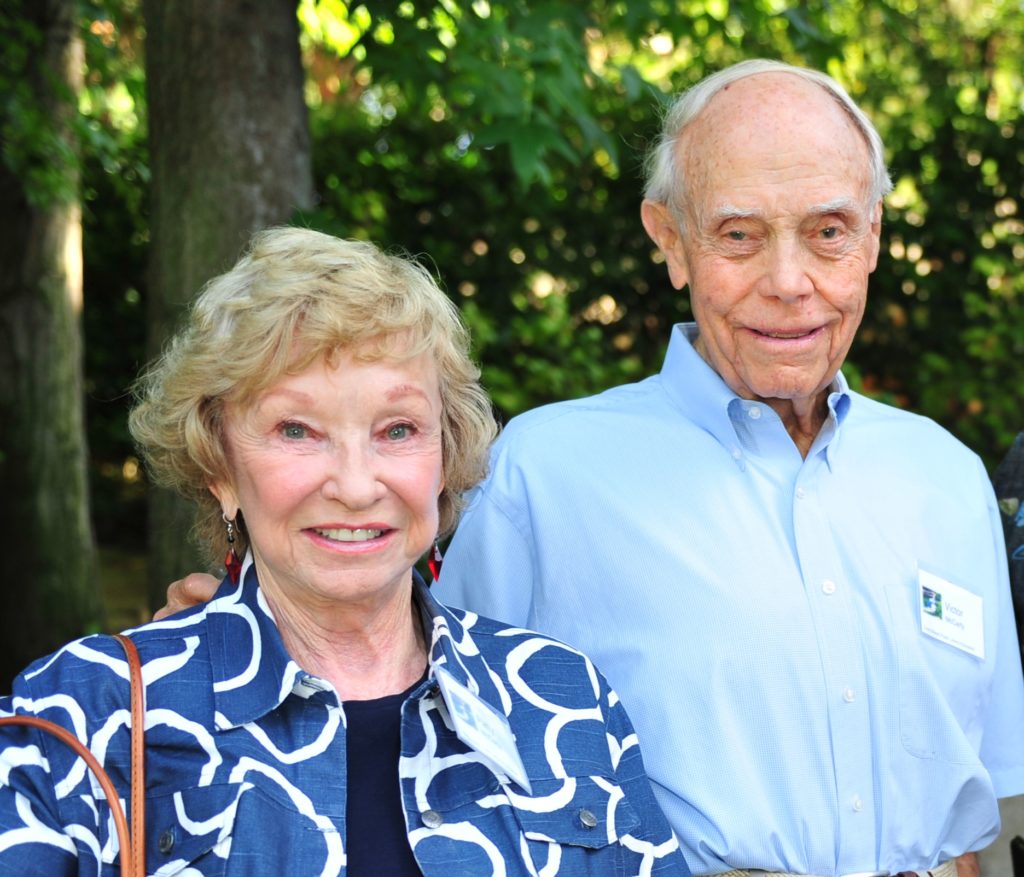 Grunion Gazette: Long Beach Library Foundation Has Grape Expectations For Fundraiser
15th anniversary of Grape Expectations
Look out for details about the next Grape Expectations on June 9, 2019.
On June 10, 2018 we celebrated the 15th anniversary of Grape Expectations! Nearly 300 guests helped us raise more than $180,000 to support our foundation and the enhancements and programs that we make possible at the Main Library and 11 neighborhood library branches.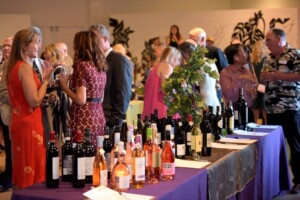 This year, we were proud to honor the Rotary Club of Long Beach with the 2018 Library Leadership Award and Jack and Barbara Irvin with the 2018 Durnin Family Award. The Rotary Club supports early literacy throughout the city and has made a significant contribution to the future of the Long Beach Public Library with a $250,000 gift to our New Main Campaign to support the future of the new Main Library's Storytime Theatre and Early Literacy Area. Jack Irvin is completing his 18th year on our Foundation Board. He and his wife, Barbara, have dedicated much time and resources to supporting Library programs that help develop lifelong readers to create a more successful Long Beach.
As with every Grape Expectations, delicious foods and fine wines took center stage with a wine tasting, appetizer, and silent auction reception followed by a four-course culinary experience by TGIS with wines expertly paired by Randy Kemner, proprietor of The Wine Country.
Andeavor has once again made it possible for our foundation to fund exciting learning opportunities. Andeavor public and government relations manager, Tiffany Rau, presented a $150,000 contribution to the Library Foundation in support of the Mobile Studio. The Mobile Studio allows the Library's makerspace Studio program to visit libraries, schools, parks, and community events with technology and resources for 3D printing, robotics, coding, and other STEM learning opportunities. Check out the Mobile Studio schedule at lbpl.org/studio
One of our favorite moments of the night truly shows how many people have their lives transformed at the Library. As our Executive Director Kate Azar and Director of Library Services Glenda Williams spoke to the audience about the Library's Career Online High School program, a member of the waitstaff working the gala that evening approached the stage and introduced herself as a current student in the program and thanked everyone for their support. This program gives a second chance to adults who did not earn their high school diploma during their youth. So far, 34 adults have graduated with an accredited high school diploma. The Library Foundation is proud to provide scholarships to these students, making this program a free opportunity.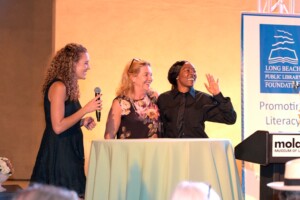 Wine tasting and appetizers were sponsored by Beaune Imports, Boathouse on the Bay, Gelson's, Johnny Rebs' True South, Revel Wine, Teak Catering, The Henry Wine Group, The Pie Hole, The Wine Country, Wine Warehouse, and Young's Market Company.
We hope to see you at the next Grape Expectations!
Click to View Event Photo Gallery
Thank you to our 2018 Grape Expectations Sponsors: