Honoring Victor and Patricia McCarty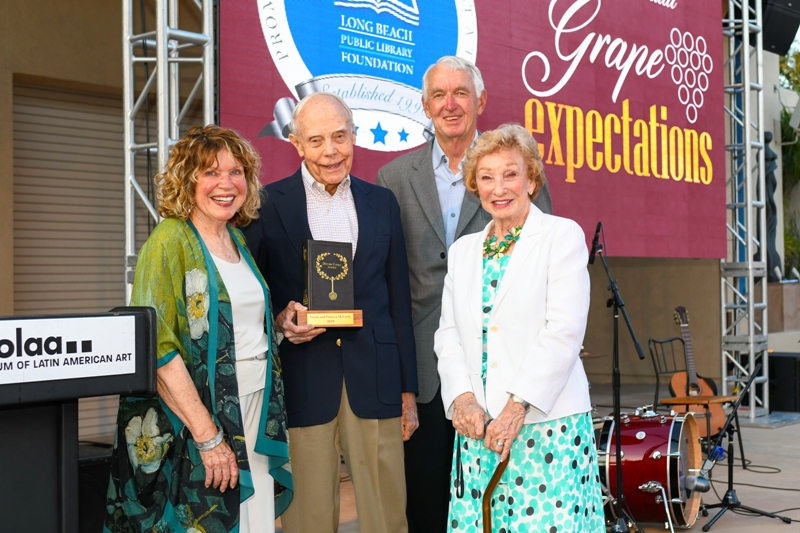 On June 9, at the 16th annual Grape Expectations gala, we were proud to honor Victor and Patricia McCarty with the 2019 Durnin Family Award for their dedication to libraries and literacy.
Vic is one of the earliest members of the Library Foundation Board of Directors, joining in 1999 and serving in several positions where he was instrumental in many Foundation projects, most importantly the Family Learning Center program. After retiring from the Board he has continued as an active member of the Finance Committee since its founding in 2005. As a retired CPA, Vic brings decades of expertise in accountancy to advising the Foundation.
Vic and Patty share a long history in Long Beach. Vic was born at the former Seaside Hospital and Patty moved to Long Beach from Minneapolis with her family when she was in the eighth grade. Both frequently visited the Long Beach Public Library growing up and recall a small former branch on Roswell Avenue across from 4th Street. They married in 1956 and their children, Lindsay, Kelley, and Victor III, frequented the Los Altos Library in their youth. Everyone in their family graduated from Wilson High School.
Vic and Patty's dedication to education in Long Beach has taken them into local classrooms as volunteers. As a member of Assistance League of Long Beach, Patty would bring the group's educational puppet program to elementary schools to teach sign language and deaf awareness to children. As a Long Beach Rotarian, Vic helped organize a program known as Adopt-A-School to support reading instruction. Vic and Patty volunteered for several years reading with students at Franklin Middle School.
Vic and Patty have generously supported the Library Foundation's many projects throughout the years and have given generously to campaigns for new libraries, including Mark Twain Library, Michelle Obama Library and the new Main Library opening this summer.
For Vic and Patty, community building and early literacy are two of the most important functions of our libraries. They are amazed at how the Library has evolved through the years and made a difference for so many families and children in Long Beach.