Welcoming Julia Huang to the Board of Directors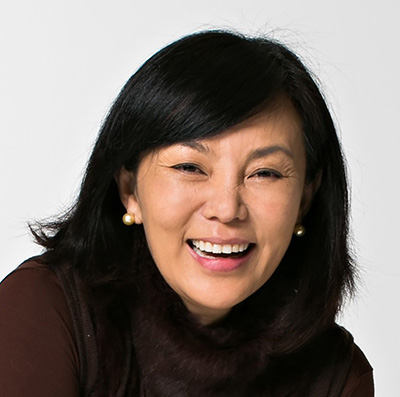 Julia Y.C. Huang is the Founder and CEO of Intertrend, a multicultural creative agency at the intersection of emerging trends and the interaction between brands and consumers. Intertrend is known in the industry to create deeply resonant and exceptional consumer experiences for leading brands in automotive, financial services, retail, entertainment, pharmaceutical and telecom.
Taiwanese American-born, raised and educated in Japan and Taiwan, Huang went to grad school to study communications at the University of North Carolina at Chapel Hill. After working in New York City and Los Angeles in product development and then in Mergers & Acquisitions, a chance opportunity led Huang to the field of communications and the founding of Intertrend in 1991.
As the CEO of Intertrend, Huang is responsible for managing two award-winning companies headquartered in Long Beach, California: Intertrend and Imprint, an incubator for new businesses. Known for her strong belief that diversity drives creativity, she is a constant contributor to industry thought-leadership content, events, and academia. She was named by Avenue Magazine as one of the 500 most influential Asian Americans and in 2014, Fortune's Most Powerful Women Conference selected Julia as one of the Top Ten Entrepreneurs in the U.S. Most recently, Julia was named the City National Bank Entrepreneur of the Year bestowed upon her by the Long Beach Area Chamber of Commerce. Over the years, Intertrend is consistently selected as the 100 Top Female-Owned Businesses by the Los Angeles Business Journal.
Intertrend has won numerous industry awards including the American Advertising Award; the ANA Multicultural Excellence Award; the Gold Award for Creative Campaign of the Year from the Asian American Advertising Federation (3AF); and the Marketer of the Year Award from 3AF. In addition, Intertrend won the People's Choice for Exhibition of the Year at the Frame Magazine Awards and the Bronze Cube for Spatial Design at the ADC 99th Annual Awards, both for The Art of Bloom exhibition.
Huang is an active member of the Long Beach and greater Los Angeles communities. In addition to serving on the Library Foundation Board of Directors, she serves on the board for KCRW/National Public Radio as well as volunteering her time with the Long Beach Economic Development Partnership and supporting Long Beach Walls (formerly Pow!Wow! Long Beach).
Having been raised in different cultural environments, Huang stresses the importance of community and civic engagement. She has received many accolades for her philanthropic activities supporting arts and culture, both locally and globally.
Welcoming Colleen Bentley to the Board of Directors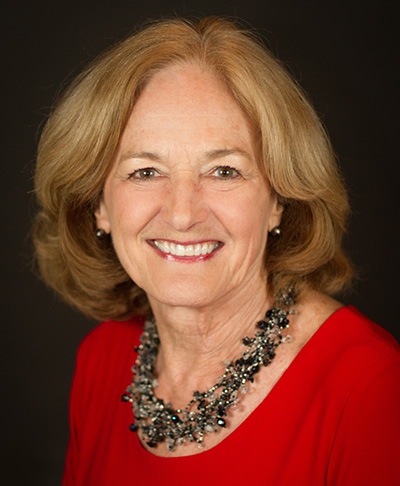 Colleen Bentley joins the Long Beach Public Library Foundation Board of Directors after many years of volunteering her time and expertise to support the Library Foundation's advocacy work as a member of the Public Affairs Committee. In addition to her work with the Library Foundation, she currently serves on the Long Beach Transit Board of Directors, CSULB Alumni Council, Long Beach Community Improvement League Board of Directors, Leadership Long Beach Honorary Board of Governors, and previously with the American Association of State Colleges and Universities (AASCU) AND Public Information Officers Advisory Committee.
Colleen worked at the California State University Chancellor's Office for 25 years, where she served as Public Affairs Director and Special Projects Director. Her work included working with the Chancellor, Board of Trustees, and the 23 campus presidents on media relations, communication issues, and video/web projects. Prior to her role with the CSU Chancellor's Office, Colleen was the Associate Director of Public Information for the University of California, Irvine, and also worked as a reporter for the San Pedro News Pilot and the Las Vegas Sun. She earned her bachelor's degree from California State University, Long Beach, and completed her graduate work at University of Nevada, Las Vegas.
Welcoming Diane Anglin to the Board of Directors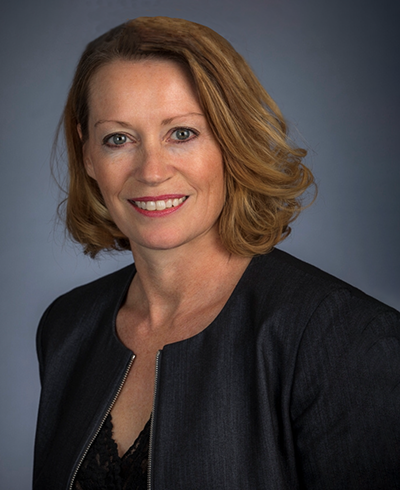 Diane Anglin is a Senior Advisor at Carta Advisors, LLC – Clark Construction Group and previously served as Marketing Director of Clark Construction Group. She is an experienced executive with demonstrated expertise in strategy and team collaborations, who fosters an environment of creativity and exceptional teamwork to problem-solve, and fill communication gaps.
A Long Beach resident for more than two decades, Diane and her family enjoy the historic neighborhoods throughout the city and seeing the growth success of small, and diverse businesses since moving here. Raising two kids, Miles and Evan, the family spends a lot of time outside usually surfing, camping, or hiking. Often traveling to remote places such as Thailand, Costa Rica, and Nepal, to explore and celebrate other cultures. The youngest of 13 siblings she is originally from Maine. Having climbed a number of mountain peaks, several with her children including nearby Mt. Baldy, Diane is a recent author of "Balancing on the Knife Edge" – a mountaineering adventure memoir reflecting both on a harrowing trek and the teachings of her father guiding the way. In Long Beach, Diane has had a personal focus on partnering with local organizations to support underserved children and the homeless in our community. 
Diane's community involvement includes service with COA Long Beach, Boys & Girls Clubs of Long Beach, Rebuilding Together, American Heart Association, Design Build Institute of America, Western Pacific Region, and Lean Construction Institute.
Long Beach Leaders are Readers — Margaret Durnin
This is the first feature in our new series in which leaders in our community will share recommended reads available in the Long Beach Public Library's collection.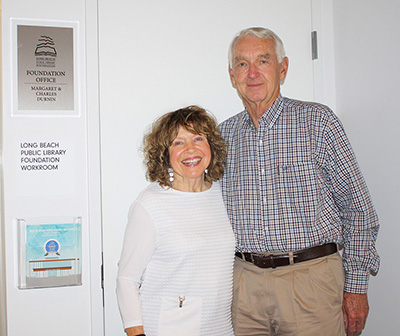 Margaret Durnin, Founder of the Long Beach Public Library Foundation
In honor of Women's History Month, Margaret has shared a couple of her current favorite books written by women.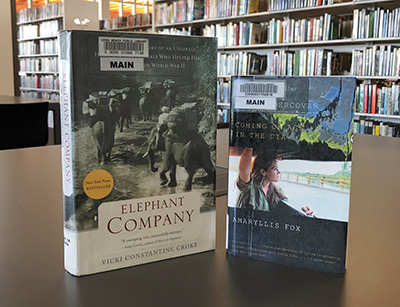 Life Under Cover: Coming of Age in the CIA by Amaryllis Fox
At twenty-one, Amaryllis Fox was recruited by the CIA as she exited her university studies. Her memoir reads like a suspenseful spy novel and the reader must continue to remind herself that this story is true.
Elephant Company by Vicki Constantine Croke 
Elephant Company is a wonderful tale of friendship, breathtaking bravery, and daring during WWII when Imperial Japanese forces invaded Burma in 1942. One particular tusker, Bandoola, attempts to lead his band of elephants and desperate refugees over an impossible mountainous trek to India.
Ryan Ballard, 2022 Board President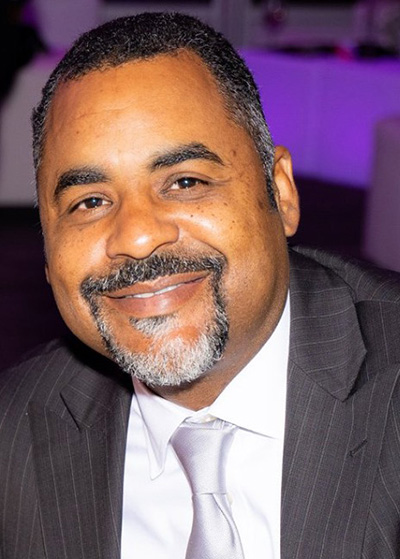 Ryan Ballard has served on the Long Beach Public Library Foundation Board since late 2017. He has contributed to the growth and success of our organization and led efforts for the Board of Directors to better reflect our diverse city as VP of Board Development in 2019. Ballard is also an Advisory Board member of the African American Firefighter Museum, a former Den Leader for Boy Scouts of America, and a former board member for the Alpha Phi Alpha Fraternity, Inc. as its Western Region Assistant Vice President. He has served on the pastoral staff of First Church of God-Center of Hope in Inglewood, CA as the Youth Director. In addition to his work with nonprofit organizations, Ballard is a Resource Specialist Teacher for the Los Angeles Unified School District.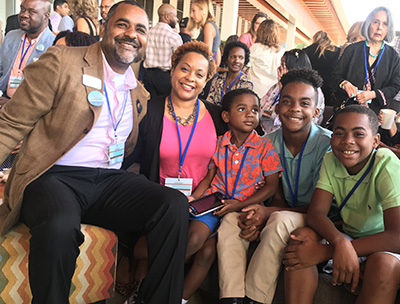 A Letter from Our Board President
Dearest Library Supporters,
"We aren't your grandmother's library." That's a quote I heard around the time of the opening of the Michelle Obama Neighborhood Library in North Long Beach in 2016. It's a nod to the fact that libraries are no longer a quiet place to simply check out and read books or a place to do homework. Libraries represent so much more, and the vast amounts of free resources available to patrons make them centers of information, community, learning, and growth. (See Palaces for the People: Library as Community Builder)
Gone are the days of scrolling through library card catalogs, or being "hushed" for breathing too loudly. Our libraries have become one-stop interactive hubs for providing services to their visitors. From free access to computers with internet access to our Family Learning Centers which provide one-on-one homework, job support, and computer use assistance, Long Beach's public libraries are becoming institutions we can't live without. I've often said that libraries are the great equalizers; housed within them are the keys to a brighter future with the resources that provide a direct pathway to success. For instance, the Library's Career Online High School gives a second chance to adults seeking to obtain an accredited diploma.
To be fair, I have pondered the pros and cons of our library system and what public libraries, in general, provide to communities. I was stumped, as I could not think of anything negative to say about libraries. Although the word most associated with libraries is "books," I continue to be amazed that this age-old institution has evolved into a safe space that addresses the unique and myriad needs of our community. I guess that's the beauty of a library…it sparks creativity which has no bounds.
In keeping with the mission, the Long Beach Public Library Foundation provides support to enhance our libraries. At our core is the promotion of literacy and education for all members of the community. We do this good work thanks to your large and small contributions to support this worthy cause. We cannot do this alone. Please join us in our relentless pursuit to expand the reach of a library system that is improving the world one book and one service at a time.
Together we can; together we must,
Ryan Ballard
2022 Board President
Champion of Literacy, Vice Mayor Rex Richardson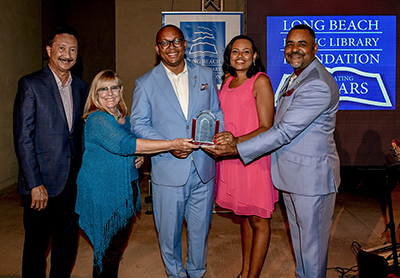 For his dedication to libraries and literacy, the Long Beach Public Library Foundation was delighted to present Vice Mayor Rex Richardson with the 2021 Library Leadership Award at the 18th annual Grape Expectations gala on September 19. In the early 2010s, North Long Beach's stunning Michele Obama Neighborhood Library was just a dream. Community members met with Library staff in the Jordan High School cafeteria to share visions for their neighborhood's new library. By 2016, those visions had become a reality with the opening of the new Library's doors. A significant key to that transformation was our honoree, Vice Mayor Richardson.
From those first meetings, Richardson was deeply involved, sharing ideas, resources, and, most importantly, his leadership skills, as demonstrated by the naming of the new library. Throughout the city, there was a wide range of ideas about what to name the new library. Its predecessor was simply called "North Library," but this spectacular new structure needed a name to match its magnificence.
Many names were suggested with no consensus until Richardson came up with the ideal solution: ask the area's young people what name would inspire them to visit and use this new resource. Jordan High School's students resoundingly selected the First Lady.
With a new name in place, the Library Foundation was tasked with fundraising for enhancements such as the Family Learning Center, the Studio, furnishings, books, and technology. Richardson supported this effort with energy and enthusiasm as one of the fundraising campaign's honorary co-chairs. The campaign raised more than $1 million, which will continue to benefit the Michelle Obama Neighborhood Library for many years to come. Richardson has remained a steadfast supporter of the Library and the Library Foundation.
Champion of Literacy, Joseph F. Prevratil, JD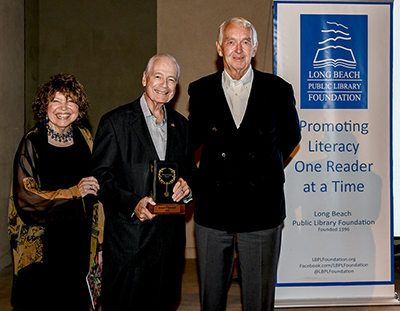 On September 19 at the Long Beach Public Library Foundation's Grape Expectations gala, we were proud to honor Joseph F. Prevratil, JD, with the 2021 Durnin Family Award for his dedication to libraries and literacy. His leadership and guidance has been key to the Library Foundation accomplishing many goals and developing a sustainable future.
From 1995 to 2019, Joe led the Archstone Foundation in its mission to contribute toward the needs of the aging population as President and CEO. He was instrumental in moving the Archstone Foundation from a focus on general health to its longstanding focus on aging. During this time, the Archstone Foundation awarded over 1,100 grants totaling more than $117 million to many nonprofit organizations, including the Long Beach Public Library Foundation. These grants have supported the Library Foundation's work on behalf of the 12 public libraries and the Library's Homebound Readers delivery services for library patrons confined to their homes. Joe is also a founding member of Grantmakers In Aging (GIA).
Joe served on the Library Foundation Board from 2003 to 2014. During his term as President in 2013, the Library Foundation strengthened its endowment to lift the organization to a higher level of sustainability. The Library Foundation also raised funds for the Library's first makerspace Studio stocked with the latest in digital learning resources. During this time, the Library Foundation took an active role in advocating for what would become the Michelle Obama Neighborhood Library and Billie Jean King Main Library. In 2013, Joe was one of 25 leaders across the country invited to join a prestigious national Libraries, Museums, and Early Learning task force convened by the Institute of Museum and Library Services.
Through the years, Joe has helped strengthen Long Beach through his many leadership roles, including Chief Executive Director for the Port of Long Beach, President and CEO of the Queen Mary, and Chairman of the boards of the Long Beach Area Chamber of Commerce, the Long Beach Convention and Visitors Bureau, and the Downtown Long Beach Associates. He was a founding member of the CSULB Board of Governors and continues to be a member of the CSULB Research Foundation Board of Directors.
As a Director Emeritus, Joe has remained engaged in Library Foundation activities and serves on the Legacy Committee, bringing our organization to the attention of those who care deeply about the future of Long Beach's public libraries. Through his leadership and generosity, Joe has provided crucial resources for the many who depend on the Library.
Welcome To Our Newest Board Member, Barbara Long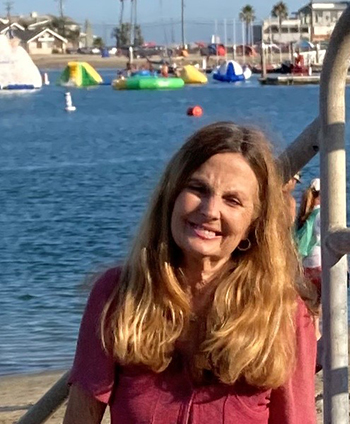 Barbara Long seeks out libraries, the key to developing creative and curious communities, every place she goes. She considers serving on the Long Beach Public Library Foundation Board of Directors to be a true honor. Barbara moved to Long Beach in 1986 but came to know her community better as a member of the Aquarium of the Pacific's leadership team from 2000 to 2014. One of her first projects was overseeing the design and construction of Shark Lagoon. She has also served on local committees and several national and state museum organization boards and committees. Barbara's favorite activities along with her husband, Bill Waterhouse, are walking their dogs throughout Belmont Shore and kayaking in Alamitos Bay.
Welcome to Our Newest Board Member, Desiree Rew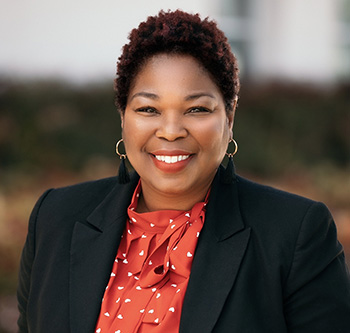 Desiree Rew, MSW, LCSW, MBA, describes herself as the "return on investment to anyone who has ever given their time, talent, or treasures to support a public library." Growing up in Baltimore, MD Desiree attributes the many hours spent in the Enoch Pratt Free Library as her launchpad for the adventure, academic endeavors, and adaptability she has enjoyed in her life. "I grew up in an environment where everybody looked like me. My neighbors were African-American, my teachers, principals, bus drivers, civic leaders, and my friends. I grew up with the support of my community, but not a worldview. It was the library that fed my enormous imagination, housed my feelings on paper, answered questions, took me to all parts of the world, and introduced me to a community that was diverse, inclusive, and welcoming."
Desiree is a Licensed Clinical Social Worker with Century Villages at Cabrillo, a permanent supportive housing community which houses homeless individuals, families, and veterans. She is an alumna of Leadership Long Beach (Class of 2020), and Commissioner on the Long Beach Homeless Services Advisory Committee. She is a Diamond Life member of Delta Sigma Theta Sorority, Incorporated-the largest black Greek-letter sorority in the world-where she serves on the executive board of the Long Beach Alumnae Chapter. When she isn't working and involved in community service, Desiree is a contributing writer for the online travel publication, Travel Awaits. She is the owner of Desiree Eats and Travels, LLC and writes for her own blog, ruedesiree.com. Desiree has one Son, David, who is likewise a Social Worker and a 21-month-old grandson, Xavier.
Desiree's personal mission is to make a difference in lives and communities. She hopes her work on the Long Beach Public Library Foundation Board will allow her to accomplish just that.
Champion of Literacy, John Arcos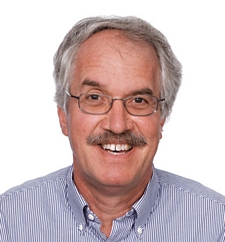 John Arcos joined the Library Foundation Board of Directors in 2017 to support our work to provide crucial educational and literacy resources to those who depend on the City's 12 public libraries. During his time on the Board, John led important initiatives as Vice President of Programs and Vice President of Fund Development. His support as VP of Fund Development was especially crucial in 2019 when the Library Foundation launched the highly successful New Main Campaign which raised more than $3.3 million for the technology, programs, and resources at the Billie Jean King Main Library. John and his wife Janet Leonards also underwrote our Books for Brews young professionals' events which introduced a new generation of literacy patrons to the Library Foundation. And the two donated generously to support various Library programs. But what makes John's service particularly special are the years he spent volunteering in the Main Library.  
John has called Long Beach home for nearly 40 years and worked in aerospace software development during much of that time. As he neared retirement, John decided he wanted to apply his knowledge of technology to a good cause. He visited the Long Beach Public Library to explore volunteer opportunities and discovered the Library's important role in bridging the digital divide. 1 in 4 Long Beach households lack a reliable internet connection and, according to a 2019 report by the Long Beach Technology and Innovation Commission, 45% of those residents rely on the Library to connect to the Internet. John began volunteering every week in the Main Library's Information Commons, which houses dozens of computers for public use, as well as the Information Center for People with Disabilities, now known as the Center for Adaptive Technology.
John helped people use the Library's computers to do their homework, apply for jobs, and learn about resources like low-cost housing. His support was especially helpful to those who did not know how to use a computer. Many in Long Beach lack basic computer literacy skills which is why the Library's computer classes and support from volunteers like John is so helpful. John also generously donated countless reading glasses, ear phones, and flash drives to library visitors.
A self-described "computer guru," John shared the following story about his service:
"One day, Mary, a recurring patron approached the help desk. She was writing an account of her experiences caught in a fire that swept through an area in Tennessee she'd been visiting. Found and sheltered by some friendly neighbors, Mary was writing a letter to the local newspaper about how grateful she was. Her written English was a somewhat second language, keyboard skills came late in life, word processing skills even later, so the guru role was to help with the writing, and then the word processing. When the document was done, I helped her to email her letter to the target newspaper. Then came the part so uniquely characteristic of online customer service interactions. After emailing the letter, Mary received a reply from the newspaper, 'Thank you for your submission. We will be publishing your letter on…' with a date and issue number."
This is an account of just one of the countless people that John helped in his role as a volunteer. We are honored to have had his support and first-hand knowledge of the needs of library patrons on our Board. While he will no longer serve on our board as a director, we will always consider John a dear friend to the Library and welcome him as a Director Emeritus. Thank you, John and Janet, for all you have done to champion literacy in Long Beach!