Educational Resources Funded in 2021 Thanks to Your Donations
Thanks to your support, the Library Foundation made the following resources possible in 2021 to help many in Long Beach get their lives and livelihoods back on track. You can give those who depend on the Library even more reason to celebrate in 2022 with a tax-deductible donation to help us support library programs, technology, and resources. Every dollar makes a difference!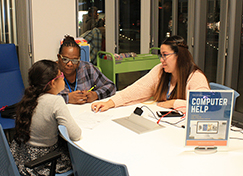 Family Learning Center Program
This program provides one-on-one homework help, job search support, and computer training. It continued in 2021 with the reopening of in-person centers and through its online component, Brainfuse, that all library cardholders can access 24/7. The Library Foundation has funded this program since its inception in 1999.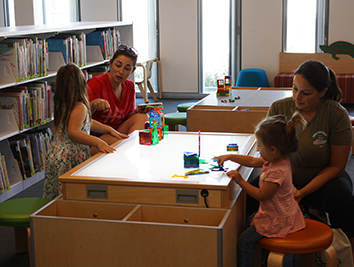 Dive into School Launches
This new program made possible by donations to the Library Foundation includes virtual and in-person workshops designed to teach age-appropriate language, literacy, math, and social-emotional skills that children should acquire before entering kindergarten. Workshops are available in both English and Spanish.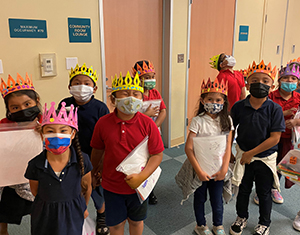 Celebrating Our Heritage
The Library has a long history of promoting inclusivity and diversity by highlighting the many cultures represented in Long Beach. This year, the Library Foundation was proud to fund educational events to celebrate Black History Month and Latino Heritage Month with support from F&M Bank, and to start our Fund for Asian American & Pacific Islander Voices.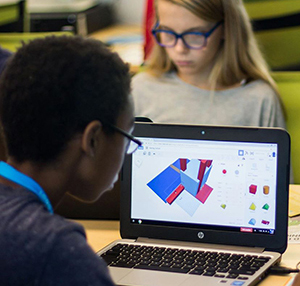 Tech To-Go
In April, the Library launched its new Tech To-Go Chromebook and pre-paid wifi hotspot lending program to help local families bridge the digital divide. One in four Long Beach households lacks a reliable internet connection. The Library Foundation is proud to be a part of the community benefit partnership with Verizon that launched this program.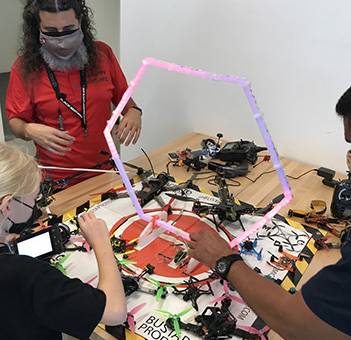 Makerspace Studio
The Library's most innovative resources made a comeback this year. The Library Foundation-funded makerspace studios at the Billie Jean King Main Library and the Michelle Obama Neighborhood Library reopened this summer and resumed offering in-person instruction in 3D printing, graphic design, robotics, and more.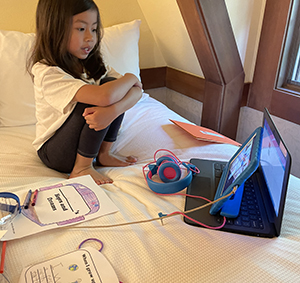 Early Literacy
Promoting literacy in Long Beach starts with raising the next generation of dedicated readers who are prepared to succeed in school and beyond. This year, the Library Foundation funded several virtual literacy programs for families including Dive into Reading, Circle of Stories, the Young Readers Club, and the Summer Reading Program.
We also partnered with Léeme un Libro (Read Me a Book) and, with funding from the Long Beach Community Foundation, made it possible for more than 1,200 new Spanish-language books and 2,700 craft packs to be delivered to migrant children sheltered at the Long Beach HHS (U.S. Department of Health and Human Services) site this summer.
Library Launches CurioCity: STEAM & Beyond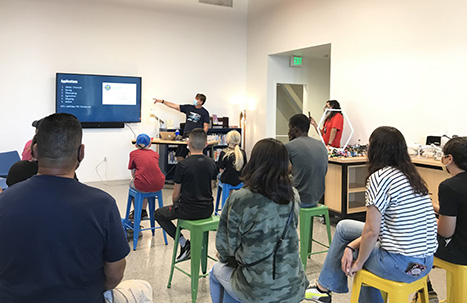 In October 2021, the Library launched the CurioCity program to introduce youth ages 12 and up to a wide array of creative interests within the fields of science, technology, engineering, arts, and math. Robotics, interactive electronics, and modular synthesizers are just some of the subjects that students are learning through biweekly workshops. The program involves experts in these fields to help lead the workshops and inspire young minds.
This program is the latest from the Library's makerspace Studio which provides expert instruction in 3D modeling, graphic design, coding, and more. The Library Foundation is proud to provide funding for the makerspace Studio thanks to generous support from the Rudolph J. and Daphne A. Munzer Foundation, Marathon Petroleum Corporation, and many donors across Long Beach who support the Library's innovative programs.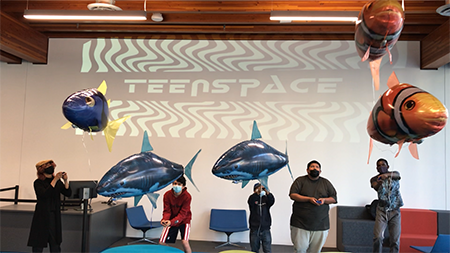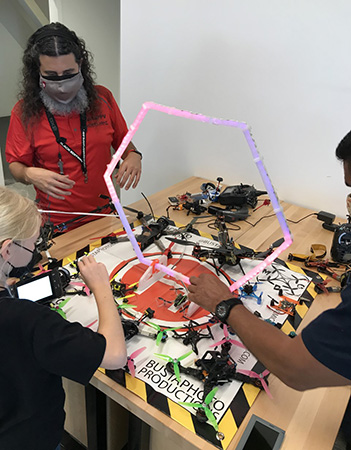 The Library's Mobile Studio Powered by Marathon Petroleum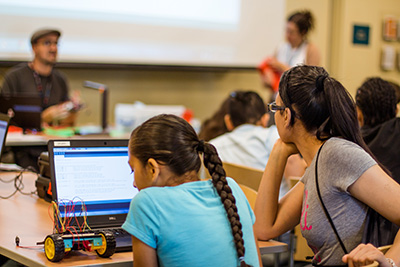 During our Grape Expectations fundraiser on September 19, 2021, we were proud to welcome Brad Levi, Vice President of Refining at the Marathon Petroleum Corporation Los Angeles Refinery, where he announced Marathon's latest contribution of $60,000 to fund the Long Beach Public Library's Mobile Studio. The Mobile Studio hosts STEAM workshops at locations throughout Long Beach, including branch libraries, parks, schools, and community events. This makerspace on wheels is stocked with technology and supplies for instruction in 3D printing, robotics, coding, graphic design, and other science, engineering, and art projects. The workshops invite children, teens, and adults to develop 21st century marketable skills.
Marathon has supported the Mobile Studio since its launch in 2017. In 2019, the Library Foundation awarded Marathon with the 2019 Library Leadership Award for their support of library programs.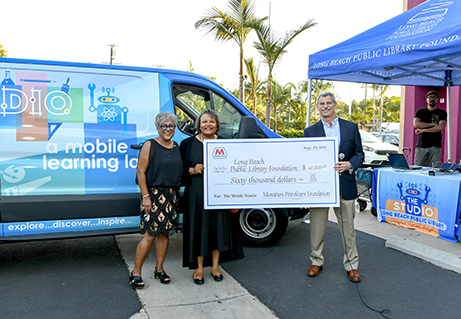 Celebrate Latino Heritage Month with Vida Latina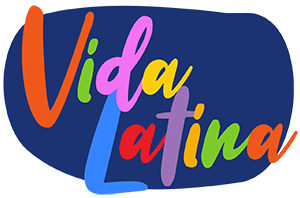 The Long Beach Public Library will host its third annual Vida Latina event series in celebration of Latino Heritage Month! This year's Vida Latina will include free in-person and virtual family programs from Saturday, September 18, through Saturday, October 30.
Vida Latina will feature a variety of programs for all ages, including bilingual storytimes for young children, a Spanish book series for school-age children, Spanish short story readings for teens and adults and a Community Lotería Night for all ages.
Vida Latina is generously supported by Farmers & Merchants Bank!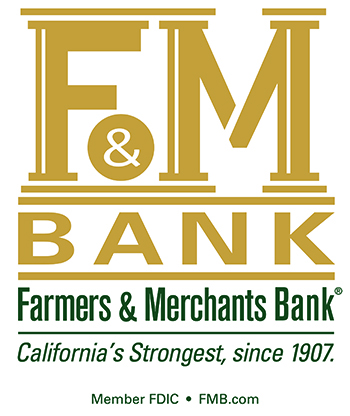 Free Back-to-School Resources from the Library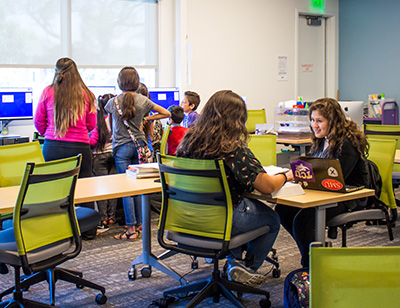 As LBUSD students return to class for the 2021/2022 school year, the Library's many free resources will help them stay on track and succeed. 10 Long Beach Public Libraries are open, providing the opportunity to browse the collection of more than 800,000 books and materials, receive guidance from librarians, and access computers and free WiFi.
Online Tutoring and Databases: The Library Foundation funded Brainfuse HelpNow program provides live tutoring in English and Spanish, virtual study rooms with other HelpNow users, college application guidance, and a library of lessons, videos, and practice tests. World Book Online is an online encyclopedia in English and Spanish that covers various topics ranging from animals and dinosaurs to ancient civilizations and the human body.
Tech To-Go: This new program allows library cardholders to check out Chromebooks and MiFi hotspots to access the internet for up to two weeks. The Library Foundation is proud to be a part of the community benefit partnership with Verizon that helped launch this program. Click Here to learn more.
Long Beach Public Library Kicks Off Summer Programs with Library Foundation Support
The Library Foundation is proud to help Long Beach students combat the "summer slide" by funding fun and educational programs all summer long! Thank you to our supporters for their donations of all sizes that make these learning opportunities possible.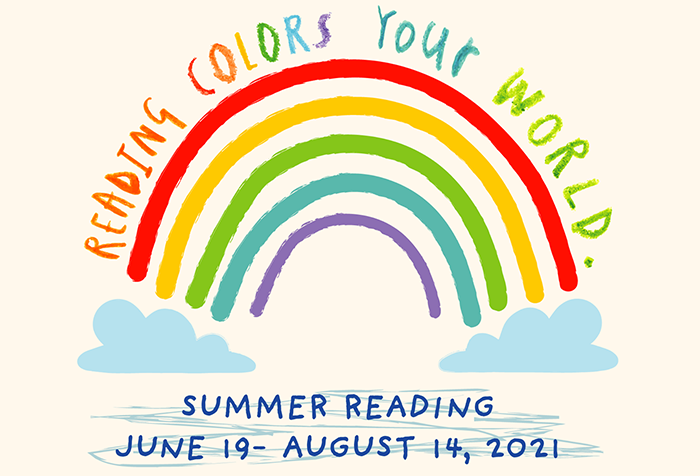 The Long Beach Public Library kicked off its 2021 Summer Reading Program virtually on June 19 and invited everyone to read the colors of their world. The program includes reading challenges, opportunities to win prizes, and weekly virtual events and workshops for children, teens, and adults in English and Spanish. Registration is required to participate in reading challenges.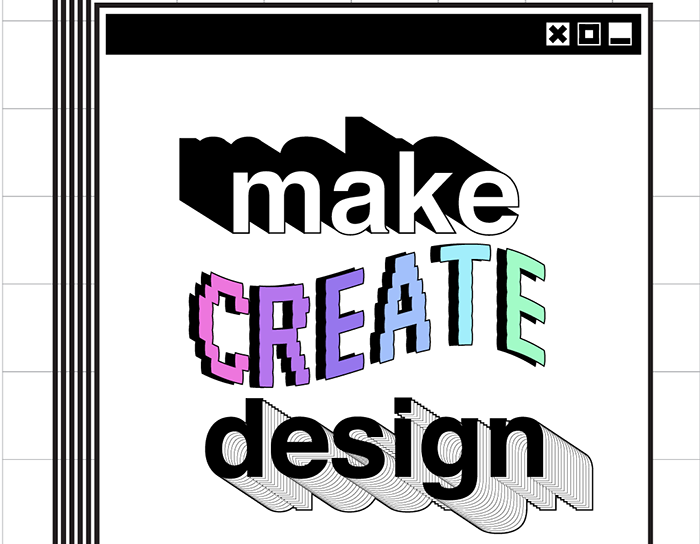 "Make.Create.Design: Video Games" by the Library's makerspace Studio invites students, grades 7 to 12, to design their own video games from start to finish with free online software. This is a five-week virtual workshop series and begins June 24. Registration is required. Due to the high level of interest in this workshop series, the Library will give priority to residents of Long Beach.
Enjoy a Storytime to Celebrate Asian American and Pacific Islander (AAPI) Heritage Month
Enjoy a special storytime by Carmen D. Snuggs of the Library Foundation Board of Directors to celebrate Asian American and Pacific Islander (AAPI) Heritage Month. Carmen reads Ling & Ting: Not Exactly the Same by Grace Lin. Find this book and more to celebrate AAPI heritage in the Long Beach Public Library's catalog at http://encore.lbpl.org.
The Library Foundation recently launched a new fund supporting library materials that promote the voices, narratives, and histories of Asian Americans and Pacific Islanders. This fund also supports resources and programs that educate the public on the origins of white privilege, white supremacy, and other forms of institutional racism and human rights issues that plague our society. Donate to this fund at the link below.
The Long Beach Public Library is commemorating Asian American and Pacific Islander (AAPI) Heritage Month with a series of virtual programs. Check out the Library's YouTube playlist to enjoy these programs whenever you'd like.
Library Launches Chromebook and Mobile Hotspot Lending Program Thanks to a Partnership with Verizon and the Library Foundation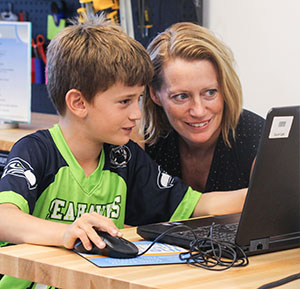 On April 15, 2021, the Library launched its new Tech To-Go lending program to help local families bridge the digital divide. 1 in 4 Long Beach households lacks a reliable internet connection and a 2019 report by the City's Technology and Innovation Commission showed that 45% of those residents rely on the Library to connect to the Internet. The Library Foundation is proud to be a part of the community benefit partnership with Verizon that made this program possible. As part of the program, Verizon provided the Library with 100 MiFi devices with features geared toward students and $50,000 to the Library Foundation to purchase Chromebooks.
Tech To-Go devices are equipped with automatic web filters, including Google SafeSearch for all Chromebook sessions, as well as high-school-level filters on the MiFi hotspots. The MiFi filters are geared toward students, but the devices can be used by non-students for job searching, career development, research projects, skill-building and more. Library cardholders 18 years and older can schedule requests for devices through the Library. Visit http://www.longbeach.gov/library/borrow/tech-to-go to learn more.
Summer 2020 Newsletter
Despite all of the challenges we faced, the Library Foundation helped the Library serve thousands this summer with innovative services thanks to your support. Check out our summer newsletter with details about virtual programs, how the Family Learning Center proved pandemic proof, social distance celebrating, and our fund for race, equity, and justice resources at the Library.