Champion of Literacy, Vice Mayor Rex Richardson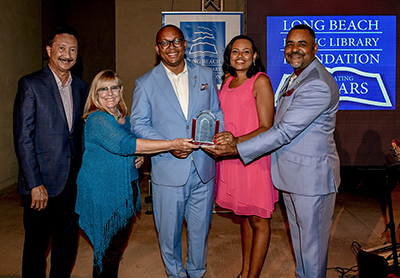 For his dedication to libraries and literacy, the Long Beach Public Library Foundation was delighted to present Vice Mayor Rex Richardson with the 2021 Library Leadership Award at the 18th annual Grape Expectations gala on September 19. In the early 2010s, North Long Beach's stunning Michele Obama Neighborhood Library was just a dream. Community members met with Library staff in the Jordan High School cafeteria to share visions for their neighborhood's new library. By 2016, those visions had become a reality with the opening of the new Library's doors. A significant key to that transformation was our honoree, Vice Mayor Richardson.
From those first meetings, Richardson was deeply involved, sharing ideas, resources, and, most importantly, his leadership skills, as demonstrated by the naming of the new library. Throughout the city, there was a wide range of ideas about what to name the new library. Its predecessor was simply called "North Library," but this spectacular new structure needed a name to match its magnificence.
Many names were suggested with no consensus until Richardson came up with the ideal solution: ask the area's young people what name would inspire them to visit and use this new resource. Jordan High School's students resoundingly selected the First Lady.
With a new name in place, the Library Foundation was tasked with fundraising for enhancements such as the Family Learning Center, the Studio, furnishings, books, and technology. Richardson supported this effort with energy and enthusiasm as one of the fundraising campaign's honorary co-chairs. The campaign raised more than $1 million, which will continue to benefit the Michelle Obama Neighborhood Library for many years to come. Richardson has remained a steadfast supporter of the Library and the Library Foundation.