Champion of Literacy, Joseph F. Prevratil, JD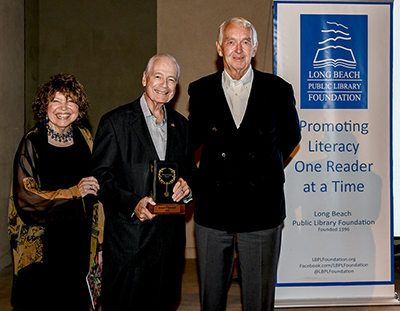 On September 19 at the Long Beach Public Library Foundation's Grape Expectations gala, we were proud to honor Joseph F. Prevratil, JD, with the 2021 Durnin Family Award for his dedication to libraries and literacy. His leadership and guidance has been key to the Library Foundation accomplishing many goals and developing a sustainable future.
From 1995 to 2019, Joe led the Archstone Foundation in its mission to contribute toward the needs of the aging population as President and CEO. He was instrumental in moving the Archstone Foundation from a focus on general health to its longstanding focus on aging. During this time, the Archstone Foundation awarded over 1,100 grants totaling more than $117 million to many nonprofit organizations, including the Long Beach Public Library Foundation. These grants have supported the Library Foundation's work on behalf of the 12 public libraries and the Library's Homebound Readers delivery services for library patrons confined to their homes. Joe is also a founding member of Grantmakers In Aging (GIA).
Joe served on the Library Foundation Board from 2003 to 2014. During his term as President in 2013, the Library Foundation strengthened its endowment to lift the organization to a higher level of sustainability. The Library Foundation also raised funds for the Library's first makerspace Studio stocked with the latest in digital learning resources. During this time, the Library Foundation took an active role in advocating for what would become the Michelle Obama Neighborhood Library and Billie Jean King Main Library. In 2013, Joe was one of 25 leaders across the country invited to join a prestigious national Libraries, Museums, and Early Learning task force convened by the Institute of Museum and Library Services.
Through the years, Joe has helped strengthen Long Beach through his many leadership roles, including Chief Executive Director for the Port of Long Beach, President and CEO of the Queen Mary, and Chairman of the boards of the Long Beach Area Chamber of Commerce, the Long Beach Convention and Visitors Bureau, and the Downtown Long Beach Associates. He was a founding member of the CSULB Board of Governors and continues to be a member of the CSULB Research Foundation Board of Directors.
As a Director Emeritus, Joe has remained engaged in Library Foundation activities and serves on the Legacy Committee, bringing our organization to the attention of those who care deeply about the future of Long Beach's public libraries. Through his leadership and generosity, Joe has provided crucial resources for the many who depend on the Library.