President Lincoln Memorial Returns to Greet Library Visitors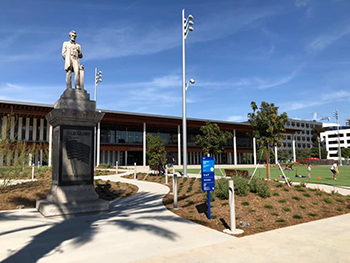 Since the memorial was unveiled in 1915, the statue of President Abraham Lincoln has stood in front of the Main Library. As the Main Library has evolved through the years, the statue has kept its rightful location to welcome library visitors. You can visit Mr. Lincoln at the newly reopened Lincoln Park in front of the Billie Jean King Main Library.
The photos below are from the Long Beach Public Library digital archives which you can explore at https://lbpl.contentdm.oclc.org.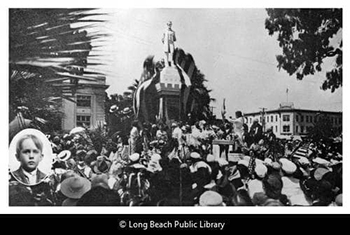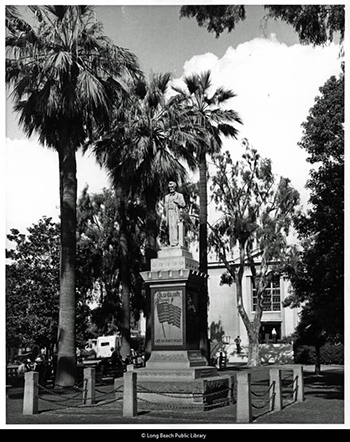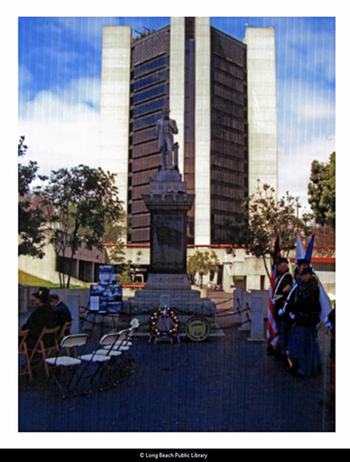 Remembering Bob Kilpatrick
By Margaret Durnin, Long Beach Public Library Foundation Founding Board Member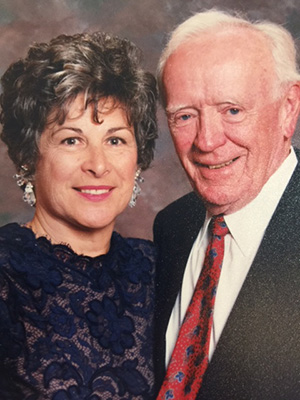 How many of us know someone who is 95 years old and still rides a bike to pick up groceries?
How many of us  keep three or more books going at the same time?
And, how many of us will have colleagues and friends remember us as someone with an acute mind; as a person who was always calm and steady; one who never shouted; and someone who always made colleagues and friends feel extra special?
Bob Kilpatrick did all of that and more. In fact, Bob was one of the four people who originally founded the Long Beach Public Library Foundation 25 years ago.
We lost him late last November.
Bob was born in 1921 and would have been 100 years old this year. He was a voracious reader to the end of his life, an avid library user who embraced the idea of a library foundation as a wonderful vehicle that could help children learn to read and succeed in school.
Raised in Stillwater, Minnesota, it was the end of WWI and the Spanish Flu Epidemic, and the start of the Roaring Twenties. Women had just received the vote.  Bob's father was an accountant and his mother a homemaker. Like so many, his family suffered terrible losses when the Great Depression hit although Bob's high academic ability enabled him to get a college scholarship at St. Thomas University. He enlisted in the Marine Corps when the United States entered WWII, and trained Navy pilots to pilot bi-planes. Afterwards, Bob used the GI Bill to attend law school at the University of Chicago.  One of his classmates was George Wise who invited him to come west to California and establish a law practice with him in Long Beach.   Bob traveled west but was called back into military service for the Korean War. He spent his war years litigating matters at El Toro Marine Base in California. After the war, he practiced law with George for almost 40 years,  a practice that included Sterling Clayton, and later, Phil Madden, Monte Cole, and Bob Johnson.  Bob Kilpatrick retired in 1989.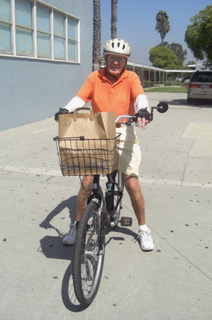 Those of us eager to begin a Library Foundation in 1996 were so lucky to have Bob's expertise!  He drafted our documents and then filed them in Sacramento and Washington D.C.  Bob helped us negotiate our early days with intelligence and a sense of humor. Cordelia Howard, past Director of Library Services, recalls the importance of  Bob Kilpatrick's calm steadiness. 
Just as Bob would study the best and safest route for his bike rides, Bob helped us find the best route to establish the Long Beach Public Library Foundation twenty-five years ago.  I'm sorry he won't be here to help celebrate with us, and to be celebrated!
Happy 125th Birthday, Long Beach Public Library!
2021 marks two important anniversaries — the Long Beach Public Library Foundation's 25th and the Long Beach Public Library's 125th year of service to the Long Beach community.
On January 1, 1896, the Long Beach Library Association with books donated by the Women's Christian Temperance Union opened the City's first library in a small structure on Ocean Boulevard. Today, we celebrate those early supporters of literacy who raised funds and advocated to make the Library possible. The Library has grown into a premier center of learning with 12 locations and an extensive collection of online resources that hundreds of thousands of families, students, job seekers, veterans, those with disabilities, and older individuals depend upon. It continues to transform lives with the support of donations to the Library Foundation.
Thank you for helping us continue a legacy of promoting free educational resources for all members of the community!
Enjoy the photos below of the downtown library through the years. The Library manages a digitized collection of directories, high school yearbooks, and photographs from the City's history which can be enjoyed at any time — no library card required. Check it out at https://lbpl.contentdm.oclc.org/digital.
A Look Back at the Downtown Library Through the Years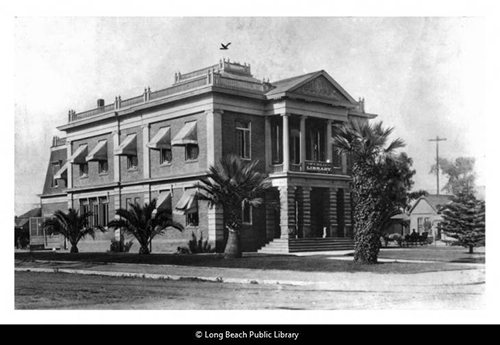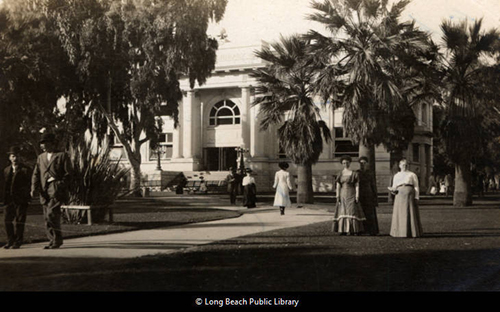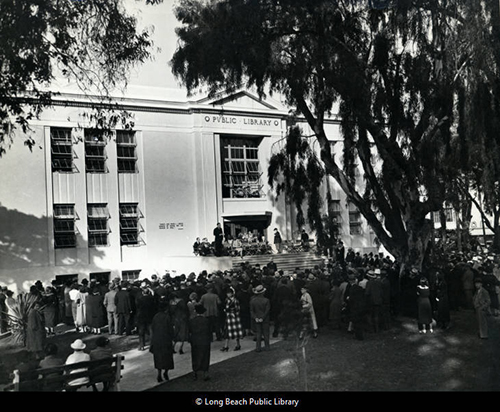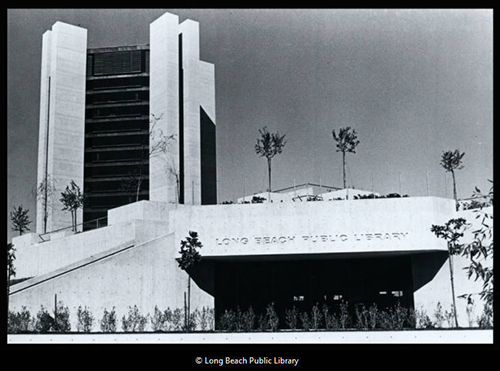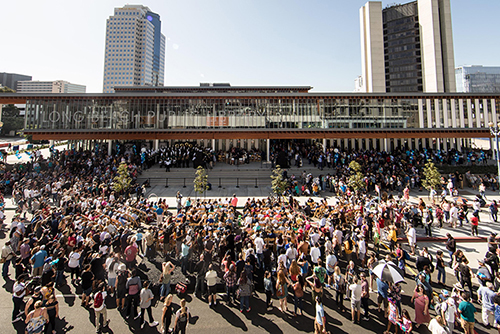 Learning and Teaching at the Library – Sanghak Kan's Story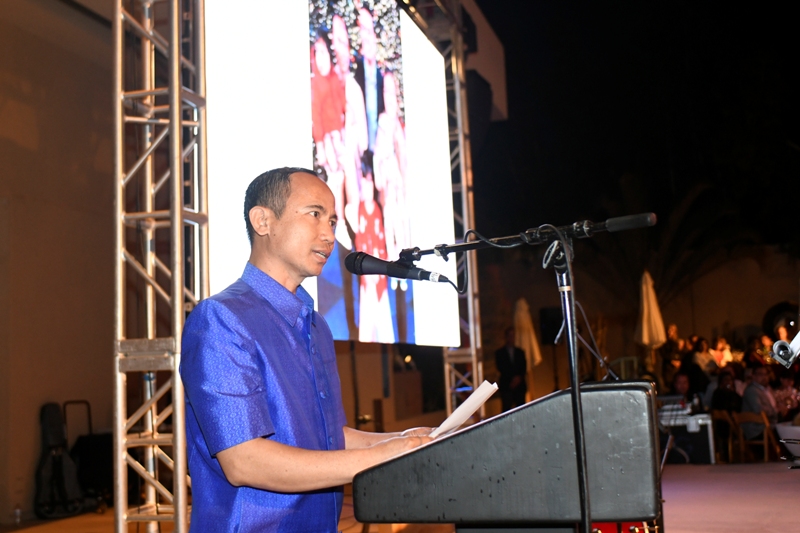 Many of our Library Foundation donors and the Library's volunteers provide support because a public library made a difference in their lives and they want to help others who depend on library programs. Sanghak Kan and his family are prime examples of those who have had their lives transformed by the Library and then support the Library in making a difference in the lives of others.
Sanghak Kan and his wife, Sophea Chim, immigrated to the United States in 2017 with their children after 12 years of applications. They quickly settled in Long Beach's Cambodia Town and it wasn't long before they visited the Mark Twain Library. Senior Librarian Jennifer Songster introduced them to resources to connect with their new community and services for their children. Their eldest daughter received homework help from the Family Learning Center and developed her reading skills through the Summer Reading program. Both of these programs are supported by the Library Foundation.
Sanghak wrote a letter of thanks to Mark Twain Library staff last year:
Congratulations to my beloved daughter who is a first-grader in the Long Beach Unified School District. She received the Character Award, "I will always be a scholar," last month!
As a parent I am so excited about her first ever achievement in first grade. I recognize that this good result came from many factors, and one among those is the Summer Reading Program. Heartfelt thanks to the City of Long Beach and especially the Mark Twain Library for making the Summer Reading Program happen smoothly and fruitfully. This program builds a habit and love of reading for children and gets them involved with creative, innovative and joyous activities.
Hand in hand – families, schools, and libraries – we can shape our young generations for a bright and prosperous future.
Sanghak and Sophea have set out to support the Library in doing just that.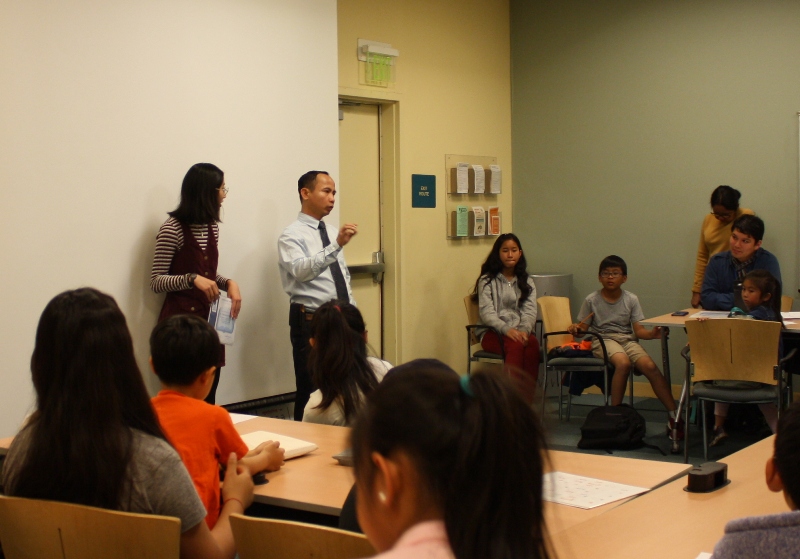 In less than two years they have become two of the Library's most dedicated volunteers. Sanghak volunteers every weekend to teach beginning Khmer language classes at the Mark Twain Library. Last month, he started an English language class for Khmer speakers.
Sophea assists with the classes and she and Sanghak also lead the Library's new Khmer-English Storytime every Saturday. Their daughter has followed her parent's example and volunteers as a guest reader at the storytime events.
In addition to his volunteer work, Sanghak began working as a contractor for the Library earlier this year to complete the Khmer Cataloging Project which will make books in the collection searchable in Khmer script in the Library's online catalog. The Long Beach Public Library has the largest collection of Khmer materials of any public library in the country. The collection has recently expanded thanks to a book buying trip to Cambodia that the Library Foundation helped fund in December 2018.
Sanghak is truly making an impact in our Long Beach community and we hope others follow in his example to help the Library transform even more lives.
Main Library Turns the Page
In 1977, the current Main Library opened to the public in the Long Beach Civic Center. As the central hub of the Long Beach Public Library system, the Main Library houses much of the Library's collection of over 800,000 items, supports the needs of all of the branch libraries in Long Beach, serves as the piloting location for new innovative programs, and houses most of the Library's advanced technology resources. After 42 years of serving the city, the Main Library will close its doors for good on January 18, 2019 at 5:00 p.m. to prepare for the opening of the new Main Library later this year.
In 2017, the Long Beach Public Library received the National Medal for Museum and Library Service, the nation's highest honor for libraries, thanks in great part to the resources and services offered at the Main Library. The new Main Library will build off of this innovative and enriching environment with an upgraded makerspace Studio, 3D printing lab, Family Learning Center, Children's Library, Teen Library, Veterans Resource Center, Center for Adaptive Technology, and many more resources for all library patrons to enjoy. Learn more about supporting these educational opportunities at LBPLfoundation.org/newmain.
While we will miss the current Main Library, we are excited for the next chapter and the amazing memories we will create in the new Main Library.
Be sure to visit the Main Library before it closes. View the Library's hours at lbpl.org/locations/library_hours.asp.
Photos from the Long Beach Public Library: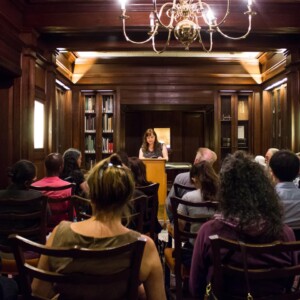 Advocating for Literacy and Libraries
Margaret Farwell Smith inherited her love of reading from her mother. As a physician, her mother led a busy life, but she enjoyed reading under the shade of a tree in her spare time. Growing up, Margaret loved books in school and college, but it wasn't until she retired from her career in healthcare that she became a strong advocate for literacy and libraries.
In 2009, as Margaret Smith was looking to be more involved in her community, she attended a seminar on nonprofits in Long Beach. After the seminar, then Library Foundation Board members Tom Reep and Darrell Cannon approached her in the parking lot and asked her to join the Library Foundation Board of Directors.
It was a perfect fit. Margaret was elected Board President for 2012 and started to flesh out the advocacy function of the Library Foundation. Although her career was in healthcare administration, she could see there was a need to organize and advocate for the Library to prevent further budget cuts and less access to library services.
Proper advocacy requires strategy and guidelines. It's important for the Library Foundation's Board of Directors and staff to stick to a singular message that resonates with city officials and the public. The Library Foundation's main advocacy message emphasizes the value of the library system to the City. The educational and technological resources provided are available to all residents with a library card. For many residents who cannot afford services like preschool or a home internet connection, the Library's resources are crucial and provide paths out of poverty.
Much of Margaret's work as a Board member has focused on the new Civic Center. When the City was planning the new development, an idea was proposed to eliminate Main Library from the new Civic Center. Margaret and the Board rallied the community's support and attended several City Council meetings to advocate against this. Their efforts were successful and a beautifully designed and modern new Main Library will open in 2019.
Margaret was elected as the Library Foundation's first Vice President of Public Affairs for 2014 and has led advocacy and public relations projects ever since.
One of Margaret's favorite memories from her time on the Library Foundation Board was getting to sign the first steel beam of the new Main Library at a special ceremony on September 19, 2017. She knew then that had it not been for vocal supporters of libraries, this moment would not have happened.
Margaret's focus as a Board member has also been on philanthropy. As a member of the Board of Trustees for the Earl B. and Loraine H. Miller Foundation, she has helped maintain a partnership between the Library Foundation and the Miller Foundation to host the city's annual Dictionary Days program. Since the program's inception in 2003, more than 120,000 new dictionary/thesaurus have been gifted to Long Beach 3rd graders. For many of these students, this is the first book they are given. The program includes annual events at several libraries to teach children how to use their new dictionaries through fun games and activities. This is all possible thanks to the shared focus of supporting youth literacy of the two organizations that Margaret helps lead.
During her time with the Library Foundation, Margaret has realized the importance of nonprofit organizations. So much is accomplished thanks to those who donate their resources and time to causes that matter.
Supporting Education to Transform a Community
Over 5,000 people attended the Michelle Obama Neighborhood Library grand opening ceremony on September 10, 2016. It was an exciting day for the community of North Long Beach which went from having a small neighborhood library to having the largest library branch in the city with more resources and newer technology than any other Long Beach library branch.
This was an especially proud day for Rick Alsagoff who co-chaired the Library Foundation's fundraising campaign which raised over $1 million for programs at the Michelle Obama Neighborhood Library. Together with his co-chair, friend and neighbor, Mary Hancock-Hinds, Rick raised awareness and funds for the new library and helped rally community support for this much-needed resource.
It was Mary who first invited Rick to join the Library Foundation Board of Directors in 2009. Rick first became involved by donating books to the Library. Learning about the Family Learning Center program was what ultimately inspired him to join the Board. The Library Foundation funds staffing and resources for the Family Learning Center program. The program serves children, job seekers, older people, and families with one-on-one support for homework, research projects and computer use.
"I feel education is a way out of poverty and a way to change your whole life," said Rick while discussing what inspired him to join the Library Foundation's Board of Directors.
Rick was born in Singapore and graduated from the National University of Singapore with a degree in Business Administration. Rick spent his early years in merchant banking in Singapore, and lived in Taipei, Tokyo, Hong Kong and Jakarta. He began travelling to Long Beach in the 1970s because his nephews and mother lived here. While it was not his original plan to become an American citizen, he finally moved to Long Beach in 1990 to take care of his mother.
Getting a Long Beach Public Library card was one of his first acts when he moved here. He had one of the older yellow library cards before the system was digitized.
As a financial services professional for New York Life, he has helped arrange for significant contributions from the New York Life Foundation and the Lloyd & Lauretta Dyer Family Foundation to support the Library Foundation and Family Learning Center program.
Rick considers fundraising the life blood of the Library Foundation and is proud to have made a difference and supported programs that have helped transform the Long Beach community.
From Visiting the Library to Supporting Family Learning Centers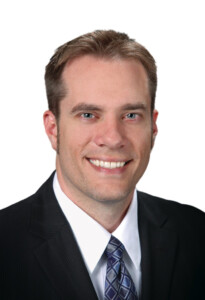 Lance Adams was born and raised in Long Beach. Los Altos Neighborhood Library and El Dorado Neighborhood Library were his closest libraries where he would seek out books about sports history and Family Circus comics as a child. Today, Lance helps create educational opportunities for children attending the Long Beach Public Library.
When Lance joined the Long Beach Public Library Foundation Board of Directors in 2008, he immediately took up the role of treasurer previously occupied by one of his partners at Windes, an accounting firm which has been serving Southern California since 1926.
During that year, the Library Foundation's fundraising campaign for the Mark Twain Neighborhood Library was just ending and Lance was impressed with the new library's modernity and popularity. The Library Foundation raised close to $1 million in donations for programs at the Mark Twain Library. Those funds are still making an impact at the Library's Family Learning Center.
As a CPA he has helped the Library Foundation manage endowments, prepare for audits and establish governance policies. Setting up important procedures has allowed the Library Foundation to grow through the years and fund learning opportunities for hundreds of thousands of patrons every year.
Lance was elected president of the Board of Directors for 2015. During this time, he brought on Kate Azar as executive director who currently leads the Library Foundation. For Lance, it has been exciting to see the Foundation evolve and accomplish so much in the last couple of years with his guidance.
As a father living with his family in Long Beach, Lance takes his kids to the Bay Shore Library just like he attended the library in his youth. There they participated in the Library Foundation supported Summer Reading program.
"It's exciting to see the City building a new library and to think about the impact it will have on future generations.  Libraries are great public spaces which engage and educate our community," said Lance.
A Family Developing Their Future at the FLC
Sagrario works hard to help her children to succeed. She is a mother to three daughters and one son, all high school students, who need assistance with challenging homework and are preparing for college. Although she does not speak English, Sagrario found a great resource at the Long Beach Public Library to give her children the guidance they need.
Sagrario and her children are one of many families in Long Beach that cannot afford an Internet connection. According to a 2016 American Community Survey, an estimated 1 in 4 Long Beach households lacks an adequate portal to the Internet. This makes researching and completing homework difficult for her kids who are usually required to complete their assignments with the use of a computer.
A little over a year ago, Sagrario and her children were looking for a quiet place to study at the Dana Neighborhood Library. It was there that they discovered the Dana Library Family Learning Center. The space is equipped with computers, a printer, text books and, most importantly, a qualified Learning Guide is available to provide one-on-one assistance with homework. They currently visit the Family Learning Center about four days per week.
The Family Learning Center program began in 1999 with the support of the Long Beach Public Library Foundation to provide students and job seekers with one-on-one guidance and resources. Initially, a Family Learning Center was established at the Main Library and each neighborhood branch library. The program has evolved through the years to include virtual tools and the Library's makerspace Studio program with instruction in advanced technology. In the Library's 2018 fiscal year, the Family Learning Center program held 22,281 sessions thanks to generous donations to the Library Foundation.
"The Family Learning Center has helped me actually get my homework done on time with my crazy schedule," said Sagrario's daughter.
After they are done with homework, her children use the computers in the Family Learning Center to look up colleges they would like to attend. They are currently looking at universities in Hawaii and Utah.
A Library and a Family
For many, a library is a home away from home where they can find a quiet and friendly place to study, research and read. For Lorrie Hutton, this goes one step further. When talking about how she joined the Long Beach Public Library Foundation Board of Directors, she talks about how much it was like joining a family.
"I had never seen that type of camaraderie before. That's not to say we didn't have our problems but it was truly like family."
Family is very important to Lorrie. She grew up Oklahoma and Texas and her mother placed great importance on libraries, researching and looking up words in dictionaries. Lorrie remembers when the bookmobile would come around her neighborhood in Oklahoma and how fun it was to pick out her next read.
A job with American Honda Motor Company prompted a move from Texas to California about 30 years ago. Her first home was near the ocean in Redondo Beach which convinced her to stay and live close to the beach.
After moving to Long Beach, she became friends with one of the founders of the Library Foundation, Margaret Durnin.  Lorrie was originally asked to join the Board of Directors in 1996 when the Library Foundation was first formed, but turned down the offer due to her busy work schedule.
In 2005, Margaret asked her again to join the Library Foundation Board. This time Lorrie was looking for a way to branch out and meet other people in the community and she agreed.
Some of Lorrie's favorite memories from serving on the Library Foundation Board are of the Booked event series. One of her favorite guests was Jeffrey Weaver, Curator of Sculpture & Decorative Arts at the Getty, who spoke about the book, Gods of Angkor: Bronzes from the National Museum of Cambodia by Louise Allison Cort and Paul Jett. Jeffrey was co-curator of the exhibition that was organized by the Getty, the Smithsonian and the National Museum of Cambodia.
In her 13 years on the Board, Lorrie was elected to the roles of President, Vice President, Secretary, and Vice President of Finance. She has helped guide the Library Foundation through exciting times like the fundraising campaigns for the Mark Twain Neighborhood Library and Michelle Obama Neighborhood Library, as well as challenging times like the campaign to keep Main Library open when the city considered shutting it down.
She looks forward to the opening of the new Main Library and treasures the memories that brought the Library Foundation to the success it is today.