The Library Foundation Stands in Solidarity with the Asian and Pacific Islander Communities of Long Beach
The Long Beach Public Library Foundation stands in solidarity with the American Library Association (ALA), Asian/Pacific American Librarians Association (APALA), and the Asian, Asian American, and Pacific Islander communities of Long Beach in condemning anti-Asian hate crimes.  

As the ALA Executive Board recently stated, "Such bias and bigotry are not new, but they have found fertile terrain in a country beset by disinformation, discrimination, xenophobia, Sinophobia, and white supremacy." We couldn't agree more. That is why we remain firmly committed to promoting literacy and education in Long Beach. Education is a powerful tool in fighting these social ills.

We are now proud to launch our Fund for Asian American and Pacific Islander Voices and encourage you to donate any amount to support library materials that promote the voices, narratives, and histories of Asian Americans and Pacific Islanders. This fund will also support resources and programs that educate the public on the origins of white privilege, white supremacy, and other forms of institutional racism and human rights issues that plague our society. Support this fund at https://www.lbplfoundation.org/aapi. Whether you donate $5 or $500, your gift will support educational tools in the fight against racism and injustice.

The Library Foundation remains committed to fighting for greater equitable access to the Library by advocating for significant increases to the Library's structural budget. The City should provide the Library with sustainable funding that would allow it to be open more hours and provide more resources in Khmer, Tagalog, Chinese, Vietnamese, Korean, Spanish, and other languages spoken in Long Beach homes. If you agree, please contact your Councilperson and ask for greater structural funding for the Library. 

The Library Foundation will also continue our efforts to diversify our Board of Directors, so our leadership adequately reflects Long Beach's diverse community. In the past three years, we have transformed the makeup of our Board to include more people of color. We have seen how inviting a diverse set of voices—those from various racial, cultural, geographic, age, and economic backgrounds—has strengthened our organization and boosted our community impact and exposure, allowing us to promote literacy at every economic level.

Libraries play an instrumental role in educating the public, and they are often the only place left in society where the public can access truly free educational resources. They are often called the great equalizer. That is why it is important to strengthen this institution.

Learn about all the Long Beach Public Library has to offer at https://www.longbeach.gov/library.

Thank you, stay safe, and keep learning.
Long Beach Public Library Foundation Board of Directors and Staff
Voter Guide for Library Supporters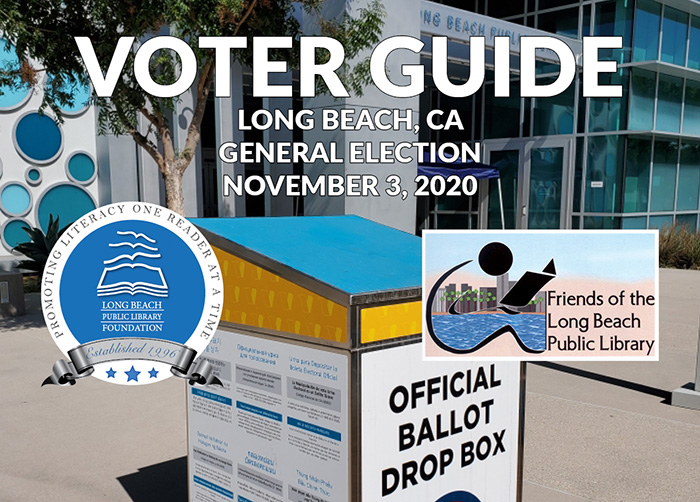 The Long Beach Public Library Foundation and the Friends of the Long Beach Public Library, two nonprofit organizations that raise funds and advocate for the city's 12 public libraries, have jointly created a Voter Guide for the November 3, 2020 General Election. The guide, available at lbplfoundation.org/voters, allows voters who recognize the critical role libraries play in Long Beach's literacy and educational efforts to make informed decisions when voting for candidates running to represent City Council Districts 2, 6, and 8; Long Beach Board of Education District 2; and Long Beach City College Board of Trustees Area 4.

10 candidates participated in the Voter Guide by submitting a brief statement outlining their views about libraries in Long Beach and, if elected, their plans for the future of local libraries. 

The Long Beach Public Library Foundation and the Friends of the Long Beach Public Library are 501(c)(3) organizations and, as required by law, will not endorse or advocate for any candidate. The responses from the candidates appear exactly as they were received, without edits. This guide is an educational piece without commentary.  
These Candidates Participated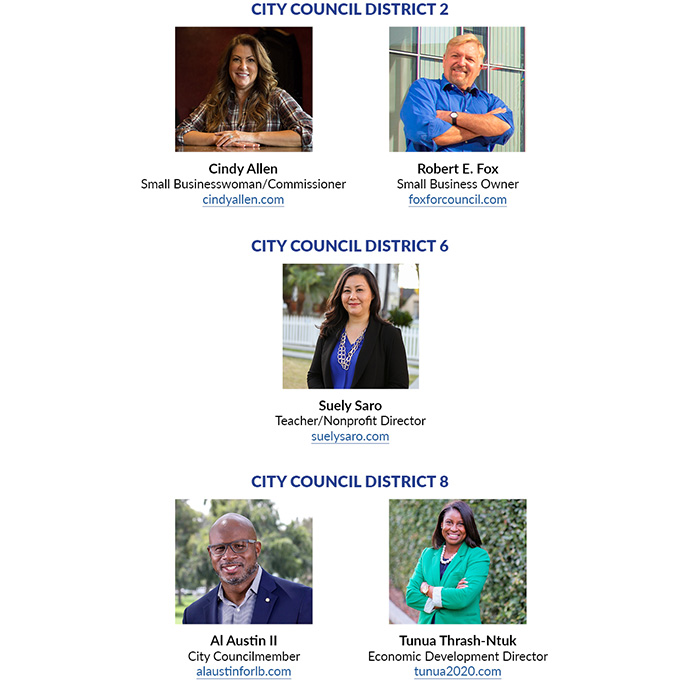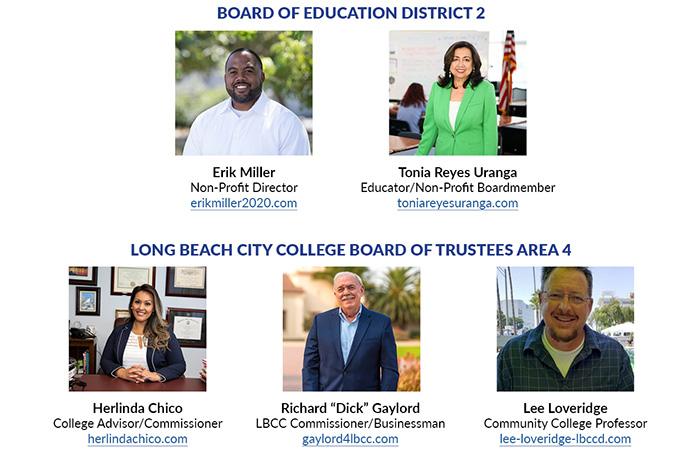 The Long Beach Public Library Foundation Unequivocally Affirms that Black Lives Matter
The City of Long Beach, and the world, have experienced an extraordinary uprising in support of the Black Lives Matter movement. The Long Beach Public Library Foundation Board of Directors and staff have taken this time to listen, learn, and analyze our own role in upholding systemic racism. As an organization that has long advocated for equity in education and literacy, we unequivocally affirm that Black lives, indeed, matter.
While we are an organization that relies heavily on the power of the written word, we know words are not enough. For too long, nonprofit organizations like ours have failed to take deliberate actions that significantly dismantle systemic racism. Our organization has worked for years to support educational programs and provide resources to all who visit the public libraries in Long Beach. Still, we understand Black people and people of color face crippling inequality in virtually every aspect of American society including housing, healthcare, and education.
Therefore, we have outlined a number of actions we will take to address this critical issue:
Like our colleagues at the Long Beach Public Library (LBPL), we believe knowledge is the strongest tool we have to fight racism and injustice. Therefore, we will direct financial and other resources to ensure our libraries include widely available books and materials that represent the voices, stories, and histories of people of color as well as resources to educate the public on the origins of racism, white privilege, white supremacy, mass incarceration, and other issues that have plagued our society. We are grateful for our collaboration with the African American Heritage Society of Long Beach and the Long Beach faith community to ensure these resources are widely available at all 12 libraries in the city, in the LBPL online catalog, and as part of LBPL's African American Resource Collection.
We will continue to use our advocacy efforts to fight for equitable access to educational resources and programs in Long Beach. This will include ensuring Library services are as available and accessible as possible to all residents of Long Beach, including families who cannot access preschool, those disadvantaged by the digital divide, disabled patrons, LGBTQ patrons, young people who seek educational resources and a safe place to socialize, adults who would like to earn 21st century job skills and seek résumé assistance, those experiencing homelessness, and more.

We commit to more consistently raising the voices of people of color. This will include raising funds for library programming that focuses on important topics such as cultural appropriation, racism, implicit bias, diversity, community healing, and more.

We will also continue our efforts to diversify our board of directors, so our leadership adequately reflects Long Beach's diverse community. In the past three years, we have transformed the makeup of our board to include more people of color. We know how important it is to actively engage all members of our community and ensure more people of color have a seat at the table and hold positions of power within our organization and elsewhere. We have seen how inviting a diverse set of voices—those from various racial, cultural, geographic, age, and economic backgrounds—has strengthened our organization and boosted our community impact and exposure, allowing us to promote literacy at every economic level.
If you would like to learn more about these resources and support our efforts, please visit lbplfoundation.org/aarc.
This is just a start. We know the actions we take today are important but also just the beginning of an effort to truly dismantling the centuries of systemic racism in our society. We will continue to look inward, joining the California Library Association (CLA) in reflecting upon how we have unwittingly perpetuated institutional racism, taking responsibility for challenging racial inequity, and implementing positive change in our organization and the public libraries. Like the CLA, we understand libraries are not only places of learning, but also institutions of social change.
Although the 12 Long Beach Public Libraries are temporarily closed in an effort to stop the spread of COVID-19, the Library's extensive collection of free online resources, including eBooks, audiobooks, and other resources related to the ongoing fight for racial and economic justice are available at longbeach.gov/library/your-library-at-home.
Thank you, stay safe, and keep learning.
Long Beach Public Library Foundation Board of Directors and Staff
The Complicated Role of the Modern Public Library – Humanities: The Magazine of the National Endowment for the Humanities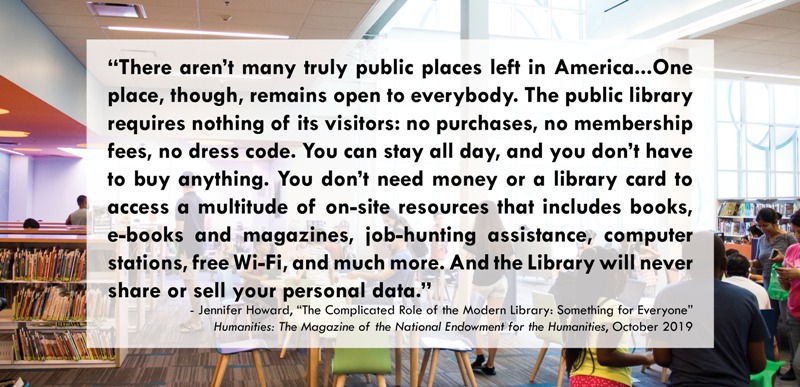 In her recent article, "The Complicated Role of the Modern Library: Something for Everyone," in the Fall 2019 issue of Humanities: The Magazine of the National Endowment for the Humanities, Jennifer Howard examines the many important functions of libraries in the communities they serve. Libraries serve as free, shared spaces when many truly public facilities are disappearing and provide a variety of programs that are vital to many families, students, job seekers, older individuals, and those with disabilities.
Read the full article on the National Endowment for the Humanities website. CLICK HERE.
All programs and resources at the Long Beach Public Library are completely free for use. The Long Beach Public Library Foundation is proud to support many programs for visitors of all ages and learning levels. Check out the full list of programs and resources supported by our foundation.
Library Foundation and Friends Celebrate Librarians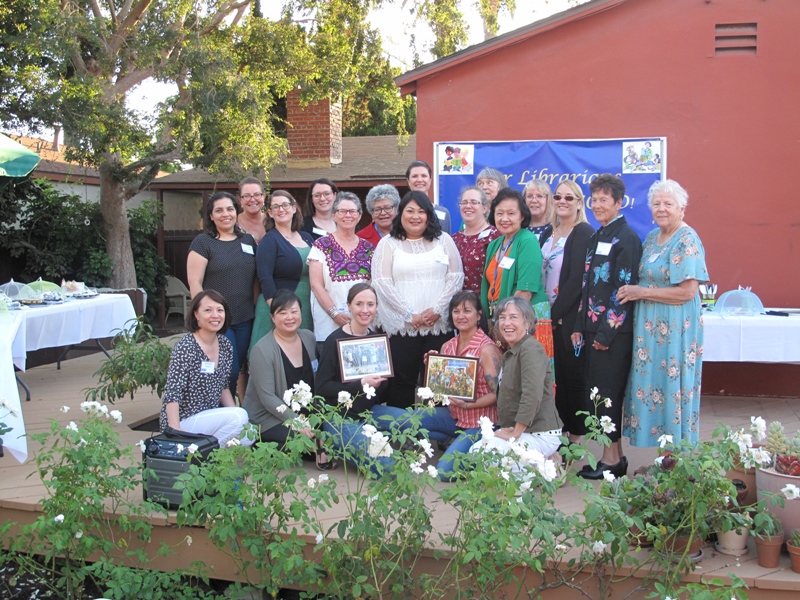 Earlier this month, the Library Foundation Board of Directors was honored to work with the Friends of the Long Beach Public Library to organize the annual Librarian Appreciation event. From creating innovative programs to helping thousands of daily visitors find the correct book or use the computer, our city's librarians transform lives at the Library every day.
Susan Redfield, former Library Foundation Board President, once again opened her home for the celebration. Volunteers from both organizations decorated and organized a delicious potluck.
Thank you to everyone who made this day special!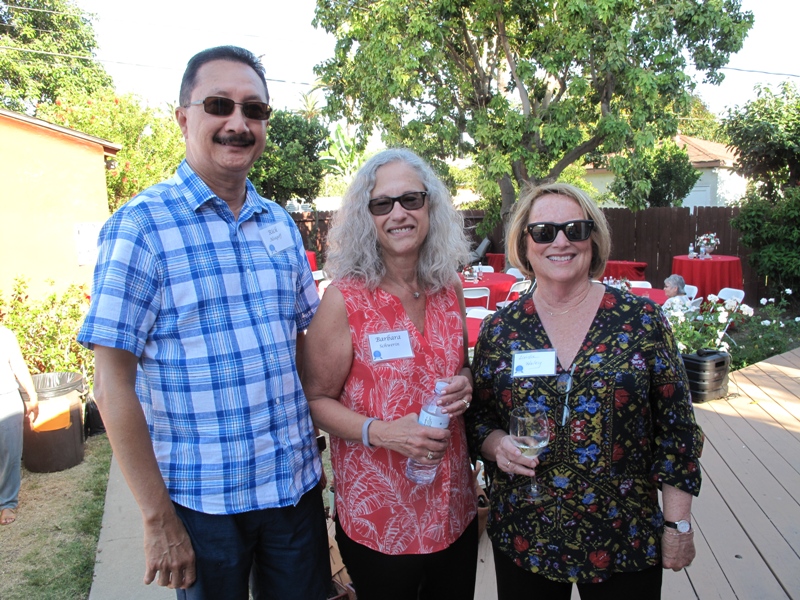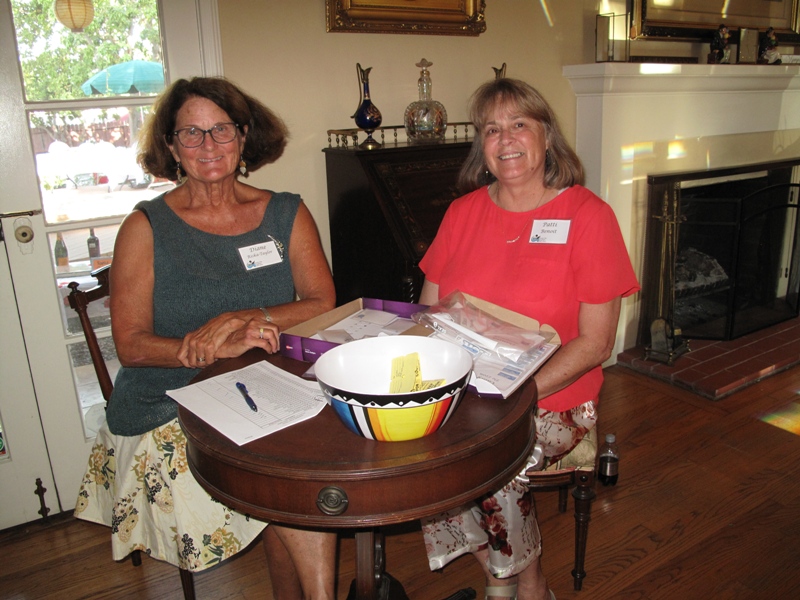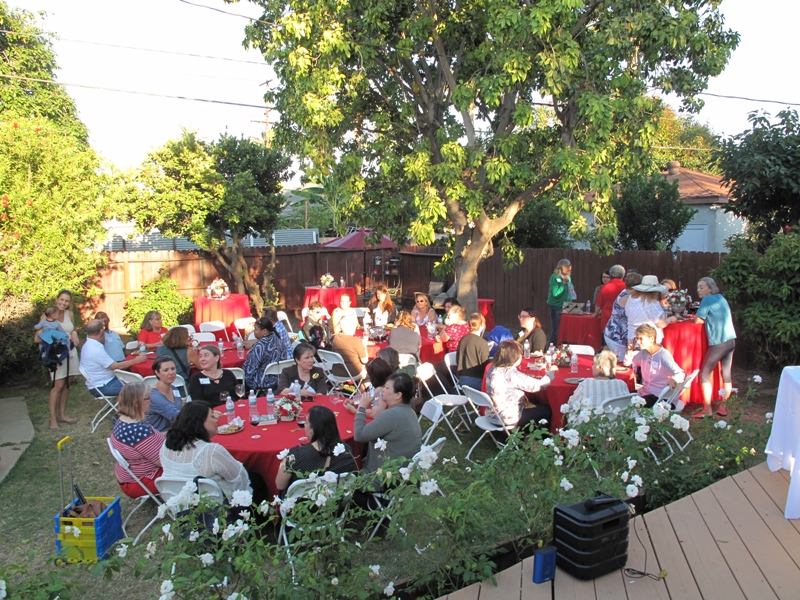 Learning and Teaching at the Library – Sanghak Kan's Story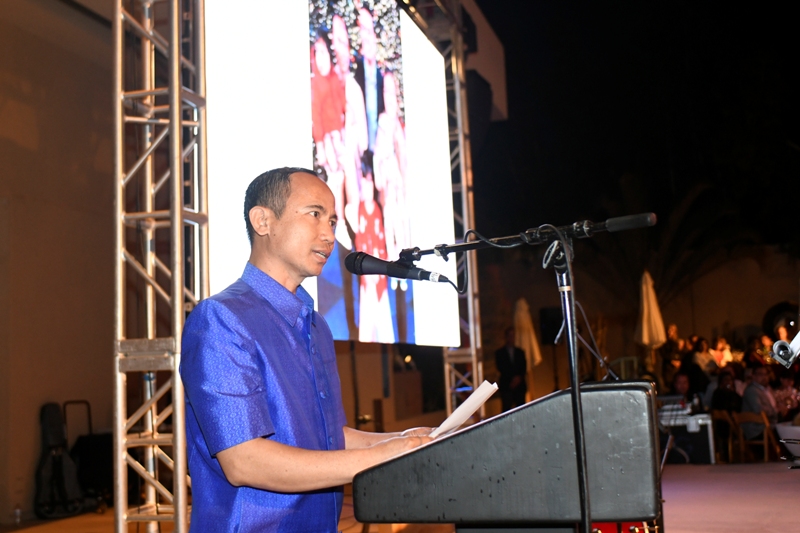 Many of our Library Foundation donors and the Library's volunteers provide support because a public library made a difference in their lives and they want to help others who depend on library programs. Sanghak Kan and his family are prime examples of those who have had their lives transformed by the Library and then support the Library in making a difference in the lives of others.
Sanghak Kan and his wife, Sophea Chim, immigrated to the United States in 2017 with their children after 12 years of applications. They quickly settled in Long Beach's Cambodia Town and it wasn't long before they visited the Mark Twain Library. Senior Librarian Jennifer Songster introduced them to resources to connect with their new community and services for their children. Their eldest daughter received homework help from the Family Learning Center and developed her reading skills through the Summer Reading program. Both of these programs are supported by the Library Foundation.
Sanghak wrote a letter of thanks to Mark Twain Library staff last year:
Congratulations to my beloved daughter who is a first-grader in the Long Beach Unified School District. She received the Character Award, "I will always be a scholar," last month!
As a parent I am so excited about her first ever achievement in first grade. I recognize that this good result came from many factors, and one among those is the Summer Reading Program. Heartfelt thanks to the City of Long Beach and especially the Mark Twain Library for making the Summer Reading Program happen smoothly and fruitfully. This program builds a habit and love of reading for children and gets them involved with creative, innovative and joyous activities.
Hand in hand – families, schools, and libraries – we can shape our young generations for a bright and prosperous future.
Sanghak and Sophea have set out to support the Library in doing just that.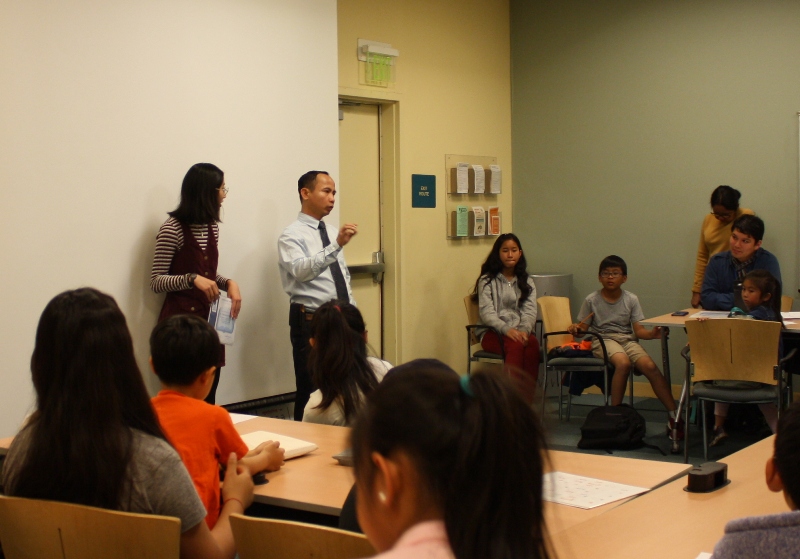 In less than two years they have become two of the Library's most dedicated volunteers. Sanghak volunteers every weekend to teach beginning Khmer language classes at the Mark Twain Library. Last month, he started an English language class for Khmer speakers.
Sophea assists with the classes and she and Sanghak also lead the Library's new Khmer-English Storytime every Saturday. Their daughter has followed her parent's example and volunteers as a guest reader at the storytime events.
In addition to his volunteer work, Sanghak began working as a contractor for the Library earlier this year to complete the Khmer Cataloging Project which will make books in the collection searchable in Khmer script in the Library's online catalog. The Long Beach Public Library has the largest collection of Khmer materials of any public library in the country. The collection has recently expanded thanks to a book buying trip to Cambodia that the Library Foundation helped fund in December 2018.
Sanghak is truly making an impact in our Long Beach community and we hope others follow in his example to help the Library transform even more lives.
A Visual Story of the History of America's Libraries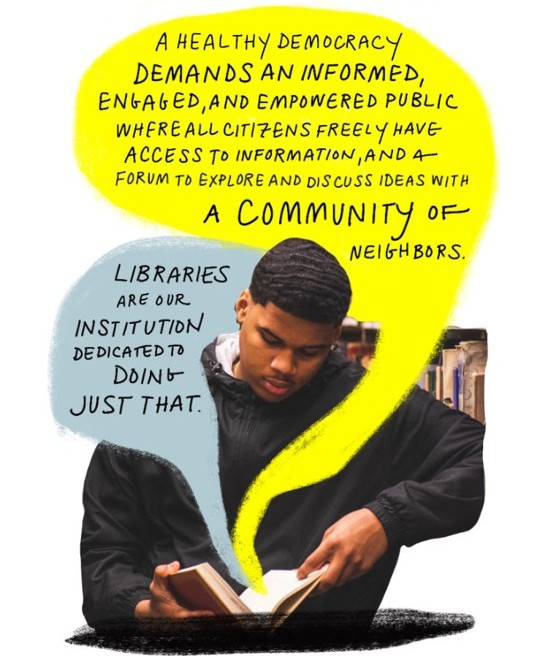 Check out this recent visual story by CityLab that shows how American libraries went from restrictive private clubs to battlegrounds for the Civil Rights movement, and finally to the welcoming learning and community spaces of today's public libraries. Brave and generous individuals and groups made this possible.
Check Out City Lab's Visual Story
From Job Seeker to Paralegal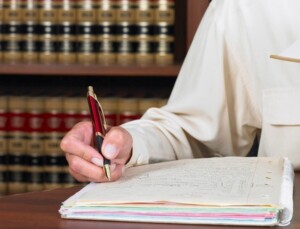 Megan needed a job so she turned to the Library Foundation supported Family Learning Center at the Mark Twain Neighborhood Library. Read her letter of gratitude below.
I have been searching for a job in my new profession for 18 months and have had no luck…until today! I just received an offer letter to which I accepted.
The library resources at Mark Twain have been a God-send during my search. In addition, the Library staff have been extremely supportive and so kind. They truly made my job search experience better by just being here. They have been so supportive and helpful. It felt as if they were part of my job search team.
I earned my paralegal certificate and finally was offered a paralegal position at a tremendous family law practice so I would like to thank you.
I'm excited to start the next chapter of my life.
Thank you again,
Megan
Name has been changed at writer's request.
Learn how you can support the Family Learning Center program and other free library services that make a difference in the lives of library patrons like Megan.
A Deep Dive into Reading – A Library Story
You can support free library programs that make a difference in the lives of families like Kadrin's. Click the link below to make a tax-deductible donation. Any amount makes a difference.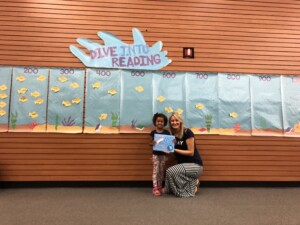 "You can see how her imagination is growing and she is learning all these new words," Kadrin says as she watches her daughter explore the children's section of the Main Library. They have been visiting the Library since her daughter was only 8 months old, enjoying the weekly Baby Storytime. Now they attend the Toddler Storytime and visit the Library at least twice per week. They have visited several Long Beach Public Libraries, but Main Library is their favorite thanks to the many children's programs and the extensive collection of books.
Kadrin registered for the Dive into Reading program in April of this year when it first launched. The program is supported by donations to the Library Foundation and provides parents and guardians with tools and resources to help them read 1,000 books to their children before kindergarten. Book trackers are provided and guidance from librarians is available as well as opportunities to earn prizes. Progress walls have appeared at some of the libraries where families can see how far they've come in reaching the 1,000-book goal. Kadrin and her daughter have read over 620 books so far.
While the program encourages caregivers to read any children's book, including repeating favorite books to their children, Kadrin took this as a challenge to complete the program by only reading new books from the Library. The popular Llama Llama series is a favorite of her daughter's along with stories by Dr. Seuss and other books that rhyme or have a rhythm.
Kadrin also incorporates language lessons into her reading sessions. She reads the books in English first and then reads them again in her native Estonian to teach her daughter both languages. Since her daughter does not attend pre-school, the Library's free programs like Dive into Reading and weekly storytime events provide social interaction and valuable learning opportunities.
A yellow fish marks Kadrin's daughter's progress on a nautically decorated wall in the Main Library children's section. They are excited to continue the program and read 1,000 books and beyond before kindergarten.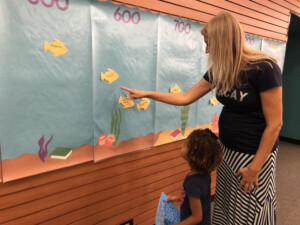 To Restore Civil Society, Start With the Library – New York Times Op-ed
"The founding principle of the public library — that all people deserve free, open access to our shared culture and heritage…" writes NYU's Institute for Public Knowledge Director Eric Klinenberg in his September 8, 2018 op-ed for the New York Times.
In his article, "To Restore Civil Society, Start With the Library," Klinenberg challenges the notion that libraries are obsolete. He points out that,  "According to a 2016 survey conducted by the Pew Research Center, about half of all Americans ages 16 and over used a public library in the past year, and two-thirds say that closing their local branch would have a 'major impact on their community.'" Despite this, public libraries are often restricted with tighter and tighter budgets making it difficult for these centers of learning and community building across the country to meet the many needs of families, children, students, older people, veterans, the disabled, and everyone else who depends on the Library.
Read Klinenberg's full op-ed at nyti.ms/2x1kpLv.