Welcoming Julia Huang to the Board of Directors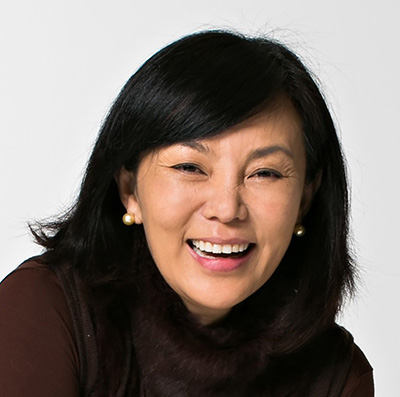 Julia Y.C. Huang is the Founder and CEO of Intertrend, a multicultural creative agency at the intersection of emerging trends and the interaction between brands and consumers. Intertrend is known in the industry to create deeply resonant and exceptional consumer experiences for leading brands in automotive, financial services, retail, entertainment, pharmaceutical and telecom.
Taiwanese American-born, raised and educated in Japan and Taiwan, Huang went to grad school to study communications at the University of North Carolina at Chapel Hill. After working in New York City and Los Angeles in product development and then in Mergers & Acquisitions, a chance opportunity led Huang to the field of communications and the founding of Intertrend in 1991.
As the CEO of Intertrend, Huang is responsible for managing two award-winning companies headquartered in Long Beach, California: Intertrend and Imprint, an incubator for new businesses. Known for her strong belief that diversity drives creativity, she is a constant contributor to industry thought-leadership content, events, and academia. She was named by Avenue Magazine as one of the 500 most influential Asian Americans and in 2014, Fortune's Most Powerful Women Conference selected Julia as one of the Top Ten Entrepreneurs in the U.S. Most recently, Julia was named the City National Bank Entrepreneur of the Year bestowed upon her by the Long Beach Area Chamber of Commerce. Over the years, Intertrend is consistently selected as the 100 Top Female-Owned Businesses by the Los Angeles Business Journal.
Intertrend has won numerous industry awards including the American Advertising Award; the ANA Multicultural Excellence Award; the Gold Award for Creative Campaign of the Year from the Asian American Advertising Federation (3AF); and the Marketer of the Year Award from 3AF. In addition, Intertrend won the People's Choice for Exhibition of the Year at the Frame Magazine Awards and the Bronze Cube for Spatial Design at the ADC 99th Annual Awards, both for The Art of Bloom exhibition.
Huang is an active member of the Long Beach and greater Los Angeles communities. In addition to serving on the Library Foundation Board of Directors, she serves on the board for KCRW/National Public Radio as well as volunteering her time with the Long Beach Economic Development Partnership and supporting Long Beach Walls (formerly Pow!Wow! Long Beach).
Having been raised in different cultural environments, Huang stresses the importance of community and civic engagement. She has received many accolades for her philanthropic activities supporting arts and culture, both locally and globally.
Welcoming Colleen Bentley to the Board of Directors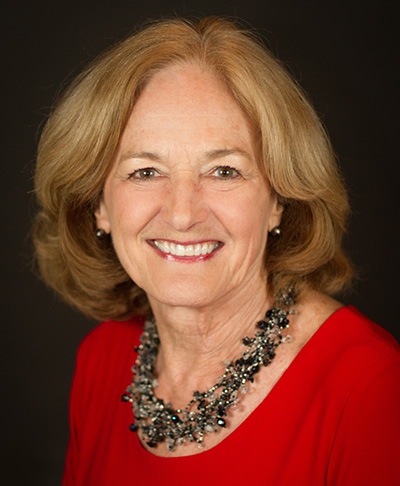 Colleen Bentley joins the Long Beach Public Library Foundation Board of Directors after many years of volunteering her time and expertise to support the Library Foundation's advocacy work as a member of the Public Affairs Committee. In addition to her work with the Library Foundation, she currently serves on the Long Beach Transit Board of Directors, CSULB Alumni Council, Long Beach Community Improvement League Board of Directors, Leadership Long Beach Honorary Board of Governors, and previously with the American Association of State Colleges and Universities (AASCU) AND Public Information Officers Advisory Committee.
Colleen worked at the California State University Chancellor's Office for 25 years, where she served as Public Affairs Director and Special Projects Director. Her work included working with the Chancellor, Board of Trustees, and the 23 campus presidents on media relations, communication issues, and video/web projects. Prior to her role with the CSU Chancellor's Office, Colleen was the Associate Director of Public Information for the University of California, Irvine, and also worked as a reporter for the San Pedro News Pilot and the Las Vegas Sun. She earned her bachelor's degree from California State University, Long Beach, and completed her graduate work at University of Nevada, Las Vegas.
Welcoming Diane Anglin to the Board of Directors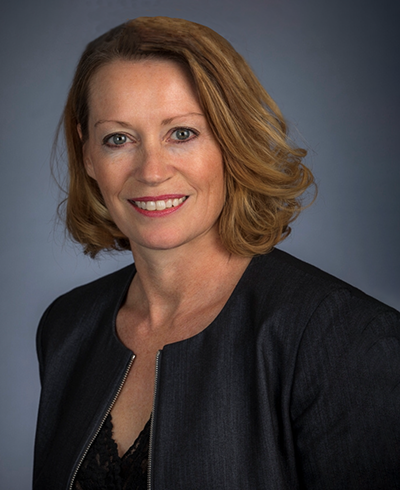 Diane Anglin is a Senior Advisor at Carta Advisors, LLC – Clark Construction Group and previously served as Marketing Director of Clark Construction Group. She is an experienced executive with demonstrated expertise in strategy and team collaborations, who fosters an environment of creativity and exceptional teamwork to problem-solve, and fill communication gaps.
A Long Beach resident for more than two decades, Diane and her family enjoy the historic neighborhoods throughout the city and seeing the growth success of small, and diverse businesses since moving here. Raising two kids, Miles and Evan, the family spends a lot of time outside usually surfing, camping, or hiking. Often traveling to remote places such as Thailand, Costa Rica, and Nepal, to explore and celebrate other cultures. The youngest of 13 siblings she is originally from Maine. Having climbed a number of mountain peaks, several with her children including nearby Mt. Baldy, Diane is a recent author of "Balancing on the Knife Edge" – a mountaineering adventure memoir reflecting both on a harrowing trek and the teachings of her father guiding the way. In Long Beach, Diane has had a personal focus on partnering with local organizations to support underserved children and the homeless in our community. 
Diane's community involvement includes service with COA Long Beach, Boys & Girls Clubs of Long Beach, Rebuilding Together, American Heart Association, Design Build Institute of America, Western Pacific Region, and Lean Construction Institute.
Billie Jean King Main Library KidSpace Dedicated to John & Helen Apostle in Honor of $1 Million Gift to Children's Programming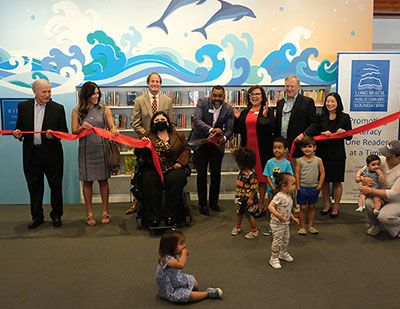 On May 13, 2022, the Long Beach Public Library and Long Beach Public Library Foundation dedicated the children's library at the Billie Jean King Main Library, the KidSpace, to the late John and Helen Apostle in a celebration attended by families, local leaders, and Library supporters. This honor recognizes a $1 million gift from the John Apostle and Helen Apostle Foundation to support children's programming. This gift was the largest pledge made to the Library Foundation as part of its New Main Campaign, which concluded in September 2020 after raising more than $3.3 million for technology, programs, and enhancements at Long Beach's newest library. The New Main Campaign was co-chaired by Billie Jean King and Mayor Robert Garcia, with nearly 500 community members, book clubs, foundations, and local organizations contributing gifts of all sizes.
"We are proud to fund crucial programs for children who depend on the Long Beach Public Library," said Jim Sullos, Trustee of the John Apostle and Helen Apostle Foundation. "This important work will build a lasting legacy for John and Helen Apostle."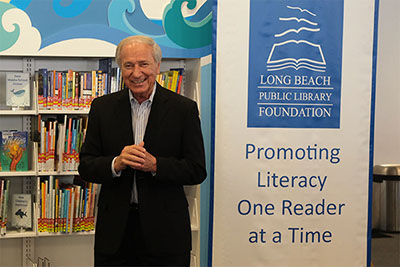 "The Billie Jean King Main Library is an incredible space and a center for education and community development in Downtown Long Beach," said Mayor Robert Garcia. "I want to thank the John Apostle and Helen Apostle Foundation for their generous support of these programs and resources for children and families in our community."
The Apostle Foundation's $1 million gift is being contributed over ten years. Half of the funds will be used to establish the John and Helen Apostle Endowed Fund for Children, to help these programs serve children for generations to come. The funds received have enabled the Library to hire three bilingual Library staff who design and implement children's programs in Spanish and English, such as Dive into Reading/Sumérgete a Leer, Circle of Stories/Círculo de Cuentos, and Cuentos y Cantos. The Billie Jean King Main Library is the hub of the Long Beach Public Library system, and with this new support, these programs can be replicated at all 11 neighborhood libraries.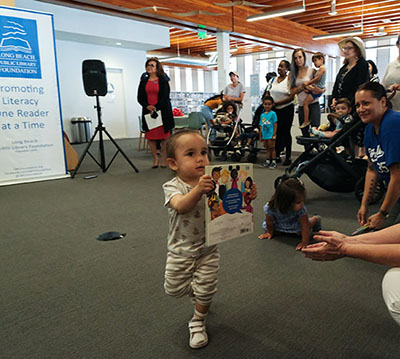 "The generous gift from the John Apostle and Helen Apostle Foundation is one of the largest gifts the Library Foundation has ever received," said Veronica Garcia Dávalos, Executive Director/CEO of the Library Foundation. "It comes when Long Beach youth need support to improve their reading capabilities and succeed in school. We are proud to honor John and Helen Apostle with this beautiful display in the Billie Jean King Main Library."
According to a March 2022 report from the Long Beach Unified School District, during the first in-person school year since the pandemic began, 61 percent of elementary and 66 percent of middle school students in Long Beach read below grade level. According to a 2021 report released by the City Auditor, the Library should provide more materials and programs in languages other than English. Due to its limited budget, 95 percent of physical Library materials and 97 percent of programs are in English, even though 30 percent of residents in several Long Beach neighborhoods have limited English proficiency. It is crucial that the Library receive the funding necessary to provide more resources in Spanish, Khmer, Tagalog, and other languages spoken in Long Beach homes. This $1 million gift from the John Apostle and Helen Apostle Foundation has already made a significant impact in supporting important multilingual Library programming for youth in Long Beach.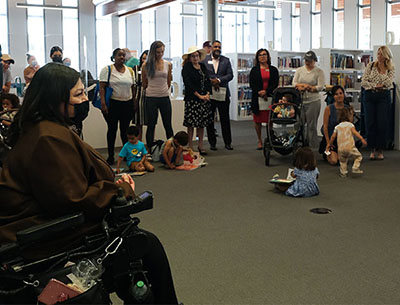 "The Library's children's programming is needed now more than ever," said Ryan Ballard, Long Beach Public Library Foundation Board President. "The impact of the Apostle Foundation's gift will surely be felt throughout our communities, and we hope will inspire greater generosity in others as we seek to improve the outcomes for all Long Beach youth. We simply couldn't be more excited and grateful!"
John and Helen Apostle were Long Beach-based entrepreneurs who were actively involved in local civic and philanthropic endeavors. The Apostles, former owners of the Golden Sails Inn in Long Beach, were longtime supporters of the City's libraries. They placed their estate in their charitable foundation to benefit the community, needy children, and the elderly.
The KidSpace dedicated to John and Helen Apostle with a plaque and a new art wall featuring dolphins leaping through waves is the ocean-themed children's section of the Billie Jean King Main Library. It contains a collection of approximately 45,000 books and materials for youth ages zero to 12, computers with tools and software just for children, interactive educational stations, study tables and lounge chairs for reading and learning, a Studio Jr offering makerspace STEAM workshops, and the Rotary Storytime Theater. All KidSpace resources are available whenever the Billie Jean Main Library is open. Visit the Library's website at longbeach.gov/library for open hours and the Library's program and events calendar.
LONG BEACH PUBLIC LIBRARY FOUNDATION WELCOMES NEW EXECUTIVE DIRECTOR/CEO VERONICA GARCIA DÁVALOS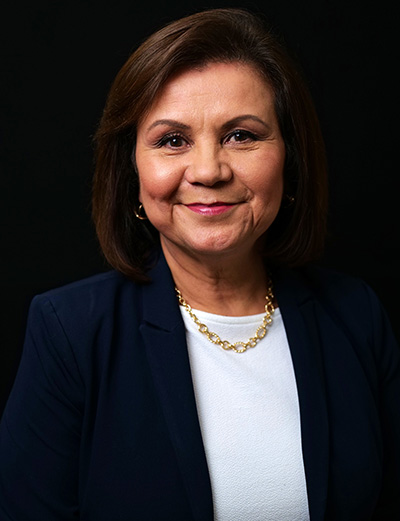 Long Beach, CA (December 27, 2021) – The Long Beach Public Library Foundation Board of Directors has announced that Veronica Garcia Dávalos will be taking the role of Executive Director/CEO on January 17, 2022. Dávalos will lead the Library Foundation as it begins a new era having just celebrated its 25th anniversary year and more than $25 million raised for programs and resources at the City's 12 public libraries since its founding.
Dávalos has been a resident of Long Beach since 1994 and is the current Executive Director of the Greater Long Beach, South Bay, Metro, and Southeast Los Angeles Chapter of the American Red Cross. She has devoted her entire career to the philanthropic and nonprofit sectors and has more than 30 years of experience in nonprofit management. Prior to her role with the American Red Cross, Dávalos served as the Vice President of Advocacy and Community Engagement for Habitat for Humanity Greater Los Angeles affiliate. She also directed several capital campaigns as Vice President of Netzel Grisby, a management and consulting firm specializing in nonprofit organizations and institutions. During her career, Dávalos held various executive positions at MoLAA, TELACU Education Foundation, American Heart Association, American Cancer Society, KCET, and the Boys Scouts of America.
In addition to her work leading nonprofit organizations, Dávalos serves on the Long Beach Citizens Police Complaint Commission, is a past president of Leadership Long Beach, and co-founder of the United Latino Fund and National Latina Alliance. She received the Nuestra Imagen Award from Centro CHA in 2015 and the Go Long Beach Award from Mayor Robert Garcia in 2017.
"This year, we have had so much to celebrate; the Library Foundation's 25th anniversary, the Library's 125th anniversary, and the safe reopening of the 12 public libraries!" said M. Lissette Flores, Library Foundation Board President. "As we look toward what's next for the Library Foundation, Veronica's many years of experience in nonprofit management and serving communities who depend on public library resources make her the perfect fit to lead our organization. We look forward to all she will accomplish as we work to develop a strong, sustainable, and successful future for the Library Foundation and the Library."
"I am deeply honored to have the opportunity to lead the Long Beach Public Library Foundation. The Foundation is well positioned to continue to build on the tremendous momentum of the past 25 years, and I look forward to being a part of the effort to ensure support for our libraries and their invaluable programs."
Dávalos joins the Library Foundation following the departure of former Executive Director/CEO Kate Azar in June of this year, after more than five years leading the organization. Under Azar's leadership, the Library Foundation held its most successful campaigns and initiatives, including its campaign for programs, technology, and materials at the Billie Jean King Main Library, which was completed in 2020 and raised more than $3.3 million. Since Azar's departure, Kathy McCarrell has led the organization as Interim Executive Director of the Library Foundation and has ensured a seamless and thoughtful transition to permanent leadership.
The Library Foundation Welcomes Interim Executive Director Kathy McCarrell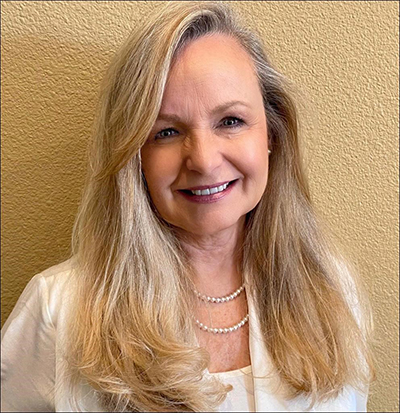 The Library Foundation Board of Directors would like to introduce Kathy McCarrell who has been hired to serve as the Interim Executive Director of the Foundation in order to ensure a seamless and thoughtful transition to permanent leadership.
Kathy, a Senior Consultant with the Third Sector Company, comes to the Foundation with over 25 years of experience leading key non-profits in Southern California, having most recently steered the Newport Beach Public Library Foundation through their management transition. Kathy also served as the Interim Executive Director of the Long Beach Day Nursery. She is an avid reader and an enthusiastic advocate of providing equal access to literacy, education, and technology for all members of the Long Beach community.
"The programming that is offered through the Long Beach Public Library as a result of the support of LBPLF is exceptional," said Kathy, "I am very impressed with the staff and the board at LBPLF and look forward to working with them to continue the great work of the Foundation – without missing a beat."
Kathy will be starting on June 28th after spending a week with outgoing Executive Director Kate Azar drawing from her vast knowledge of the Foundation's operations and mission. "It has been a great experience working with Kate. The Long Beach community and Board of Directors can count on the fact that Kate built a strong foundation, poised for exponential growth to meet the needs of a  community that is in greater need than ever."  Please feel free to contact Kathy anytime at (562) 628-2441 ext.5.
LONG BEACH PUBLIC LIBRARY FOUNDATION EXECUTIVE DIRECTOR MOVES ON TO HER NEXT CHAPTER – SEARCH FOR NEW DIRECTOR UNDERWAY
As the Library Foundation emerges strong from the pandemic, the search begins for a new ED/CEO to continue the Foundation's 25 years of community impact.
Long Beach, CA (June 4, 2021) – Later this month, Long Beach Public Library Foundation Executive Director/CEO Kate Azar will step down after more than five years of service. In this, the Library Foundation's 25th anniversary year, the Board of Directors is launching the search to find their next leader.
"We will remember Kate as the executive director who brought professionalism, structure, and effectiveness to the Foundation's management," said Renee Simon, Library Foundation Director Emerita and public affairs committee member.
During her tenure, Azar led the Library Foundation in raising more than $15 million for Long Beach Libraries and literacy initiatives. She's credited with strengthening the organization, helping to dramatically increase its supporters, and build its profile in the community. Among her many accomplishments, Azar led the two most successful fundraising campaigns in the Library Foundation's history. A 2016 campaign for programs, technology, and enhancements to the Michelle Obama Neighborhood Library raised more than $1 million. A campaign for similar resources at the Billie Jean King Main Library ended in September 2020 and raised more than $3.3 million. Under Azar's leadership, the Library Foundation earned the highest levels of recognition for robust financial health and commitment to accountability and transparency from Charity Navigator and GuideStar, the two largest independent evaluators for nonprofit organizations in the country.
"After five-and-a-half years at the helm of the Long Beach Public Library Foundation, Kate has left an indelible mark with her inspiring dedication and commitment to literacy in Long Beach," said M. Lissette Flores, President of the Long Beach Public Library Foundation. "We have accomplished a tremendous amount under Kate's leadership, and she leaves us in a strong position to continue providing a wide array of literacy programs to the many communities in Long Beach."
"I joined the Library Foundation as interim-executive director with the intention to only stay a few months. I immediately fell in love with the organization, its mission, and the dedicated Board and staff. I am proud of what we have accomplished," said Azar. "We are fortunate to emerge from the pandemic stronger than ever… because we have work to do. Libraries remain a critical community resource – working tirelessly to serve the community even as doors were closed to prevent the spread of Covid19. They provided resources to parents, students trying to learn from home, and seniors staving off boredom and isolation. They will be a part of Long Beach's economic recovery, helping people get their lives and livelihoods back on track. I am grateful to all those who supported our work, recognizing that libraries are the best investment one can make in our community."
While she is excited about what lies ahead for her professionally – Kate has accepted a senior role at a social enterprise consultancy – she will remain connected to the Library as a supporter and patron. "Long Beach libraries will always hold a special place in my heart," said Azar.
The Library Foundation will continue the year-long celebration of its 25th and the Library's 125th year of service to the Long Beach community. The Board has formed a transition committee to oversee the hire of an interim executive director and a thorough search for a new executive director. The interim executive director will ensure a smooth transition following Azar's departure and will lead the Library Foundation as it prepares for the anticipated return of its annual wine tasting gala, Grape Expectations, on September 19 at the Museum of Latin American Art. The executive director job description and application instructions are available at https://www.lbplfoundation.org/job-opportunities.
About the Long Beach Public Library Foundation: The Library Foundation is an independent 501(c)3 nonprofit organization that provides support to enhance the Long Beach Public Library and encourages literacy and education for all members of the community. LBPLfoundation.org