Library Launches CurioCity: STEAM & Beyond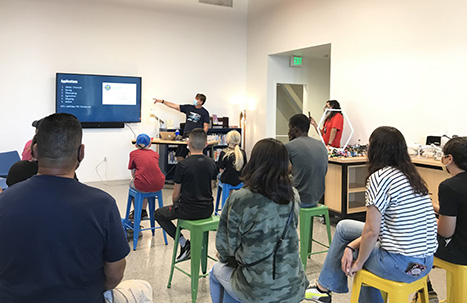 In October 2021, the Library launched the CurioCity program to introduce youth ages 12 and up to a wide array of creative interests within the fields of science, technology, engineering, arts, and math. Robotics, interactive electronics, and modular synthesizers are just some of the subjects that students are learning through biweekly workshops. The program involves experts in these fields to help lead the workshops and inspire young minds.
This program is the latest from the Library's makerspace Studio which provides expert instruction in 3D modeling, graphic design, coding, and more. The Library Foundation is proud to provide funding for the makerspace Studio thanks to generous support from the Rudolph J. and Daphne A. Munzer Foundation, Marathon Petroleum Corporation, and many donors across Long Beach who support the Library's innovative programs.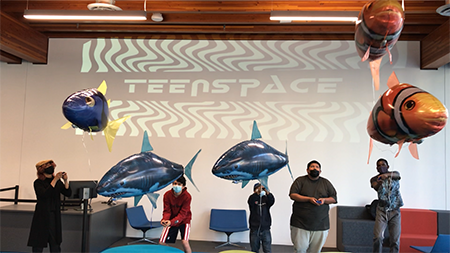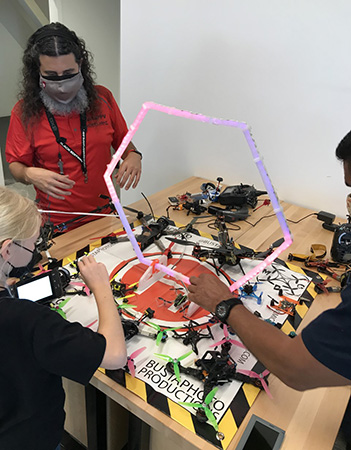 The Library's Mobile Studio Powered by Marathon Petroleum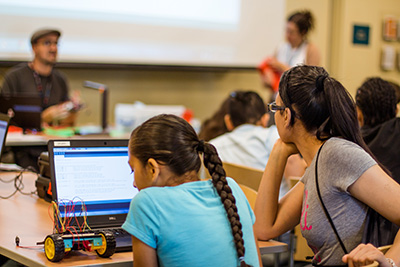 During our Grape Expectations fundraiser on September 19, 2021, we were proud to welcome Brad Levi, Vice President of Refining at the Marathon Petroleum Corporation Los Angeles Refinery, where he announced Marathon's latest contribution of $60,000 to fund the Long Beach Public Library's Mobile Studio. The Mobile Studio hosts STEAM workshops at locations throughout Long Beach, including branch libraries, parks, schools, and community events. This makerspace on wheels is stocked with technology and supplies for instruction in 3D printing, robotics, coding, graphic design, and other science, engineering, and art projects. The workshops invite children, teens, and adults to develop 21st century marketable skills.
Marathon has supported the Mobile Studio since its launch in 2017. In 2019, the Library Foundation awarded Marathon with the 2019 Library Leadership Award for their support of library programs.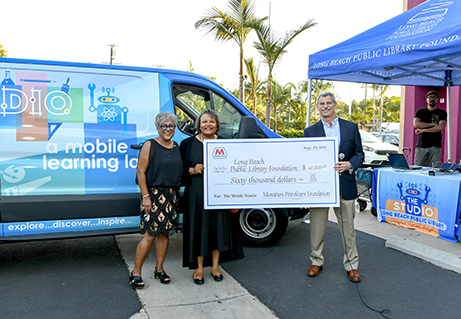 "Make Time!" Video Series
The Library's makerspace Studio has launched a new educational workshop series for creators of all ages. These videos instruct viewers through engineering and creative projects using household items. Thank you to our donors for supporting the makerspace Studio programs.
Makerspace Studios Helping to Protect City Staff
Thanks to donations to the Library Foundation, the 3D printers and sewing machines in the Library's makerspace Studios have found a new calling. Library staff are 3D printing components for face shields and sewing face masks. The personal protective gear will be used by City staff who must report to work to keep the city functioning.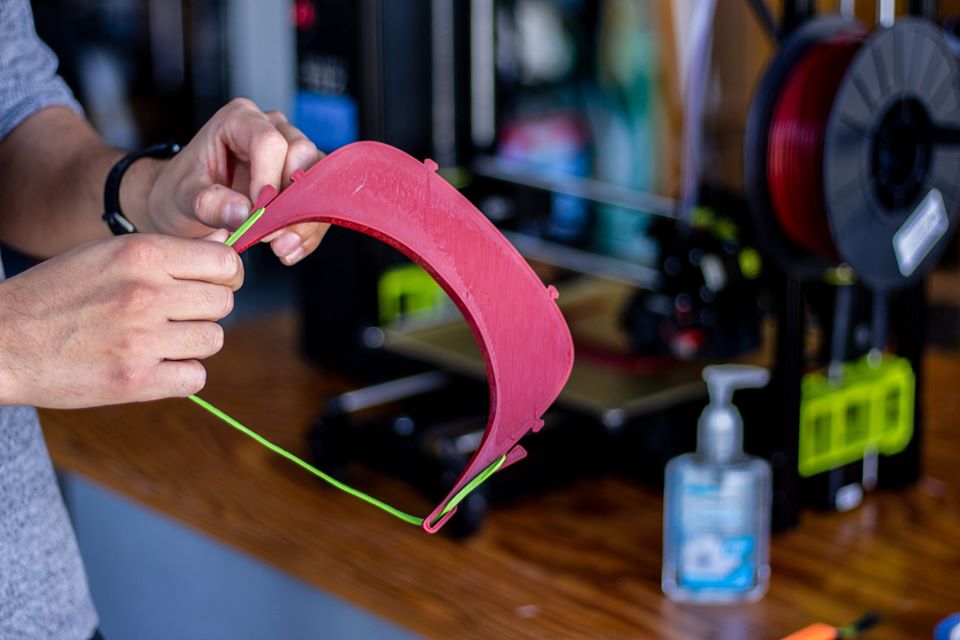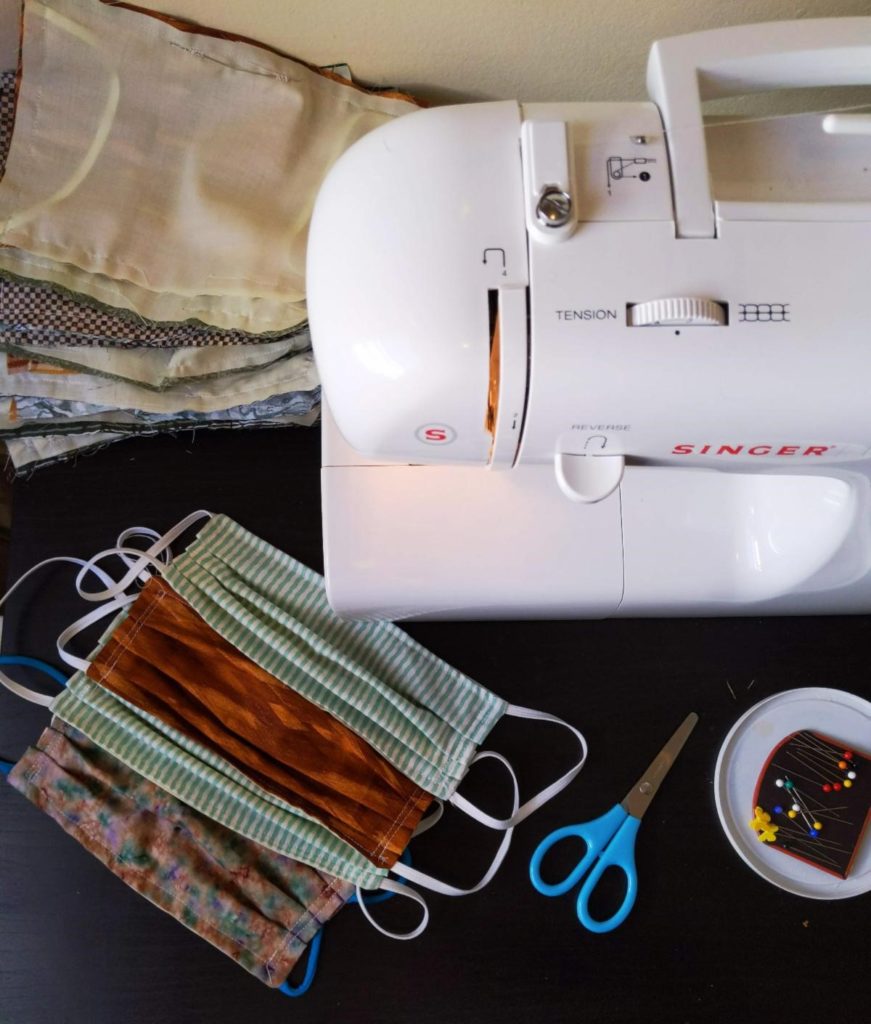 Honoring Marathon Petroleum Corporation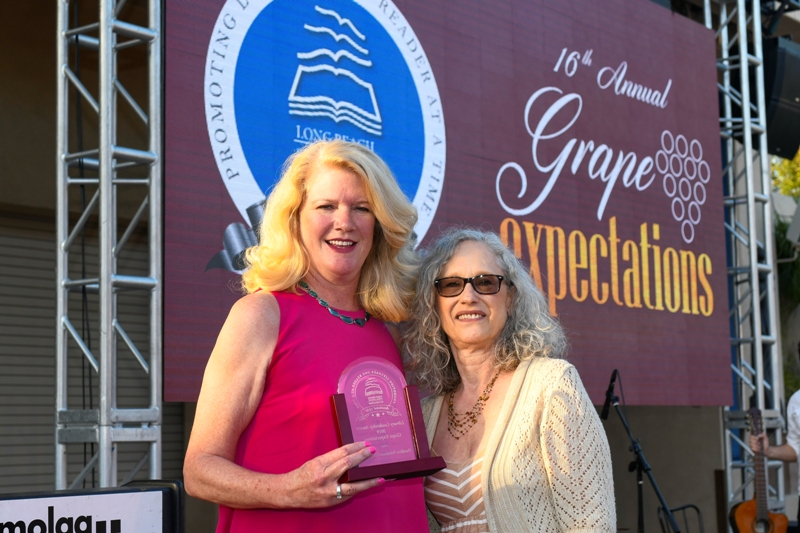 On June 9, at the 16th annual Grape Expectations gala, we were proud to honor Marathon Petroleum Corporation with the 2019 Library Leadership Award for their support of innovative library programs.
Every week, the Long Beach Public Library's Mobile Studio hosts workshops at locations throughout the city, including branch libraries, parks, schools, and community events. This makerspace on wheels is stocked with technology and supplies for instruction in 3D printing, robotics, coding, graphic design, and other science, engineering and arts projects. The workshops invite children, teens, and adults to develop 21st century marketable skills.
This is possible thanks to generous support from Marathon Petroleum Corporation, formerly Andeavor and Tesoro. The Mobile Studio officially launched in 2017 with their support, along with that of the California Resources Corporation and the LGA Family Foundation. At last year's Grape Expectations gala, Marathon Petroleum donated $150,000 to support a new Mobile Studio Coordinator position. This position ensures that the Mobile Studio is utilized to its full potential and expands the program's reach.
Learn about upcoming Mobile Studio workshops. Click HERE.
About Marathon Petroleum Corporation:
Marathon Petroleum Corporation is a leading, integrated, downstream energy company headquartered in Findlay, Ohio. The company operates the nation's largest refining system with more than 3 million barrels per day of crude oil capacity across 16 refineries. MPC's marketing system includes branded locations across the United States, including Marathon brand retail outlets. Speedway LLC, an MPC subsidiary, owns and operates retail convenience stores across the United States. MPC also owns the general partner and majority limited partner interests in two midstream companies, MPLX LP and Andeavor Logistics LP, which own and operate gathering, processing, and fractionation assets, as well as crude oil and light product transportation and logistics infrastructure.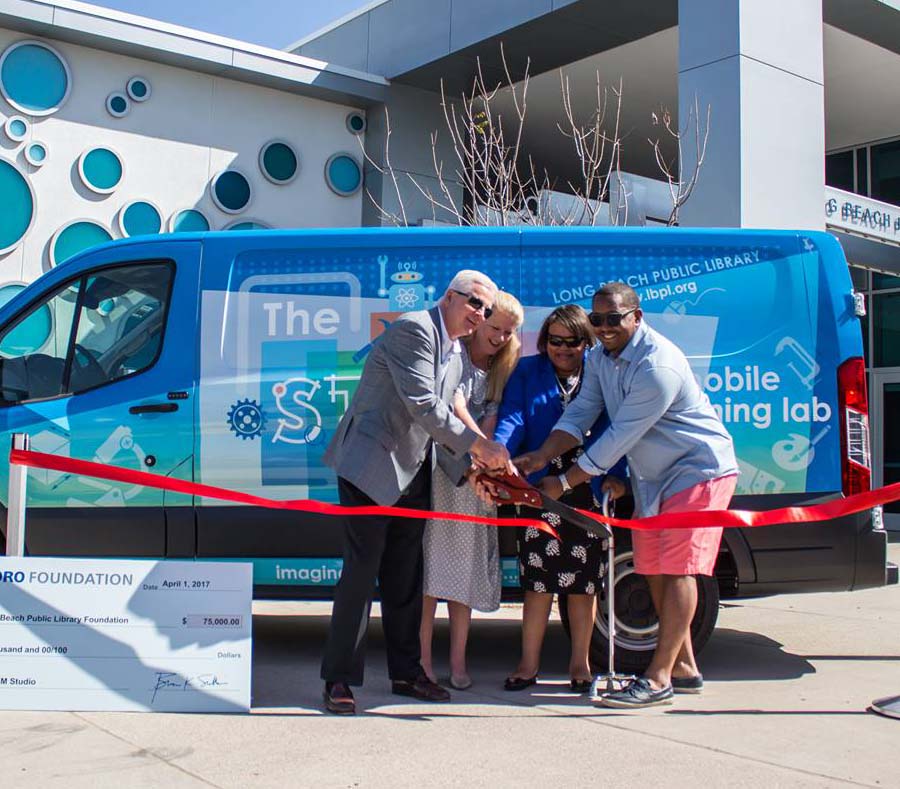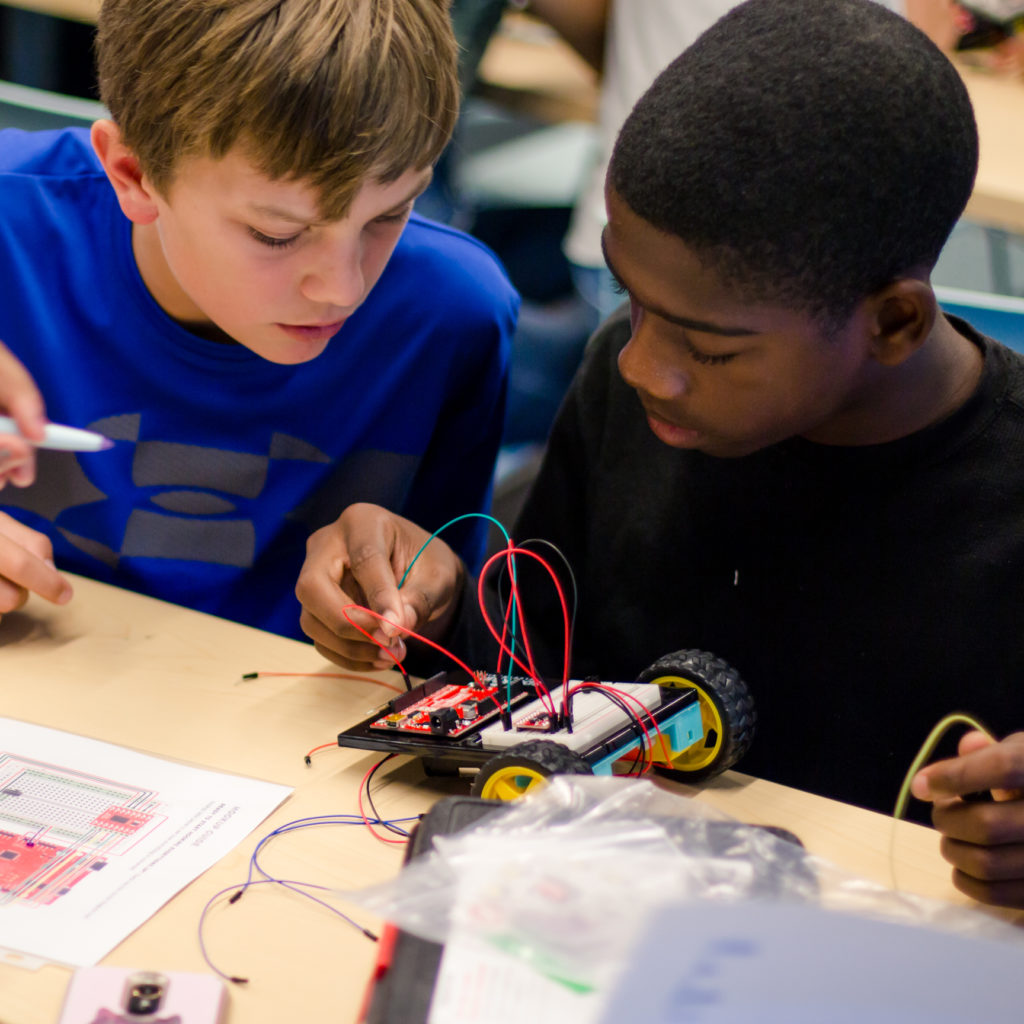 Mobile Studio STEAM Activities – February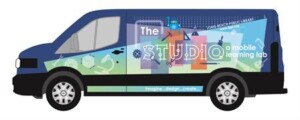 Look out for the Mobile Studio powered by Marathon Petroleum Corporation bringing STEAM activities to neighborhood libraries across Long Beach. The Mobile Studio is a makerspace on wheels equipped with a 3D printer, robotics and other technological resources. This program is made possible thanks to donations to the Library Foundation.
Robocoders: Tues, Feb 5th, 3:30-5pm at Los Altos Library
Cardboard Robo Arms: Wed, Feb 6th, 4-5pm at Bach Library
Cardboard Pantograph: Wed, Feb 13th, 4-5pm at Bach Library
Cardboard Robo Arms: Tues, Feb 19th, 4-5:30pm at Harte Library
Cardboard Linkages: Wed, Feb 20th, 4-5pm at Bach Library
Cardboard Robo Arms: Sat, Feb 23rd, 2-3:30pm at Brewitt Library
Cardboard Automata: Wed, Feb 27th, 4-5pm at Bach Library
Summer Travels of the Mobile Studio Powered by Andeavor
Officially launched in the spring of 2017, the Long Beach Public Library Mobile Studio is a makerspace on wheels bringing exciting STEM learning opportunities to libraries, parks, schools, and community events throughout the city. The Mobile Studio is equipped with resources for instruction in 3D printing, robotics, programming, graphic design, music production, and more.
Thanks to very generous donations, this program is fully funded by the Library Foundation. We were honored to be joined by Andeavor Director of Government and Public Affairs Tiffany Rau at our 2018 Grape Expectations gala in June where Andeavor gifted $150,000 to the Mobile Studio. This is Andeavor's second major gift to the Mobile Studio, allowing it to continue bringing innovative learning opportunities to Long Beach.
The Mobile Studio has 20 scheduled stops this summer and counting! Find out when the Mobile Studio will be in your neighborhood at the link below.
Click for the Mobile Studio Calendar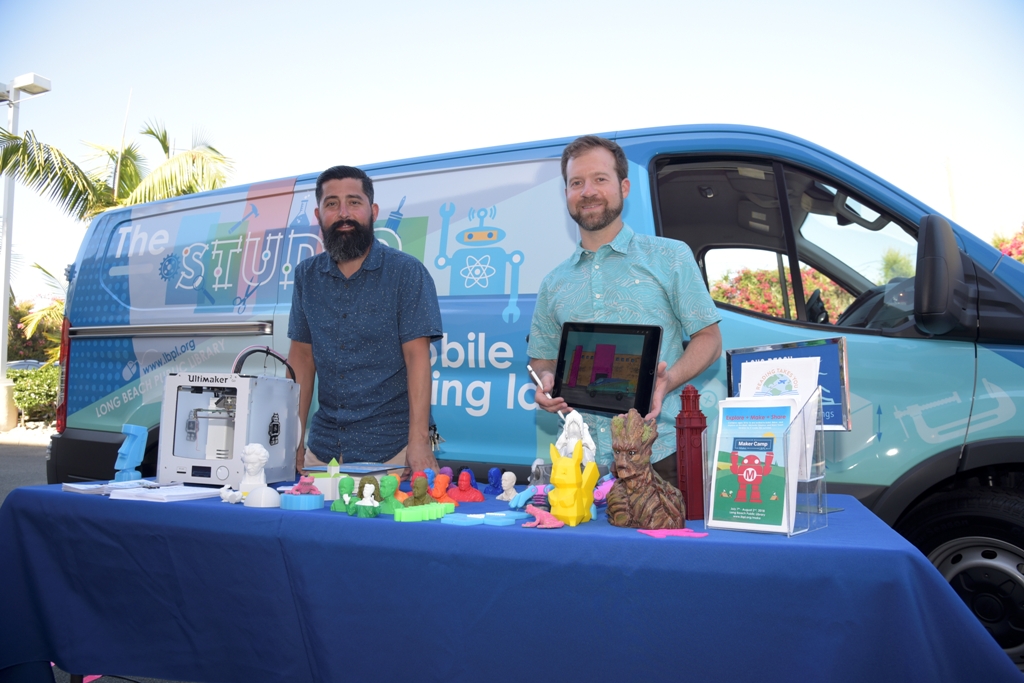 Makerspace Studio Creates New Tech Experiences
The Long Beach Public Library makerspace Studio kicked off the first week of March 2018 with two events that highlighted the new technology and instruction that our Library Foundation supporters make possible for creative minds of all ages.
March 3 marked the second annual Virtual Reality/Augmented Reality (VR/AR) Showcase at Main Library bringing together artists, companies, and scholars to show off the possibilities of VR. According to the American Library Association, VR – the computer-generated simulation of images or whole environments that can be experienced using special electronic equipment  – is progressing in several ways. Immersive storytelling or VR storytelling will become a more frequent tool for conveying information, especially as major media outlets invest in in-house virtual reality production. The Library's makerspace Studio VR technology and design instruction allows library visitors to explore opportunities in these new economies.
The Library then participated in Teen Tech Week from March 6-10, a nation-wide celebration that encourages teens to take advantage of all the great digital tools offered through the library to become content creators. Teen were invited to Main, Michelle Obama Neighborhood, and Dana Neighborhood Libraries to create battle bots, produce music, learn graphic design and more!
Check out the highlight video below created by the Long Beach Public Library.
We loved seeing our teens create Battle Bots, musical mixes, and more for Teen Tech Week! ???????? Join the next workshops at your local makerspace. https://buff.ly/2FoWWLs

Posted by Long Beach Public Library on Friday, March 9, 2018
New Year, New FLC: How Our Family Learning Center Program Has Evolved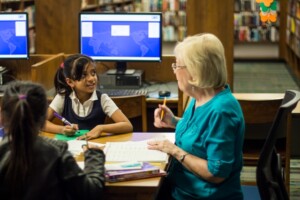 In 1999, a handful of generous donors invested startup funds into a new Long Beach Public Library program called the Family Learning Centers (FLCs). The goal of this program was to create space within each of city's twelve libraries in which students and their parents could obtain free, one-on-one homework help and tutoring. The centers, staffed by highly qualified Learning Guides, would also help parents with résumés, cover letters and job searches. Since then, the Family Learning Centers have expanded greatly both in the services they offer and the number of patrons they serve.
In 2014, the digital makerspace Studio program was established as an extension of the Family Learning Center program, putting state-of-the-art technology, such as 3D printers, recording software and virtual reality, into the hands of patrons of all ages. Through grants and personal donations, the Library Foundation supports the salaries of Studio Guides who teach STEM skills like engineering, coding, video game design, music production, graphic design, and other marketable jobs skills, free to patrons of all ages. Some of the most popular services include STEM workshops for school age children, including a 6-week Maker Camp and a partnership with Dramatic Results for a summer STEM camp.
In 2016, the FLC program expanded its services even further by including a virtual component. Through Brainfuse HelpNow and Brainfuse JobNow, anyone with a library card can access these homework and job search services free from home, school or anywhere with an internet connection. Brainfuse Helpnow is a live tutorial for all ages and levels in math, reading, writing, science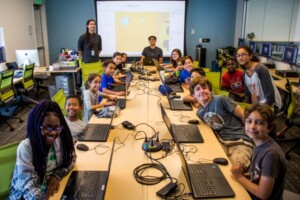 and social studies, including SAT preparation. This means that patrons can work with a real live expert in the subject they need any time of day, even from the convenience of their own home or school. Brainfuse JobNow provides library patrons with a host of services to help in every step of the job search process, while making job coaches available to them directly. Both of these services directly address some of the most frequent needs of library patrons.
This online component multiplied the services offered by our Family Learning Centers, causing the program to expand beyond the walls of the original centers. It allowed the library to reprogram the high demand physical space to be used for children's story time, community events and other programming, and allowed the Library to shift limited staff resources to the branches that need them most. Every year, Library administration reevaluates staffing needs, scheduling Learning Guides at branches with the highest demand. While this does mean that a few branches may not have a dedicated space and Learning Guide on site full-time, the digital aspects of the program mean that more patrons are served than ever before. If a student walks into any of our 12 libraries with a homework question, they will be connected with a qualified library staff member ready to help them.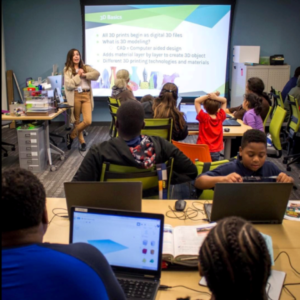 In 2015, Tesoro (now Andeavor), the LGA Family Foundation and the California Resources Corporation contributed grants to the Library Foundation to launch a Mobile Studio program. The library launched a specially equipped makerspace Studio van to travel around the city and host programs at local elementary schools, parks and street fairs across Long Beach. The Mobile Studio has made its presence known at large community events such as Music Tastes Good, the LBPL Zine Fest, MOLAA's Day of the Dead Celebration and mini maker fairs. The Mobile Studio also provides classes at 10 parks to students of all ages as part of the Long Beach Be S.A.F.E. initiative during the summer. More than 1,200 participants attended classes, workshops and demonstrations in 2017.
Last year, more than 22,000 FLC sessions were held with more than 11,000 patrons, and 4,300 sessions were hosted in the studios at Main and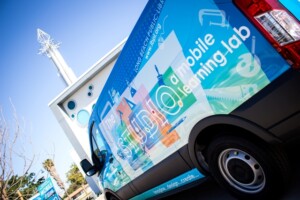 Michelle Obama Libraries. The demand for these services continues to grow. 2017 saw a 21% increase in total FLC sessions from the previous year. This year, our library aims to continue to broaden their reach. But resources are limited and without the help of Library Foundation donors, this program would not be possible.
We are grateful to those who believed in this initiative enough to make those early investments, and to those who continue to support it year to year. These donors understand that libraries are a good investment in our community. The Family Learning Center program is an incredible example of how libraries can transform communities. Together we can make an extraordinary impact!
Family Learning Center Program Founding Donors
American Honda Employees' Fund
The LeBurta Atherton Foundation
Bank of America
Boeing
BP America
Margaret B. Brenneman Estate
Diane Jacobus in memory of Helen O'Brien Wade
John S. and James L. Knight Foundation
Los Angeles County Board of Supervisors (Don Knabe)
Long Beach Energy Department
Charles and Jean Lane
Los Angeles Times Family Fund
The Earl B. and Loraine H. Miller Foundation
The Rudolph J. and Daphne A. Munzer Foundation
Occidental Petroleum
Kenneth Slaybaugh
Southern California Edison
Verizon
The Studio and Mobile Studio Founding Donors
Andeavor
California Resources Corporation
John S. and James L. Knight Foundation
The LGA Family Foundation
Long Beach Community Action Partnership
Long Beach Community Foundation
Women's City Club of Long Beach
Library Studio Innovation Showcased at Long Beach Civic Innovation Awards
This week's Long Beach Civic Innovation Awards featured a winning design by the Library's Studio makerspace. Awards presented to the event's honorees were designed by Studio Guides at the Library using the technology and software available for free to library patrons. The Studio Guide team utilized Adobe Creative suite, 3D design software, and 3D printers to make the magic happen!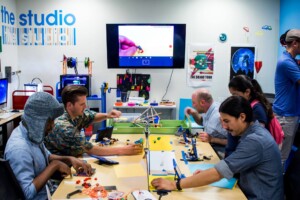 The Library Foundation is proud to fund the Studios at the Main and Michelle Obama Neighborhood Libraries. Visit today and discover what you can innovate.