President Lincoln Memorial Returns to Greet Library Visitors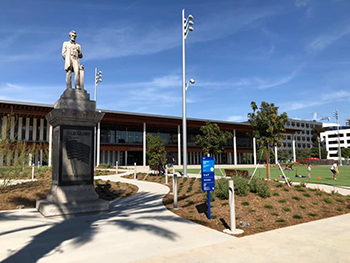 Since the memorial was unveiled in 1915, the statue of President Abraham Lincoln has stood in front of the Main Library. As the Main Library has evolved through the years, the statue has kept its rightful location to welcome library visitors. You can visit Mr. Lincoln at the newly reopened Lincoln Park in front of the Billie Jean King Main Library.
The photos below are from the Long Beach Public Library digital archives which you can explore at https://lbpl.contentdm.oclc.org.