Grape Expectations Exceeded with More than $215,000 Raised for the Library Foundation
Check back for news about the 19th annual Grape Expectations gala taking place in 2022!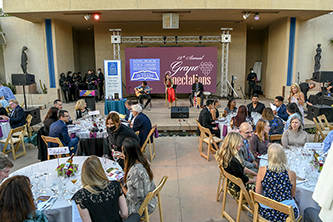 On September 19, 2021, the Long Beach Public Library Foundation celebrated significant milestones and champions of literacy at the 18th annual Grape Expectation gala. The gala brought together more than 300 library supporters at the Museum of Latin American Art (MoLAA) to celebrate the Library Foundation's 25th anniversary and the Long Beach Public Library's 125th anniversary. Guests enjoyed premier online and live auctions featuring fine wines and exciting experiences, dined on gourmet foods with wine pairings expertly chosen by Randy Kemner of The Wine Country, and raised more than $215,000 to support Library Foundation work on behalf of the City's 12 public libraries. The Port of Long Beach generously supported the evening's festivities as the Imperial Sponsor.
Following a wine tasting and appetizer reception featuring local wineries, restaurants, and caterers who donated refreshments, guests were guided into MoLAA's outdoor sculpture garden for dinner at sunset and live music by contemporary Bossa Nova singer Caro Pierotto and her band. The dinner opened with a welcome by Library Foundation Interim Executive Director Kathy McCarrell, Library Foundation 2021 Board President M. Lissette Flores, and Library Foundation 2020 Board President Sharon L. Weissman. They invited Cordelia Howard, Director of Library Services (1983-1998), to the stage to deliver a heartwarming speech about her friend and Library Foundation founding Board member, Margaret Durnin. With Howard's encouragement, Durnin and fellow founders Bob Kilpatrick, Helena Belisle, and Robert Campbell generously contributed their resources, time, and expertise to form the Library Foundation in 1996. In 25 years, the Library Foundation has raised more than $25 million to support technology, programs, and resources at the City's 12 public libraries. In Howard's words, none of this would have been possible and, "there would be no Library Foundation had it not been for Margaret Durnin." Following Howard's speech, Durnin was welcomed onto the stage, where Flores and Weissman surprised Durnin and Howard by leading all guests in a Champagne toast in honor of all they have done to support literacy and education in Long Beach. Flores and Weissman also presented Durnin and Howard with proclamations from Congressman Alan Lowenthal, Senator Lena A. Gonzalez, Assemblymember Patrick O'Donnell, Supervisor Janice Hahn, Mayor Robert Garcia, and Councilwoman Suzie Price.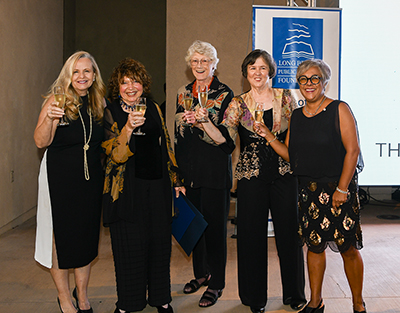 The evening continued with a presentation of the 2021 Library Leadership Award to Vice Mayor Rex Richardson for his work supporting the Long Beach public libraries, notably the Michelle Obama Neighborhood Library. Library Foundation Directors Emeriti and Michelle Obama Neighborhood Library Capital Campaign Co-chairs Rick Alsagoff and Mary Hancock Hinds took to the stage to discuss how Vice Mayor Richardson involved local youth in the naming process of the Library and was deeply involved in creating a library to meet the many needs the community. Library Foundation Board President-elect and friend to Richardson, Ryan Ballard, welcomed Richardson to accept his award and shared that Richardson inspired him to join the Library Foundation Board of Directors.
Margaret Durnin and her husband, Dr. Charles Durnin, followed with a presentation to honor Joseph F. Prevratil, JD, with the 2021 Durnin Family Award for his dedication to libraries and literacy. Prevratil served on the Library Foundation Board from 2003 to 2014. During his term as President in 2013, the Library Foundation strengthened its endowment to lift the organization to a higher level of sustainability. In addition, from 1995 to 2019, Joe led the Archstone Foundation in its mission to contribute toward the needs of the aging population. During this time, the Archstone Foundation awarded over 1,100 grants totaling more than $117 million to many nonprofit organizations, including the Long Beach Public Library Foundation. These grants have supported the Library Foundation's work on behalf of the 12 public libraries and the Library's Homebound Readers delivery services for library patrons confined to their homes. As a Director Emeritus, Joe has remained engaged in Library Foundation activities and serves on the Legacy Committee, bringing our organization to the attention of those who care deeply about the future of Long Beach's public libraries.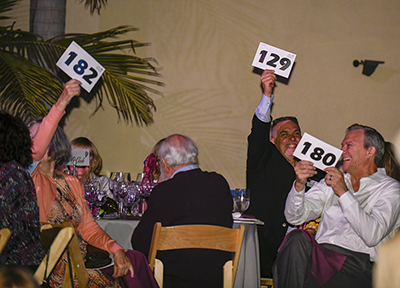 Special Events Committee Chair Sean M. Reilly spoke next to thank guests and honor the 18th anniversary of Grape Expectations. Reilly has chaired the event committee since 2019 and leads all volunteer efforts that make Grape Expectations a success. He asked all in attendance who had ever served on the event's committee to stand for applause. Those celebrated for their service to Grape Expectations include this year's committee volunteers: Kate Azar, Ryan Ballard, M. Lissette Flores, Mary Hancock Hinds, Mary Lamo-Putnam, Barbara Long, Carmen O. Perez, Jeffrey Toelsin, Tony Tortorice, Joan Van Hooten, Sharon L. Weissman, Sally Wittenberg, and Greg Zinberg. Reilly also thanked his brother and film producer, Dan Reilly, for donating his time and resources to produce a short and inspirational film about the Library Foundation's 25th anniversary that was shown during the event. Following this, guests excitedly raised their paddles to contribute more than $60,000 during the live auction and live ask.
Thank You to Our Lead Imperial Sponsor, the Port of Long Beach