Welcome to our newest Board Member, Sean Reilly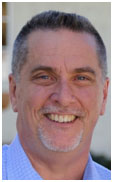 We welcome Sean Reilly to the Long Beach Public Library Foundation Board of Directors.
Sean is Vice President at Bank of America, responsible for supporting Risk Management Operations for the Soldiers, Credit Reporting & Bankruptcy business. He has over 35 years' industry experience and is active in numerous BofA volunteer and mentoring programs.
Previously, Sean held numerous Board positions including an executive role on the Board of Directors of the Long Beach Lesbian & Gay Pride (LBLGP) organization from 1985 to 2005. Through his leadership, their event is recognized for its success and support of vital LGBTQ programs.
Since 2013, Sean has been involved with the Library Foundation Grape Expectations fundraiser as an attendee, volunteer, and most recently as committee lead for ambiance and décor at this year's 15th anniversary event. In his spare time, Sean enjoys traveling abroad and sharing great food and wine with family and friends.
Favorite Book: Sean enjoys the Harry Potter series and Fantastic Beasts and Where to Find Them by J.K. Rowling and all books about Star Wars.