The Library's Mobile Studio Powered by Marathon Petroleum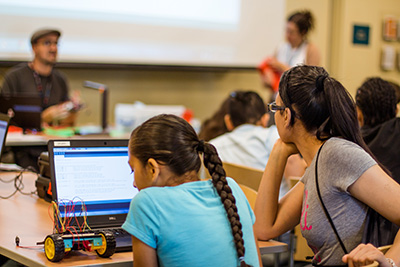 During our Grape Expectations fundraiser on September 19, 2021, we were proud to welcome Brad Levi, Vice President of Refining at the Marathon Petroleum Corporation Los Angeles Refinery, where he announced Marathon's latest contribution of $60,000 to fund the Long Beach Public Library's Mobile Studio. The Mobile Studio hosts STEAM workshops at locations throughout Long Beach, including branch libraries, parks, schools, and community events. This makerspace on wheels is stocked with technology and supplies for instruction in 3D printing, robotics, coding, graphic design, and other science, engineering, and art projects. The workshops invite children, teens, and adults to develop 21st century marketable skills.
Marathon has supported the Mobile Studio since its launch in 2017. In 2019, the Library Foundation awarded Marathon with the 2019 Library Leadership Award for their support of library programs.