Library Launches Chromebook and Mobile Hotspot Lending Program Thanks to a Partnership with Verizon and the Library Foundation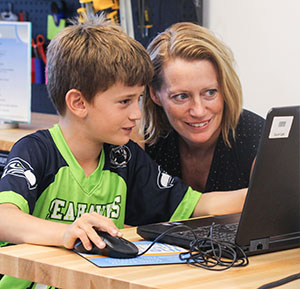 On April 15, 2021, the Library launched its new Tech To-Go lending program to help local families bridge the digital divide. 1 in 4 Long Beach households lacks a reliable internet connection and a 2019 report by the City's Technology and Innovation Commission showed that 45% of those residents rely on the Library to connect to the Internet. The Library Foundation is proud to be a part of the community benefit partnership with Verizon that made this program possible. As part of the program, Verizon provided the Library with 100 MiFi devices with features geared toward students and $50,000 to the Library Foundation to purchase Chromebooks.
Tech To-Go devices are equipped with automatic web filters, including Google SafeSearch for all Chromebook sessions, as well as high-school-level filters on the MiFi hotspots. The MiFi filters are geared toward students, but the devices can be used by non-students for job searching, career development, research projects, skill-building and more. Library cardholders 18 years and older can schedule requests for devices through the Library. Visit http://www.longbeach.gov/library/borrow/tech-to-go to learn more.
Library Learning Guides Staff New Hotline Connecting the Community with Digital Resources
The digital divide in Long Beach is estimated to have grown significantly this year, leaving many without a connection to the Internet when they need it most for schoolwork and job searches.
We are proud to share that several of the Learning Guides of the Library Foundation supported Family Learning Center program are helping to address this by joining the City's new Digital Inclusion Resources Hotline. They are providing services in English and Spanish to help callers find information about local low-cost Internet service offers, computers, and free digital literacy training.
This is just one of the many ways that, while libraries are temporarily closed to the public, library staff have been redeployed elsewhere in the City to help address this crisis. Other Library staff have 3D printed or sewn masks and staffed the emergency operation center in addition to providing curbside pick up of books and DVDs and creating virtual programming.
Press Telegram: Without public action, the FCC will expand our digital divide
Today, the Long Beach Press Telegram shared our Executive Director, Kate Azar's column on the importance of Net Neutrality protections in advance of the FCC's scheduled December 14, 2017 vote to remove these protections. You can help delay tomorrow's FCC vote by calling FCC Chairman Pai at (202) 418-1000 and expressing your support for Net Neutrality protections.
You can read the article below, or click through to the Press Telegram.
The news that one in four households lacks an adequate portal to the Internet has dominated the media cycle in Long Beach recently. However, for thousands of families, this has long been a reality. While the terms "income inequality" and "digital divide" have become political buzzwords, millions of children and families in Southern California know that these two issues are inextricable linked. These families are unable to compete in their classrooms, or in our modern economy, a fact that impacts us all.  This is why the Long Beach Public Library Foundation has spent more than two decades and more than $20 million dollars to support library programs and resources that help to close this gap. But all our efforts are at risk with one vote next week.
On December 14th, the FCC will vote on an order proposed by FCC Chairman, and former Verizon executive, Ajit Pai to dismantle net neutrality. This move would give commercial Internet Service Providers (ISPs) like Comcast, Verizon, and AT&T the ability to divide the Internet into fast and slow lanes, creating a pay-to-play scheme that will favor wealthy corporations and higher income individuals and further limit access to low-income households.
If the FCC successfully repeals the 2015 law that protects consumers, ISPs could decide to slow or even block access to certain websites or applications. Small nonprofits and public organizations like our libraries, which serve already underserved populations, would see slower Internet speeds and even more limited access. The impact would hit low income families and communities hard.
But even regular consumers would pay a price. If companies like Hulu or Netflix do not want to pay higher fees, your shows and movies could take so long to load that they would be unwatchable. ISPs could prioritize their own content, applications and sites over their competitors.
This move would also threaten free speech and access to information.  IPOs could block websites or content they disagree with or that criticize them, opening the Internet to censorship.
The FCC Chairman argues that net neutrality laws prevent big companies from investing in new Internet infrastructure but, in fact, IPO investments have increased since the current rules were passed, revenues continue to grow, and companies like Verizon assured their investors that these laws would not impact their growth and investment.
As the Executive Director of the Long Beach Public Library Foundation, I see every day how critical equal access to the Internet is. Educators have fully integrated the Internet into the school—homework and testing is done online—and even non-technical jobs required an online application or resume sent via email. Just this year more than 1 million patrons visited Long Beach public libraries and more than 7 million library resources, many online, were accessed. And yet, right now the FCC is considering a move that would severely exacerbate this digital divide to the benefit of corporations and the detriment of our communities.  If the FCC repeals the protections contained in its 2015 Open Internet Order, we will all feel the burden.
Therefore, I urge all who enjoy access to the Internet to call on FCC Chairman Ajit Pai and the FCC commissioners to keep these essential net neutrality protections in place. If not for yourself, for the millions of children and families trapped in the digital divide, who are already struggling to compete in our modern economy.
Kate Azar is executive director of the Long Beach Public Library Foundation, a nonprofit that works to enhance the Long Beach Public Library and encourage literacy.