Library Launches CurioCity: STEAM & Beyond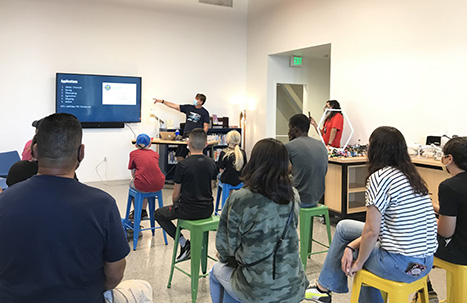 In October 2021, the Library launched the CurioCity program to introduce youth ages 12 and up to a wide array of creative interests within the fields of science, technology, engineering, arts, and math. Robotics, interactive electronics, and modular synthesizers are just some of the subjects that students are learning through biweekly workshops. The program involves experts in these fields to help lead the workshops and inspire young minds.
This program is the latest from the Library's makerspace Studio which provides expert instruction in 3D modeling, graphic design, coding, and more. The Library Foundation is proud to provide funding for the makerspace Studio thanks to generous support from the Rudolph J. and Daphne A. Munzer Foundation, Marathon Petroleum Corporation, and many donors across Long Beach who support the Library's innovative programs.