Library Launches Chromebook and Mobile Hotspot Lending Program Thanks to a Partnership with Verizon and the Library Foundation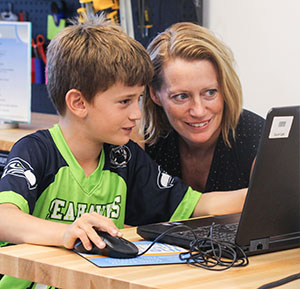 On April 15, 2021, the Library launched its new Tech To-Go lending program to help local families bridge the digital divide. 1 in 4 Long Beach households lacks a reliable internet connection and a 2019 report by the City's Technology and Innovation Commission showed that 45% of those residents rely on the Library to connect to the Internet. The Library Foundation is proud to be a part of the community benefit partnership with Verizon that made this program possible. As part of the program, Verizon provided the Library with 100 MiFi devices with features geared toward students and $50,000 to the Library Foundation to purchase Chromebooks.
Tech To-Go devices are equipped with automatic web filters, including Google SafeSearch for all Chromebook sessions, as well as high-school-level filters on the MiFi hotspots. The MiFi filters are geared toward students, but the devices can be used by non-students for job searching, career development, research projects, skill-building and more. Library cardholders 18 years and older can schedule requests for devices through the Library. Visit http://www.longbeach.gov/library/borrow/tech-to-go to learn more.