Connecting and Making a Difference – Steve's Story
Steve Leary first visited the Long Beach Public Library in 2008. At that time, he was apprehensive about using one of the library's computers. Due to the high cost of internet, he didn't have a computer at home. With encouragement from his younger sister, who lives in Ireland and wanted to be able to communicate with him online, Steve gave it a try. The Library offers a General Computer Use class that gave Steve the opportunity to receive one-on-one support to set up his email and use basic programs.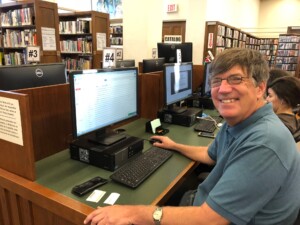 Learning how to communicate online has opened a whole new world for Steve. As a civic-minded Long Beach resident, Steve uses email and social media to connect with Mayor Garcia and City Councilmembers about the issues that matter most to him. He supports nonprofit organizations and community groups that he first connects with online. In April 2018, The Grunion published an Op-Ed by Steve in which he expressed his support for Urban Community Outreach, a nonprofit offering services to Long Beach's homeless population. He is currently in the city's Neighborhood Leadership Program to develop more skills, knowledge, and resources to make a difference in Long Beach.
Steve was able to discover these opportunities with the Library computers. It is estimated that 25% of Long Beach households do not have an adequate internet portal, and Steve is one of the residents without a connection. However, the computers available at the Library have had a major impact on his life. He has visited almost every branch, but usually goes to the Alamitos Neighborhood Library.
Every day the Library opens new doors for people like Steve. You can support Library programs with a tax-deductible donation to celebrate National Library Month. CLICK HERE