A Story from the Library – Aarron and Erica
A second grader named Aarron Coleman once walked across the street from his school to the Burnett Neighborhood Library for the first time. After school, the library buzzes with young students looking for a safe place to go in a neighborhood where the poverty rate is nearly double the city average. Aarron was looking to check out a book, but he found so much more.
In the decade since Aarron first walked into that library, he has grown into an impressive young man, He could often be found in the Library's Family Learning Center working with a Learning Guide on his homework. As he entered middle school, his homework assignments became more demanding, including reports on historical events, analysis of great literary works, advanced math problems, and science projects. The Long Beach Public Library has supported him and his family along the way.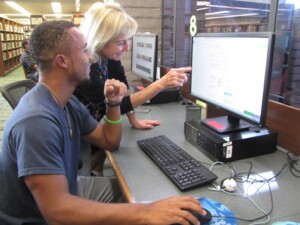 The Family Learning Centers, funded by the Library Foundation, are available to patrons at each of the 12 city libraries. Learning Center Guides provide vital academic support in the areas of math, science, technology, English language learning and job skills enhancement. Thousands of families like Aarron's rely on the Family Learning Centers for homework help, job search and résumé support.
Aarron is now a senior at Long Beach Polytechnic High School where he plays on the football team, studies hard in four Advanced Placement classes, participates in Mock Court, and serves as an ambassador to the local middle schools on college readiness and library resources. He has worked very hard for his success and through the years he has received crucial guidance from senior librarian, Erica Lansdown.
When you meet Erica, it is immediately clear that she has a passion and gift for helping students. Erica has worked at Burnett Library for over a decade. She recalls fondly how Aarron grew from a mischievous boy, discovering and learning so much through library programs. Like all LBUSD third graders, Aarron received a free dictionary through the Library's Dictionary Days, a Long Beach Public Library Foundation program supported by the Miller Foundation. Aarron still has that dictionary today, and he even volunteered at last year's Dictionary Days festivities.
Today, Aarron is very busy with school and extracurricular activities, but he still visits the Burnett Neighborhood Library to catch up with Erica. He discusses his college applications with her and is already thinking ahead to law school. One of his college application essays focuses on how the library made a difference in his life.
The programs that Aarron participated in throughout his childhood are supported by the Long Beach Public Library Foundation and are made possible thanks to your generous support. You can help the library keep and grow these vital programs with your donation.
Your investment in our libraries, and library patrons like Aarron, shapes the future for them and for our city.
Help us write more stories like Aarron and Erica's at LBPLfoundation.org/donation