A Family Tradition of Supporting Libraries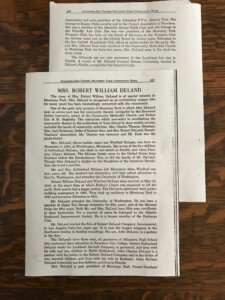 Susan DeLand has served on the Long Beach Public Library Foundation Board of Directors since 2002, but it wasn't until earlier this year that she discovered that supporting libraries runs in her family.
Susan has been surrounded by books her entire career. An extensive career in publishing allowed her to work with beautiful art and historical works. In her role as Head of Retail & Merchandise Development for the J. Paul Getty Museum, she sat on the Executive Editorial Committee of Getty Publications. Her role was to literally judge books by their covers. Susan is currently series editor and author of a list of biographies for Benna Books.
Prior to joining the Foundation Board, Susan was a member of the task force to rebuild the Central Library in Los Angeles when it burned in 1986.
Diane Jacobus, former Long Beach Public Library Foundation Board President, recruited Susan to join the Board of Directors. In her role on the Board, she assists the Library Foundation in connecting with a wider audience, creating literary events with authors, sitting on the Library of the Future committee, and serving as Vice President of Fund Development and Vice President of Board Development.
One of Susan's favorite library memories from the last few years was when she signed the first steel beam erected at the construction site of what will become the new Main Library in 2019. This was not Susan's first time signing a construction beam. She was an executive on the building teams of several other nonprofit organizations including the Autry Museum of the American West, the Aquarium of the Pacific, and the J. Paul Getty Museum, and signed beams in each of those institutions as they were being built.
Susan has always known that her grandmother, Winifred DeLand, was an extraordinary woman from whom she inherited her love of gardening and books. However, during a recent visit to her mother's house to go through old family records, she discovered that in addition to supporting several arts and education organizations and being a suffragette, her grandmother also served on the Library Foundation Board of Directors in the Monterey Park, California region for 12 years.
Susan is very proud to carry on both her grandmother's traditions of social disruption and of championing literacy. "Grandma's twinkling star is shining on me," she said.