A Nurturing Place to Succeed – Nariah's Story
Nariah has been visiting the Family Learning Center since her sophomore year of high school. High school can be a stressful time with difficult classes and all the preparation it takes to graduate and move on to the next step. When Nariah first discovered the Library, she would usually go to Dana Neighborhood Library or Michelle Obama Neighborhood Library and do her homework in the public space. Even though she was able to get her work done, she discovered that the Family Learning Centers at both branches provide an environment that was more helpful to her.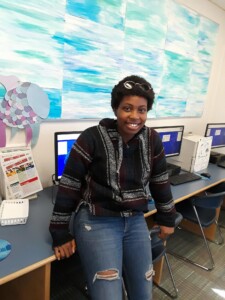 Because she doesn't have a computer with internet access at home, Nariah appreciates that the Family Learning Centers have computers she can use. The centers are staffed by Learning Guides offering one-on-one guidance for homework and research.
"The Library is a big reason reason I push myself to be something. I enjoy meeting new people and the staff. I feel comfortable in this environment."
Today, Nariah is a Library volunteer and enjoys supporting the librarians and staff who have supported her.
The Family Learning Center program is funded by the Library Foundation and offers support to students, job seekers, seniors, veterans, and anyone else who visits the Library looking for guidance with a project or research. You can support this program with a tax-deductible donation to celebrate National Library Month. CLICK HERE