LONG BEACH PUBLIC LIBRARY FOUNDATION ANNOUNCES FUNDRAISING CAMPAIGN FOR NEW MAIN LIBRARY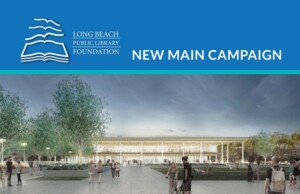 FOR IMMEDIATE RELEASE
For media queries, contact:
Kimberly Caballero
Kimberly[at]LBPLfoundation.org
562.628.2441 ext. 3
LONG BEACH, California, January 15, 2019 – The Long Beach Public Library Foundation with support from Mayor Robert Garcia announced today at the State of the City the public launch of its New Main Campaign. The Campaign's $3 million goal is to support programs and enhancements at the new Main Library, the central base of the Long Beach Public Library system which serves approximately 1 million visitors each year. The new Main Library is scheduled to open in the summer of 2019.
All supporters who donate $25 or more to the campaign in the first year of the new library's operation will be recognized as New Main Campaign Founding Donors.
"The New Main Campaign gives everyone in the city a chance to be a part of the foundation of the new main hub of the Long Beach Public Library. Any donation amount makes a difference and will be an investment in the future of Long Beach," said Barbara Schwerin, president of the Long Beach Public Library Foundation Board of Directors.
"I have always been a believer that education is the most important investment we can make and our Main Library provides vital resources to our community," said Mayor Robert Garcia. "I encourage everyone who can to support this campaign so that our new Main Library is fully equipped to serve our community for generations to come."
The new 93,000 square foot Main Library's features will include:
Sustainable design of the entire structure that is on track to attain a LEED Gold or better rating from the U.S. Green Building Council;
Increased access for the disabled through specialized equipment in the Center for Adaptive Technology;
New Veterans Resource Center and Citizenship Corner to help the community navigate and apply for services;
The Studio Learning Lab, featuring makerspace technology and software for 3D printing, graphic design, robotics, coding, virtual reality and more;
Special collections area that is accessible and climate controlled to preserve the Library's rare and historical books and materials;
Updated whimsical and age-appropriate children's spaces, including an early childhood area to promote literacy and to accommodate family activities; and
Unlimited access to free WiFi, power sources at nearly all reader seats and work tables, and plenty of public computers.
Learn more about the New Main Campaign at LBPLfoundation.org/newmain.
###
The Long Beach Public Library Foundation, an independent 501(c)3 nonprofit organization, provides support to enhance the Main Library and 11 neighborhood branches of the Long Beach Public Library and encourages literacy and education for all members of the community. LBPLfoundation.org
Click to Learn More About the New Main Campaign