Long Beach Leaders are Readers — Anil Pandya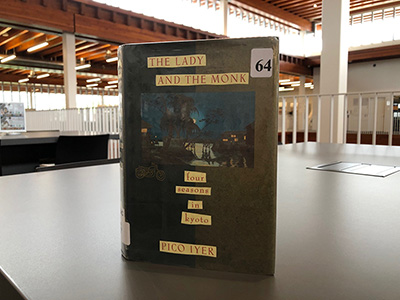 Long Beach Leaders are Readers is our new series in which leaders in our community share recommended reads available in the Long Beach Public Library's collection. In celebration of Asian American and Pacific Islander Heritage Month 2022, Library Foundation Board member, Anil Pandya, has shared the following reading recommendation.
As I am currently involved in a research project for a book I wish to write, my recent readings involve economics and politics, including some biographies of writers on these subjects, and have not read anything for pleasure. However, a few months ago at the urging of my wife, I read The Lady and the Monk by Pico Iyer.
To my surprise the book turned out to be highly pleasurable. It is a brilliant and moving biographical, personal, and cultural account of a highly accomplished and well-published itinerant travel writer, of Indian origin, who meets a remarkable Japanese woman in Kyoto Japan and marries her, while on an exploration of one of the world's most beautiful cities— Kyoto. This is a marvelous book; easy to read, beautifully written, and sensitive and nuanced. It is also funny and sad but also insightful. My reaction when I read the book, which still lingers with me is the intelligence of the writer who has been able to observe a culture so different from that of the West, and so understandable from my own Indian cultural background from an Asian perspective and yet very different! Although, published in the 1990s, it is a very contemporary work. The LA Times Book Review on the back cover reads "A beautifully written book about someone looking for ancient dreams in a strange modern place." And the blurb at the back states that it is "… a marvelously ironic yet heartfelt book that is at once a portrait of a cross-cultural infatuation- and misunderstanding—and a delightfully fresh way of seeing both the old Japan and the very new." True, but it is also much more than seeing Japan. I strongly recommend the book to the young, the old and also the cynical among us, that you will love the book.
A few biographical notes:
Pico Iyer lives in Japan and has a home in Santa Barbara. His mother Nandini Nanak Mehta, until recently, taught Religion at a local university; his father studied and taught Philosophy at Oxford. Pico's name is Siddharth Pico Raghavan Iyer. His parents grew up in India, then went to England and later moved to the US. His name is a combination of the Buddha's name, Siddharth, and the 15th century Italian philosopher Pico della Mirandola, the writer of The Oration on the Dignity of Man, which has been called the Renaissance Manifesto. European Renaissance eventually led to enlightenment in Europe as it emerged out of religious and political conflict and violent middle ages. Pico Iyer's other books include Video Night in Kathmandu, The Global Soul among several others, and his essays have been published in Time, Harper's BAZAAR, the New York Review of Books, and the New York Times.