Grape Expectations Gala Exceeds Expectations!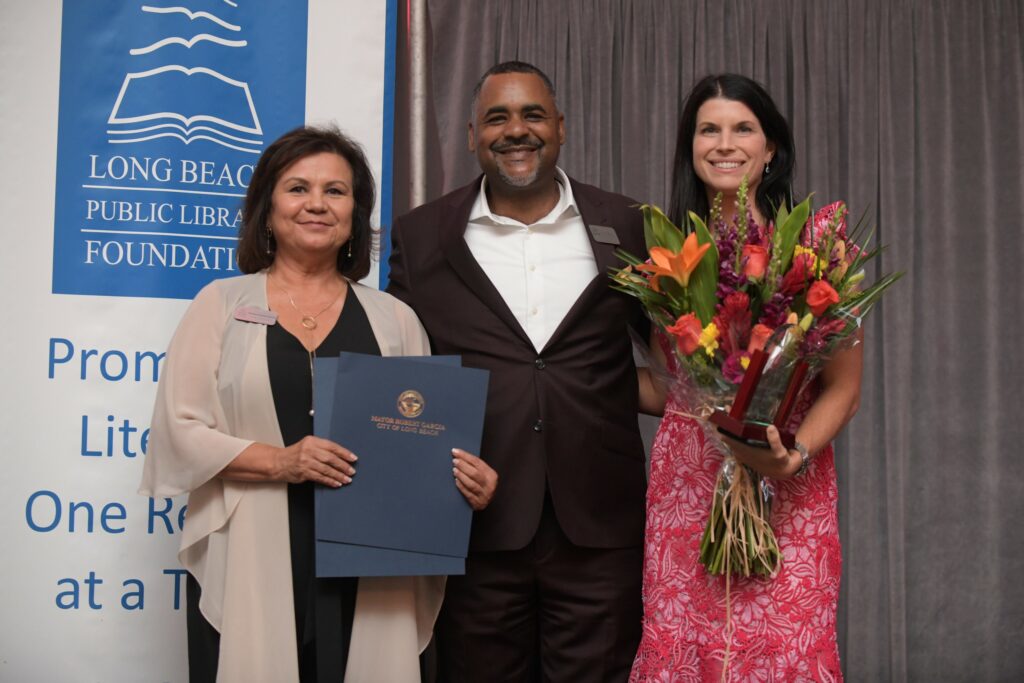 The Long Beach Public Library Foundation raised more than $350,000 to support its work to enhance programs, technology, and resources at the city's 12 public libraries on Sept. 18 at the 19th annual Grape Expectations gala at Hotel Maya.
400 guests gathered on the Vista del Mar terrace overlooking Queensway Bay to indulge in fine wines from six distinguished wine distributors led by Randy Kemner of The Wine Country and gourmet appetizers and mocktails donated by celebrated local caterers and restaurants, all as they were swept away by music from Trio del Alma. Following the wine tasting reception, guests enjoyed a fabulous four-course dinner with wine pairings and commentary by Randy Kemner.
Guests were greeted by Library Foundation Executive Director and CEO Veronica Garcia Dávalos, Board President Ryan Ballard, and Long Beach Mayor and Honorary Library Foundation Director Dr. Robert Garcia. Library Foundation Vice President of Fund Development Joan Van Hooten paid tribute to the memories of champions of literacy Kay and Tony Tortorice and Janis Krantz.
First Vice President and Corporate Real Estate Manager Farmers and Merchants Bank Christine Walker-Bowman accepted the Library Leadership Award recognizing F&M's sponsorship of the Library Foundation's 19th annual Dictionary Days program, giving every third-grade student in the Long Beach Unified School District a dictionary/thesaurus of their very own. F&M has supported the Foundation since 2005, enhancing Library programming including Black History and Latino Heritage Months.
Margaret and Charles Durnin presented the Durnin Family Award to Foundation Directors Emeriti Mary Hancock Hinds and Rick Alsagoff for their longtime service and leadership of a campaign that raised over $1 million to enhance the Michelle Obama Neighborhood Library.
Honorees were featured in inspirational short films produced and donated by Digital Revolution and presented with proclamations from Supervisor Janice Hahn and Mayor Robert Garcia.
Guests stirred on by auctioneer Randy Gordon raised their paddles to contribute more than $115,000 during the live auction and live ask, with auction items donated by the Billie Jean King Leadership Initiative, Taylor's Cigar Lounge, Port of Long Beach, McCarty's Jewelry, and Margaret Smith and Rob Bellevue. The crowd was charmed by Cordelia Howard, Director of Library Services from 1983 to 1998, who raised her paddle repeatedly during the live ask until she had contributed $20,000. To close out an evening to remember, Board President-elect and Special Events Committee Chair Sean Reilly drew the names of Anthony Puente and Randy Mizer as 1st and 2nd place raffle prize winners.
Distinguished guests included Long Beach Mayor Dr. Robert Garcia; Vice Mayor Rex Richardson; Councilmembers Stacy Mungo Flanigan, Suzie Price, and Roberto Uranga; LBUSD Board of Education President Megan Kerr and Board member Doug Otto, LBCC Board of Trustees President Uduak-Joe Ntuk and Trustees Vivian Malauulu and Sunny Zia; Long Beach Harbor Commission President Sharon L. Weissman and Secretary Bonnie Lowenthal; CSULB President Jane Close Conoley; representing the Hon. Janice Hahn, 4th District Supervisor, County of Los Angeles, Daritza Gonzalez; President of the Friends of the Long Beach Public Library Barbara Sosa; Grape Expectations Chair Sean Reilly; Co-chairs Barbara Long and M. Lissette Flores; and committee volunteers Diane Anglin, Cheryl Avirom, Ryan Ballard, Charlyn Bender, Celine Cordero, Mary Hancock Hinds, Mary Lamo-Putnam, Liz Munzer, Carmen O. Perez, Desiree Rew, Barbara Schwerin, Jeff Toelsin, and Joan Van Hooten.
Over the past 26 years, the Library Foundation has raised more than $26 million to support the city's public libraries. Lead event sponsors included the Billie Jean King Leadership Initiative, Port of Long Beach, Lisa and Frank Chapman, Clark Construction, Margaret and Charley Durnin, Marathon Petroleum Corporation, and the Shadden Group at Morgan Stanley.