Free Back-to-School Resources from the Library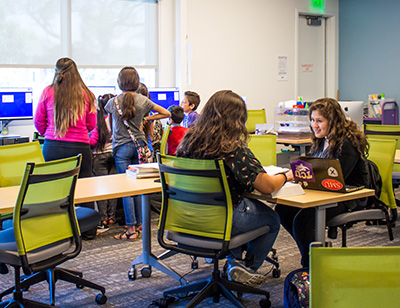 As LBUSD students return to class for the 2021/2022 school year, the Library's many free resources will help them stay on track and succeed. 10 Long Beach Public Libraries are open, providing the opportunity to browse the collection of more than 800,000 books and materials, receive guidance from librarians, and access computers and free WiFi.
Online Tutoring and Databases: The Library Foundation funded Brainfuse HelpNow program provides live tutoring in English and Spanish, virtual study rooms with other HelpNow users, college application guidance, and a library of lessons, videos, and practice tests. World Book Online is an online encyclopedia in English and Spanish that covers various topics ranging from animals and dinosaurs to ancient civilizations and the human body.
Tech To-Go: This new program allows library cardholders to check out Chromebooks and MiFi hotspots to access the internet for up to two weeks. The Library Foundation is proud to be a part of the community benefit partnership with Verizon that helped launch this program. Click Here to learn more.