Family Learning Centers Resume In-person Guidance for Youth and Adult Learners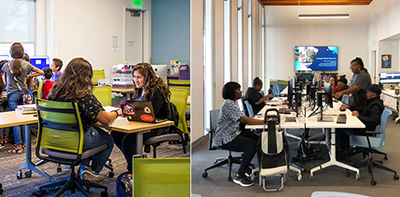 In March, the Long Beach Public Library announced the reopening of the Family Learning Centers at Billie Jean King Main Library and Michelle Obama, Mark Twain, Bret Harte, and Burnett neighborhood libraries. Trained Learning Guides are available at the Centers to provide one-on-one homework help to students of all grade levels. Adult learners are welcome for support with job searches, résumé development, and computer use. 
The Library Foundation is proud to have supported the Family Learning Center program since its founding in 1999. Every year, thanks to your donations, thousands of students receive the free, one-on-one guidance they need to succeed in school.