Billie Jean King Main Library KidSpace Dedicated to John & Helen Apostle in Honor of $1 Million Gift to Children's Programming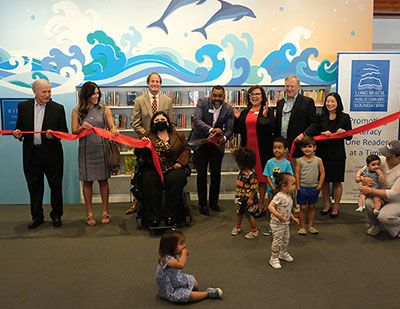 On May 13, 2022, the Long Beach Public Library and Long Beach Public Library Foundation dedicated the children's library at the Billie Jean King Main Library, the KidSpace, to the late John and Helen Apostle in a celebration attended by families, local leaders, and Library supporters. This honor recognizes a $1 million gift from the John Apostle and Helen Apostle Foundation to support children's programming. This gift was the largest pledge made to the Library Foundation as part of its New Main Campaign, which concluded in September 2020 after raising more than $3.3 million for technology, programs, and enhancements at Long Beach's newest library. The New Main Campaign was co-chaired by Billie Jean King and Mayor Robert Garcia, with nearly 500 community members, book clubs, foundations, and local organizations contributing gifts of all sizes.
"We are proud to fund crucial programs for children who depend on the Long Beach Public Library," said Jim Sullos, Trustee of the John Apostle and Helen Apostle Foundation. "This important work will build a lasting legacy for John and Helen Apostle."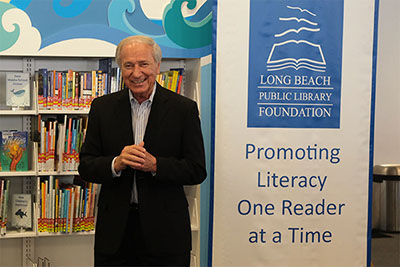 "The Billie Jean King Main Library is an incredible space and a center for education and community development in Downtown Long Beach," said Mayor Robert Garcia. "I want to thank the John Apostle and Helen Apostle Foundation for their generous support of these programs and resources for children and families in our community."
The Apostle Foundation's $1 million gift is being contributed over ten years. Half of the funds will be used to establish the John and Helen Apostle Endowed Fund for Children, to help these programs serve children for generations to come. The funds received have enabled the Library to hire three bilingual Library staff who design and implement children's programs in Spanish and English, such as Dive into Reading/Sumérgete a Leer, Circle of Stories/Círculo de Cuentos, and Cuentos y Cantos. The Billie Jean King Main Library is the hub of the Long Beach Public Library system, and with this new support, these programs can be replicated at all 11 neighborhood libraries.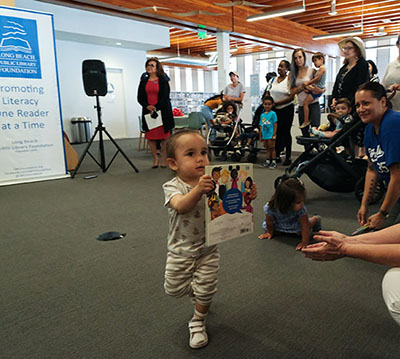 "The generous gift from the John Apostle and Helen Apostle Foundation is one of the largest gifts the Library Foundation has ever received," said Veronica Garcia Dávalos, Executive Director/CEO of the Library Foundation. "It comes when Long Beach youth need support to improve their reading capabilities and succeed in school. We are proud to honor John and Helen Apostle with this beautiful display in the Billie Jean King Main Library."
According to a March 2022 report from the Long Beach Unified School District, during the first in-person school year since the pandemic began, 61 percent of elementary and 66 percent of middle school students in Long Beach read below grade level. According to a 2021 report released by the City Auditor, the Library should provide more materials and programs in languages other than English. Due to its limited budget, 95 percent of physical Library materials and 97 percent of programs are in English, even though 30 percent of residents in several Long Beach neighborhoods have limited English proficiency. It is crucial that the Library receive the funding necessary to provide more resources in Spanish, Khmer, Tagalog, and other languages spoken in Long Beach homes. This $1 million gift from the John Apostle and Helen Apostle Foundation has already made a significant impact in supporting important multilingual Library programming for youth in Long Beach.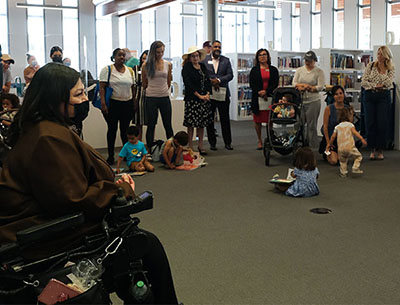 "The Library's children's programming is needed now more than ever," said Ryan Ballard, Long Beach Public Library Foundation Board President. "The impact of the Apostle Foundation's gift will surely be felt throughout our communities, and we hope will inspire greater generosity in others as we seek to improve the outcomes for all Long Beach youth. We simply couldn't be more excited and grateful!"
John and Helen Apostle were Long Beach-based entrepreneurs who were actively involved in local civic and philanthropic endeavors. The Apostles, former owners of the Golden Sails Inn in Long Beach, were longtime supporters of the City's libraries. They placed their estate in their charitable foundation to benefit the community, needy children, and the elderly.
The KidSpace dedicated to John and Helen Apostle with a plaque and a new art wall featuring dolphins leaping through waves is the ocean-themed children's section of the Billie Jean King Main Library. It contains a collection of approximately 45,000 books and materials for youth ages zero to 12, computers with tools and software just for children, interactive educational stations, study tables and lounge chairs for reading and learning, a Studio Jr offering makerspace STEAM workshops, and the Rotary Storytime Theater. All KidSpace resources are available whenever the Billie Jean Main Library is open. Visit the Library's website at longbeach.gov/library for open hours and the Library's program and events calendar.