15th anniversary of Grape Expectations
Look out for details about the next Grape Expectations on June 9, 2019.
On June 10, 2018 we celebrated the 15th anniversary of Grape Expectations! Nearly 300 guests helped us raise more than $180,000 to support our foundation and the enhancements and programs that we make possible at the Main Library and 11 neighborhood library branches.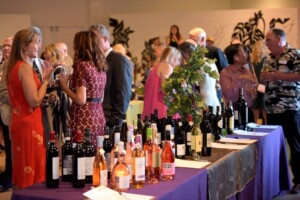 This year, we were proud to honor the Rotary Club of Long Beach with the 2018 Library Leadership Award and Jack and Barbara Irvin with the 2018 Durnin Family Award. The Rotary Club supports early literacy throughout the city and has made a significant contribution to the future of the Long Beach Public Library with a $250,000 gift to our New Main Campaign to support the future of the new Main Library's Storytime Theatre and Early Literacy Area. Jack Irvin is completing his 18th year on our Foundation Board. He and his wife, Barbara, have dedicated much time and resources to supporting Library programs that help develop lifelong readers to create a more successful Long Beach.
As with every Grape Expectations, delicious foods and fine wines took center stage with a wine tasting, appetizer, and silent auction reception followed by a four-course culinary experience by TGIS with wines expertly paired by Randy Kemner, proprietor of The Wine Country.
Andeavor has once again made it possible for our foundation to fund exciting learning opportunities. Andeavor public and government relations manager, Tiffany Rau, presented a $150,000 contribution to the Library Foundation in support of the Mobile Studio. The Mobile Studio allows the Library's makerspace Studio program to visit libraries, schools, parks, and community events with technology and resources for 3D printing, robotics, coding, and other STEM learning opportunities. Check out the Mobile Studio schedule at lbpl.org/studio
One of our favorite moments of the night truly shows how many people have their lives transformed at the Library. As our Executive Director Kate Azar and Director of Library Services Glenda Williams spoke to the audience about the Library's Career Online High School program, a member of the waitstaff working the gala that evening approached the stage and introduced herself as a current student in the program and thanked everyone for their support. This program gives a second chance to adults who did not earn their high school diploma during their youth. So far, 34 adults have graduated with an accredited high school diploma. The Library Foundation is proud to provide scholarships to these students, making this program a free opportunity.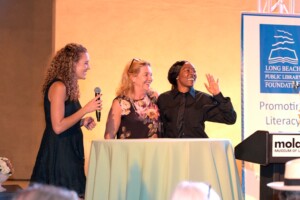 Wine tasting and appetizers were sponsored by Beaune Imports, Boathouse on the Bay, Gelson's, Johnny Rebs' True South, Revel Wine, Teak Catering, The Henry Wine Group, The Pie Hole, The Wine Country, Wine Warehouse, and Young's Market Company.
We hope to see you at the next Grape Expectations!
Click to View Event Photo Gallery
Thank you to our 2018 Grape Expectations Sponsors: