Raise a Glass to the Library Foundation's 25th Anniversary with a Limited Edition Red Blend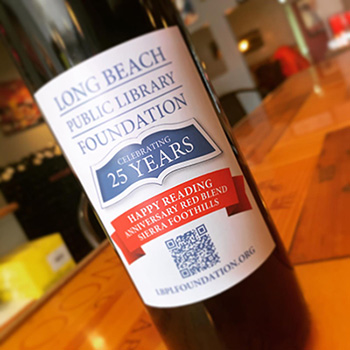 The Long Beach Public Library Foundation has partnered with Long Beach's own award-winning Willmore wine bar to offer a limited edition "Happy Reading" red blend from the Sierra Foothills. You can say "Cheers!" with your specially labeled bottle to celebrate the Library Foundation's 25th year of service. Half of the profit from every bottle will support the Library Foundation's work at the 12 public libraries.
Sales begin on April 13 and continue while supplies last.
$25 per bottle. Enjoy a 10% discount when you purchase a case.
Available only at the Willmore, 3848 Atlantic Avenue.
Visit the Willmore's website for open hours and contact information.