Censorship in Art and Culture Presentation
On May 27, the Long Beach Public Library Foundation hosted a live virtual presentation about censorship by celebrated lecturer Gregorio Luke in honor of the memory of City Library Blanche Collins. Luke's presentation explores the history of censorship through visual storytelling. The presentation is dedicated to the memory of Long Beach City Librarian Blanche Collins who is remembered for her fight to prevent censorship of the Library's collection. Learn more about her story below.
The recording of this 80-minute presentation is available for a donation of any size. A $25 gift is suggested to support the Library Foundation's mission.
Please note that the recording does not include the first five minutes of Luke's lecture.
The presentation includes graphic images that may not be suitable for children.
Artwork: ¡Libertad de Expresión! by Adolfo Mexiac
About Gregorio Luke: Gregorio Luke is an internationally known art expert and speaker. He has presented thousands of lectures at museums and universities throughout the U.S., Mexico, Europe, China, and South America, including the Smithsonian Institution, the Library of Congress, Harvard and Columbia universities, and the Florence Biennale. Luke is the creator of Murals Under the Stars, an outdoor larger-than-life encounter with the great murals of the world. Elena Poniatowska, Grand Dame of Mexican literature says: "Gregorio gives the most extraordinary lectures that can be seen on earth…" For Agustn Gurza of the LA TIMES: "Luke speaks as if he's seen a vision. His listeners can't help but see it too"
Mr. Luke has served as First Secretary of the Embassy of Mexico in Washington D.C, Cultural Attaché of the Consulate of Mexico in Los Angeles and Director of the Museum of Latin American Art MoLAA. He is the Founder and President of ARCOS (Art in Communities and Schools) a nonprofit organization that brings art to families living in low-income communities.
Raise A Glass To The Library Foundation's 25th Anniversary With A Limited Edition Red Blend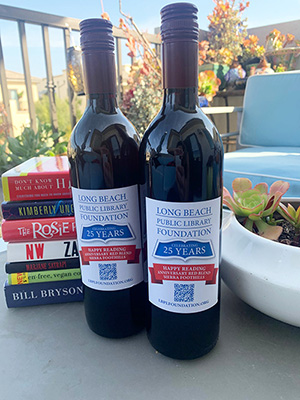 Enjoy the presentation with our "Happy Reading" red blend from the award-winning Willmore Wine Bar in Long Beach. Half of the profit from every bottle will support the Library Foundation's work at the 12 public libraries.
$25 per bottle. Enjoy a 10% discount when you purchase a case.
Available only at the Willmore, 3848 Atlantic Avenue.
Visit the Willmore's website for open hours and contact information.