Sherriff McDonnell: Libraries are essential to our community
"Did you know that 70% of the people in our prisons never finished high school? In my nearly 4 decades in law enforcement, I see first-hand the impact that a lack of education has on the crime in our county. That's why I support the Long Beach Public Library Foundation as a member of its Board of Advisors. I know that our libraries play a critical role in teaching our kids to read at an early age, offering free tutoring resources, and providing a safe place to go after school.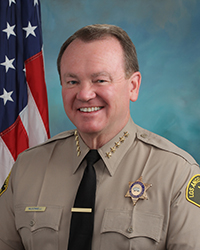 These services increase the likelihood that kids stay in school, lower rates of truancy, and set kids up for success in high school. Our libraries have a major impact on the economic success of our youth and the safety of our communities.

Please join me in building a safe and productive future for our kids and families by making a donation today to the Long Beach Public Library Foundation."
Sheriff McDonnell previously served as Chief of the Long Beach Police Department and currently serves on the Board of Advisors of the Long Beach Public Library Foundation.
Libraries transform. Your donation will serve an an investment in our community. Any amount makes a difference!