A Message from Director of Library Services Glenda Williams – Grape Expectations: Stay Home & Read Edition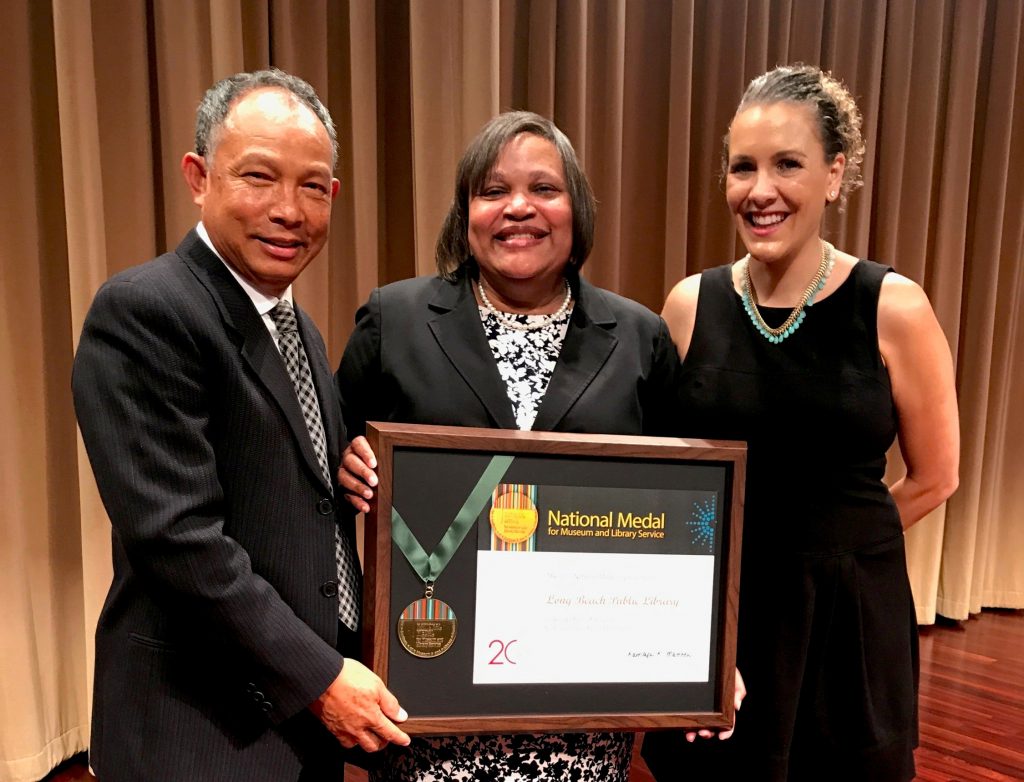 Hello Library Supporters!
I hope you all are doing well during this extraordinary time of COVID-19. Thank you for joining the Long Beach Public Library Foundation's Stay Home & Read Edition of Grape Expectations. While I'm disappointed that we won't be able to enjoy the gala in-person, we are grateful to see the outpouring of library support during this challenging time. Your donation of any size allows the Library Foundation to continue its important work of fund programs and resources at the 12 public libraries. While the libraries are temporarily closed, many digital resources are available. And we know that all our resources will be needed more than ever when the Library is allowed to safely reopen.   
As we all continue to abide by the City of Long Beach "Safer at Home" ordinance, it can be challenging to find high quality sources for online learning and enrichment, or to improve job skills during this uncertain economy. I want you to know that your Long Beach Public Library is here for you!
Long Beach residents can access free online support at the Long Beach Public Library's new Your Library at Home webpage, your "one-stop shop" of online resources for families during this Safer at Home period.
Discover Gale Courses to enhance or learn new job skills or brush up your resume with Brainfuse JobNow. Do you need to practice for the SAT, ACT, AP (Advanced Placement) or U.S. Citizenship tests? Check out our Testing and Education Reference Center for free simulated practice tests and more! There are more than 50 languages spoken in our city. Why not learn a new language with Mango Languages? You can also check out an e-book or listen to an audiobook through Overdrive and the Cloud Library, stream a movie through Kanopy or listen to music with Freegal.
I'm also excited to announce that we just launched Udemy, an online learning platform that offers thousands of on-demand, video-led courses on a variety of topics ranging from business, to information technology, and even personal development.  Check out more information here: http://www.longbeach.gov/library/news/udemy/.
Our youth can connect with a live tutor with Brainfuse HelpNow, a resource supported by the Library Foundation, for homework assistance and our little ones can enjoy animated, read aloud books with Tumblebook Junior.  Virtual story times are now available on the Library's Facebook page and Youtube channel.  Please visit www.longbeach.gov/library and enjoy "Your Library at Home."
What if you don't have a Long Beach Public Library card? No problem! It is even easier than ever to get one. You can sign up online and then call 562.570.7500 to activate your library card. Library staff are standing by Tuesday – Saturday, 10 am – 5 pm to assist.
While some Long Beach Public Library staff are busy preparing and curating online content and answering your library questions, other Library staff have been redeployed to assist during this novel coronavirus pandemic. All City of Long Beach employees are registered disaster workers, and this includes the staff at Long Beach Public Library. Library staff have been working at shelters and sewing facial coverings, while others are answering phone calls at the City's Joint Information Center (JIC) or taking calls from seniors in collaboration with our City's Department of Health and Human Services.
We can't wait to welcome our Long Beach community back into our facilities once we are able, and we are in the process of planning library services for that time while abiding by any restrictions that are in place. We know that people will need help with searching for jobs, connecting to social services and accessing resources to meet their personal and educational goals. Every dollar that you donate will help our Long Beach residents with this effort. Until we can see you again, please enjoy "Your Library at Home" while you Stay Safer at Home.
Stay safe, take care, and thank you!
Glenda Williams
Director of Library Services
Long Beach Public Library